Main Contents
Mitsui & Co., Ltd. ("Mitsui", Head Office: Tokyo, President and CEO: Tatsuo Yasunaga) and AES Jordan Solar B.V., a subsidiary of AES Corporation, one of the largest power companies in the United States ("AES"), through a jointly established project company, entered into a 20-year Power Purchase Agreement ("PPA") with National Electric Power Company ("NEPCO") of the Hashemite Kingdom of Jordan on April 26, 2017. The total project cost is approximately US$ 50 million and the project company is indirectly owned 40% by Mitsui and 60% by AES.
This project, with a capacity of 52 MW, will be located at Al Manakher, 25km east of the capital city of Jordan, Amman, and will supply electric power to NEPCO for 20 years from the start of commercial operation, planned to occur in 2019.
This is the third IPP project for Mitsui in Jordan (Mitsui and AES were previously awarded projects in 2006 and 2012), and an aggregate of 700 MW power generation installed capacity will represent approximately 18% of the country's installed capacity.
Facing an increase in electricity demand of 7% per annum due to steady economic growth, the Government of Jordan has decided to promote the privatization of electric power in order to enhance generation capacity. A renewable energy law, enacted in 2012, also targets developing approximately 1,600 MW of renewable energy by 2020. This project is in alignment with local needs, and Mitsui will continue to contribute to the stable supply of growing electricity demand and clean energy development in Jordan by participating in this project.
Mitsui, as an IPP operator, has power generation assets around the world and develops and manages its power businesses, and will further strengthen renewable energy initiatives such as wind power and solar power generation. Through these measures, Mitsui will continue to develop new businesses exerting its functions proactively, aiming to enhance the quality of its portfolio and strengthen its profitability.
Outline of the Project Company
Name of Company
AM Solar B.V.
Place
Jordan
Business Description
Solar Photovoltaic Project in Jordan
Shareholder
Mitsui 40%(through a holding company)
AES 60%(through a holding company)
Establishment
March, 2017
Outline of AES
| | |
| --- | --- |
| Name of Company | AES Corporation |
| Head Office | Arlington, United States |
| Representative | Andres Gluski (President & CEO) |
| Business Activities | Power generation and distribution around the world, mainly in North, Central, and South America |
| Establishment | January, 1981 |
The Signing Ceremony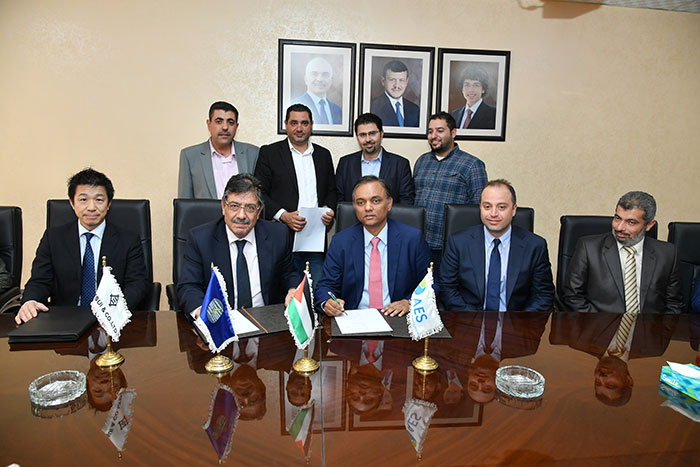 Notice:
This announcement contains forward-looking statements. These forward-looking statements are based on Mitsui's current assumptions, expectations and beliefs in light of the information currently possessed by it and involve known and unknown risks, uncertainties and other factors. Such risks, uncertainties and other factors may cause Mitsui's actual results, financial position or cash flows to be materially different from any future results, financial position or cash flows expressed or implied by these forward-looking statements. These risks, uncertainties and other factors referred to above include, but are not limited to, those contained in Mitsui's latest Annual Securities Report and Quarterly Securities Report, and Mitsui undertakes no obligation to publicly update or revise any forward-looking statements.
This announcement is published in order to publicly announce specific facts stated above, and does not constitute a solicitation of investments or any similar act inside or outside of Japan, regarding the shares, bonds or other securities issued by us.