Main Contents
Mitsui & Co., Ltd. ("Mitsui", Head Office: Tokyo, President and CEO: Tatsuo Yasunaga) has agreed to subscribe for a third-party allocation of new shares by FRD Japan Co. ("FRD"), a venture company that has developed a land-based closed recirculating aquaculture system. Mitsui will acquire 80% of FRD's shares for an investment of ¥900 million.
Global population growth and the improvement of living standards are reflected in the continuing rise in demand for marine products, which are a source of high-quality protein. As a result, there is an expanding need for renewable products from fish farming systems. Recognizing that areas suitable for sea aquaculture are limited, Mitsui concluded that it is necessary to develop a land-based aquaculture farming industry in order to meet the growing demand for marine products. This perception led to Mitsui's decision to participate in FRD's business.
No natural seawater is used in the land-based aquaculture system developed by FRD, which instead employs advanced bacteria-based filtration technology to cycle artificial seawater through a closed containment environment. With conventional aquaculture systems, the need to adjust the water intake temperature is a major cost factor. The FRD system not only brings substantial cost savings, but also dramatically reduces the risk of fish disease contamination. In addition, this method allows fish to be farmed anywhere, even in inland areas.
Through FRD, Mitsui initially aims to build a large-scale land-based trout farming plant in Japan under a two-phase plan. Our goal for Phase 1 is to commence operation of a pilot plant in 2018. Based on results from Phase 1, we will undertake additional investment in 2020, with the aim of expanding the facility into a commercial plant capable of producing 1,500 tons of trout per year.
Sea surface salmon farming is impractical in Asia because of high summer water temperatures. For this reason, most farmed salmon is imported from cooler regions, such as Norway and Chile. With land-based aquaculture, the water temperature can be controlled, allowing salmon to be farmed throughout the year in Asia. By establishing plants in close proximity to consumption areas, it will be possible to distribute extremely fresh products while keeping transportation costs low. Mitsui will work to develop a land-based aquaculture industry with the aim of creating a sustainable means of production for marine products so that people can enjoy delicious and affordable fish.
This project resulted from activities under the new business creation program, "Karugamo Works", which was introduced in August 2014 to encourage open innovation within Mitsui & Co. This program allows employees to spend 20% of their working hours on activities outside of their normal areas of responsibility with the aim of creating new business through the Business Innovation Project framework*.
*Business Innovation Project framework: This framework is designed to support new business endeavors that fit with Mitsui's new regional strategies and new business focus areas, and that have the potential to generate excellent investor returns over the longer term, without being subject to some of the strict criteria for investment and certain exit benchmarks stipulated in Mitsui's regulations.
Profile of FRD
| | |
| --- | --- |
| Name of Company | FRD Japan Co. |
| Head Office | Iwatsuki, Saitama City, Saitama Prefecture |
| Establishment | December 2013 |
| Representative | Yoichi Tsuji |
| Shareholders (after investment by Mitsui) | Mitsui & Co., Ltd. 80%, Taiyousuiken Inc. 10%, KGC, Ltd. 10% |
| Business Activities | Land-based closed containment aquaculture |
Image of Commercial Plants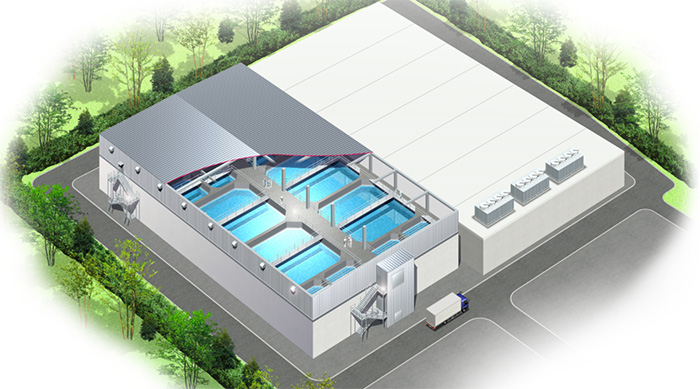 Notice:
This announcement contains forward-looking statements. These forward-looking statements are based on Mitsui's current assumptions, expectations and beliefs in light of the information currently possessed by it and involve known and unknown risks, uncertainties and other factors. Such risks, uncertainties and other factors may cause Mitsui's actual results, financial position or cash flows to be materially different from any future results, financial position or cash flows expressed or implied by these forward-looking statements. These risks, uncertainties and other factors referred to above include, but are not limited to, those contained in Mitsui's latest Annual Securities Report and Quarterly Securities Report, and Mitsui undertakes no obligation to publicly update or revise any forward-looking statements.
This announcement is published in order to publicly announce specific facts stated above, and does not constitute a solicitation of investments or any similar act inside or outside of Japan, regarding the shares, bonds or other securities issued by us.