Main Contents
Mitsui & Co., Ltd. ("Mitsui", Head Office: Tokyo, President and CEO: Tatsuo Yasunaga) has reached an agreement with Monsanto Company ("Monsanto", Head Office: Missouri, USA) to acquire the global business operations of Monsanto's Latitude® wheat seed treatment fungicide.
Mitsui will acquire Monsanto's wheat seed treatment fungicide trademarks (Latitude), as well as global product registrations, registration data, and manufacturing know-how (including manufacturing process patents). The closure of the transaction is subject to several conditions and is intended to take place by end of January 2017.
Monsanto Company is a leading global provider of technology-based solutions and agricultural products that improve farm productivity and use water and other important resources more efficiently.
Compared to the regular foliar agrochemicals, the use of seed treatment agrochemicals makes it possible to reduce dosages thereby lessening the environmental load and to save farmers a lot of labor. The demand for such seed treatment agrochemicals is expected to grow in the future. Latitude® fungicide is the seed treatment fungicide capable of treating diseases arising as a result of the continuous cropping of wheat (take-all disease). It has been registered and sold in more than ten countries, mostly in Europe. In order to sell Latitude® products, Mitsui will make full use of the sales know-how and customer bases it has built up in the field of seed treatment agrochemicals through its subsidiaries Certis Europe B.V., which is headquartered in the Netherlands, and Spiess-Urania Chemicals GmbH, which is headquartered in Germany.
Mitsui regards Food and Agriculture area as a Key Strategic Domain. In the fields of agrochemicals, fertilizers, and animal nutrition that contribute to productivity and quality improvements in agricultural and livestock products, Mitsui has built trust relationships with its customers and business partners worldwide in a broad range of areas, from manufacture through to sales and research. Latitude® seed treatment fungicide is highly compatible with Mitsui's existing business, and it is a product that Mitsui has watched closely for some time. The recent acquisition was brought to realization through the trust relationships Mitsui has built up with its partners. Through the acquisition, Mitsui aims to expand its agrochemicals portfolio, strengthen its sales platform and customer base, and bring about increased productivity, while continuing to pursue further opportunities for product acquisitions in the future.
Profile of Monsanto Company
| | |
| --- | --- |
| Company Name | Monsanto Company |
| Location | St. Louis, Missouri, United States |
| Established | 2000 |
| Representative | Hugh Grant, Chairman and Chief Executive Officer |
| Business Activities | The manufacture and sale of seeds and agrochemicals |
Wheat field of Europe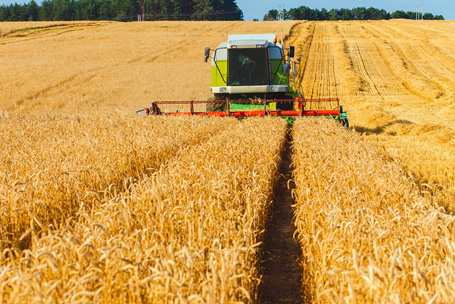 Notice:
This announcement contains forward-looking statements. These forward-looking statements are based on Mitsui's current assumptions, expectations and beliefs in light of the information currently possessed by it and involve known and unknown risks, uncertainties and other factors. Such risks, uncertainties and other factors may cause Mitsui's actual results, financial position or cash flows to be materially different from any future results, financial position or cash flows expressed or implied by these forward-looking statements. These risks, uncertainties and other factors referred to above include, but are not limited to, those contained in Mitsui's latest Annual Securities Report and Quarterly Securities Report, and Mitsui undertakes no obligation to publicly update or revise any forward-looking statements.
This announcement is published in order to publicly announce specific facts stated above, and does not constitute a solicitation of investments or any similar act inside or outside of Japan, regarding the shares, bonds or other securities issued by us.