Main Contents
Mitsui & Co., Ltd. ("Mitsui", Head Office: Tokyo, President & CEO: Tatsuo Yasunaga) has decided to participate in an office building redevelopment project in Singapore's Central Business District with Ascendas-Singbridge Group ("Ascendas-Singbridge") and Tokyo Tatemono Co., Ltd. ("Tokyo Tatemono"). Today the three companies concluded a joint venture shareholders' agreement. The project will consist of the demolition of an existing office building, the CPF Building, and the construction of a new Grade A office building. Completion is scheduled for April 2020. The total cost of the project is estimated at approximately one billion Singapore dollars (about 75 billion yen).
The project will be carried out in the Tanjong Pagar district, a cluster of financial institutions, legal offices, and other businesses that forms part of Singapore's Central Business District. Given the accelerating pace of redevelopment in recent years, the area is expected to show further growth. A key feature of the site is its extremely convenient location in terms of transportation access. The new building will provide direct access to Tanjong Pagar Station on Singapore's Mass Rapid Transit (MRT) subway network. The site is also extremely close to Shenton Way Station, which is scheduled to be opened in 2021 on a new MRT line. In addition, the new building will be in a highly visible location at the intersection of two major roads: Robinson Road and Maxwell Road. Because the building will not be overshadowed by neighboring structures, it will also offer excellent views.
Ascendas-Singbridge, one of our business partners, has an extensive development track record and customer network and is engaged in projects in 29 cities in 10 countries throughout Asia. Mitsui and Ascendas-Singbridge have previously worked together on Galaxis project in Singapore and the Nusajaya Tech Park in Malaysia's Iskandar Area. This new project will be the third collaboration between the two companies. Our other project partner, Tokyo Tatemono, is one of Japan's leading development companies. With a track record that includes many mega-projects, such as Otemachi Tower, Tokyo Square Garden, and Nakano Central Park, it has advanced development expertise and an extensive customer network. Tokyo Tatemono has collaborated with Mitsui on office and condominium development projects in Japan.
Mitsui is engaged in the development of office buildings and logistics facilities in Japan, as well as REIT management. It said business in Singapore includes business park development and asset management through specialized industrial estate REITs. Through these business operations, Mitsui has created new business models for industrial real estate in Japan and overseas. This new project will be a stepping stone to the further expansion of Mitsui's office building development business in Southeast Asia.
1. Project Overview
Project name
CPF Building Redevelopment
Location
79 Robinson Road, Singapore
Use
Mainly offices with some commercial space
Site area
4,371m2
Total floor area
Approximately 57,400m2
Construction period (estimated)
Start: 2017
Completion: 2020
Total costs
Approximately 1 billion Singapore dollars (about ¥75 billion yen)
2. Profile of Joint Venture Company
Company name
Southernwood Property Pte. Ltd.
Shareholders
Joint venture of Mitsui and Tokyo Tatemono: 35%
Ascendas-Singbridge Group: 65%
Main role
Development, ownership, and management of the project
3. Photo of Signing Ceremony in Tokyo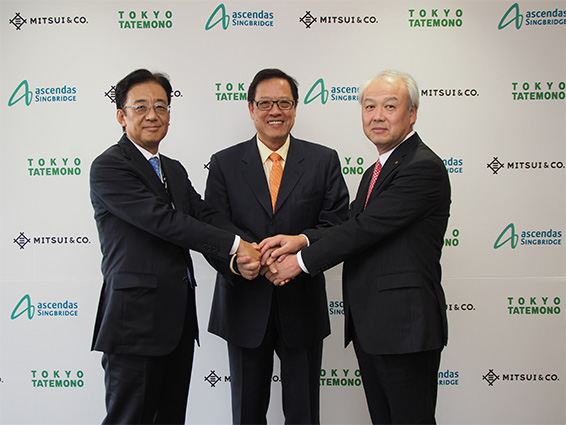 4. Location of Redevelopment Project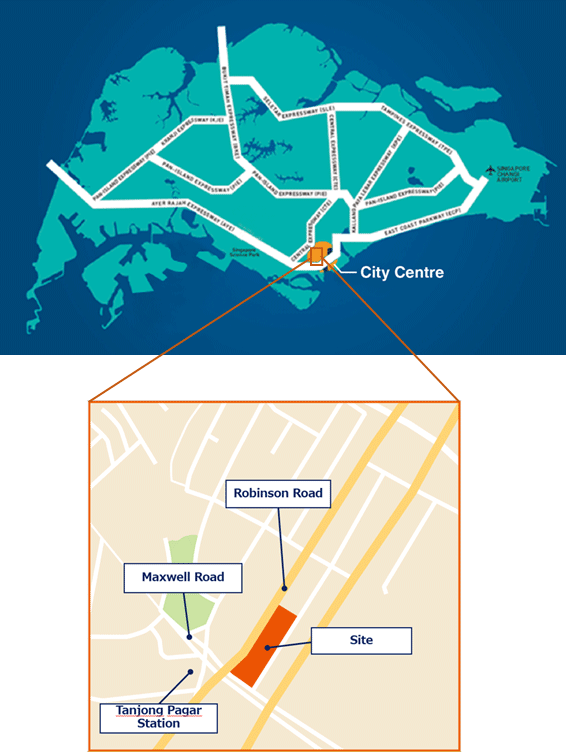 Notice:
This announcement contains forward-looking statements. These forward-looking statements are based on Mitsui's current assumptions, expectations and beliefs in light of the information currently possessed by it and involve known and unknown risks, uncertainties and other factors. Such risks, uncertainties and other factors may cause Mitsui's actual results, financial position or cash flows to be materially different from any future results, financial position or cash flows expressed or implied by these forward-looking statements. These risks, uncertainties and other factors referred to above include, but are not limited to, those contained in Mitsui's latest Annual Securities Report and Quarterly Securities Report, and Mitsui undertakes no obligation to publicly update or revise any forward-looking statements.
This announcement is published in order to publicly announce specific facts stated above, and does not constitute a solicitation of investments or any similar act inside or outside of Japan, regarding the shares, bonds or other securities issued by us.