Main Contents
Mitsui & Co., Ltd. ("Mitsui", Head Office: Tokyo, President and CEO: Tatsuo Yasunaga) has entered into an agreement to subscribe for shares newly issued through private placement by Mercari Inc. ("Mercari"), which plans, develops and operates the Mercari flea market app for smartphones. Mitsui will participate in the fundraising of approximately ¥8.4 billion as one of the lead investors and plans to dispatch one of its employees to join Mercari's board of directors. This is the first time that a general trading company (sogo shosha) has invested in the "sharing economy" sector. Mitsui sees equity participation in Mercari as a way to contribute to the sharing economy and meet the needs of society by creating a future in which waste and environmental burdens are minimized. We will continue to engage actively in new business initiatives in this area in Japan and overseas.
There is growing consciousness of the importance of recycling and efficient utilization of resources, especially in North America and Europe. Moreover, the market penetration of Internet technologies, in particular mobile technology as seen with the smartphone, has led to the expansion of new businesses and services known collectively as the "sharing economy." It complements conventional consumption models and stimulate new demand with examples including vehicle dispatch services, such as Uber, and accommodation introduction services, such as Airbnb. There are also examples in Japan. For example, last year Tokyo's Ota Ward announced that it would introduce an ordinance allowing the provision of accommodation in private residences in its special economic zone. The sharing economy is expected to gain popularity in a wide range of fields.
Mercari operates a flea market in which ICT technology is used to connect people who wish to sell second-hand goods to buyers via smartphones. The app has already been downloaded 32 million times (25 million in Japan, 7 million in the United States), and Mercari is rapidly growing into a leading player in the sharing economy. Mitsui decided to acquire an equity stake after concluding that Mercari, which has the biggest user base in Japan and is eager to expand globally, would be an ideal business partner with whom to collaborate.
Mitsui aims to use mobile telecommunications infrastructure as a platform for creating various services, including mobile payments and e-commerce. It has accumulated extensive knowledge and built global networks through its business operations conducted with ICT companies in Japan and overseas, including the Russian payment service provider Qiwi, the Indonesian high-speed communication carrier PT. Internux, and Afrimax, which provides high-speed communications services in Africa. Mitsui will help Mercari to expand globally, especially in emerging markets (including Southeast Asia, Russia and Africa) by using its expertise and networks to provide the functions needed to set up business operations and build partnerships with local companies in each country.
Profile of Mercari
| | |
| --- | --- |
| Company name | Mercari, Inc. |
| Head office | 18F, Roppongi Hills Mori Tower, 10-1, Roppongi 6-chome, Minato-ku, Tokyo |
| Establishment | February 2013 |
| Representative | Shintaro Yamada, President and CEO |
| Representative shareholders | Shintaro Yamada, United, Inc., **Globis Capital Partners & Co., etc. |
| Business activities | Planning, development and administration of "Mercari" flea market app for smartphones |
Conceptual Diagram for Services Offered by Mercari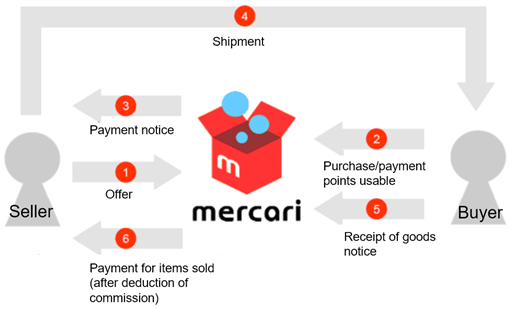 Notice:
This announcement contains forward-looking statements. These forward-looking statements are based on Mitsui's current assumptions, expectations and beliefs in light of the information currently possessed by it and involve known and unknown risks, uncertainties and other factors. Such risks, uncertainties and other factors may cause Mitsui's actual results, financial position or cash flows to be materially different from any future results, financial position or cash flows expressed or implied by these forward-looking statements. These risks, uncertainties and other factors referred to above include, but are not limited to, those contained in Mitsui's latest Annual Securities Report and Quarterly Securities Report, and Mitsui undertakes no obligation to publicly update or revise any forward-looking statements.
This announcement is published in order to publicly announce specific facts stated above, and does not constitute a solicitation of investments or any similar act inside or outside of Japan, regarding the shares, bonds or other securities issued by us.