Main Contents
Mitsui & Co., Ltd. ("Mitsui," Head Office: Tokyo, President & CEO Masami Iijima) and Kuala Lumpur Kepong Berhad ("KLK," Head Office: Ipoh, Malaysia, CEO: Tan Sri Lee Oi Hian), a Malaysian leading company in the palm plantation and oleochemical industries, have reached agreement on Mitsui's participation in the oleochemical business operated by KLK in China. Mitsui plans to invest a total of $44 million (approximately ¥5.3 billion) in the business and has signed an agreement providing for the acquisition of 20% of the shares in KLK Premier Capital Limited ("KLKPCL") from KLK. KLKPCL is an investment holding company, which owns 100% of the shares in Taiko Palm-Oleo (Zhangjiagang) Co., Ltd. ("TPOZ"), a manufacturer and supplier of oleochemicals based in Zhangjiagang City, Jiangsu Province.
Manufactured mainly from palm oil and other natural oils, oleochemicals are used as raw materials for detergents and lubricants. The world market for oleochemicals is currently worth around ¥7 trillion and is expected to grow by over 4% annually (over 7% per annum for China).
KLK is one of the world's leading companies in this area. In 2004, it established TPOZ for the manufacture and sales of oleochemicals in China, which is a growth market. When it completes its expansion project, which is currently in progress, TPOZ will improve the cost efficiency of its production operations and target further enhancement of its competitive advantage by introducing new high-added-value derivative products.
Mitsui and KLK have jointly operated an oleochemical manufacturing and supply business in Malaysia since 1991, but this will be their first joint business project in China. This project will not only further strengthen the partnership between the two companies, but will also improve their access to expanding markets. In addition, Mitsui and KLK will be able to broaden their business base through expansion of their oleochemical derivatives business.
Mitsui will work to improve the value of the TPOZ's oleochemical business operation and deepen its global involvement in this field by deploying its accumulated knowledge and taking the initiative to advance the oleochemical business through its network of companies with sophisticated chemical manufacturing expertise, as well as by utilizing its trading capabilities.
Profile of the Oleochemical Business of TPOZ
| | |
| --- | --- |
| Production base | Zhangjiagang City, Jiangsu Province, China |
| Activities | Manufacturing and sales of oleochemical products (fatty acids, glycerine, soap noodles, and triacetin) |
| Established | 2004 |
Profile of KLK
| | |
| --- | --- |
| Name | Kuala Lumpur Kepong Berhad |
| Location | Ipoh, Perak Darul Ridzuan State, Malaysia |
| Representative | Tan Sri Dato' Seri Lee Oi Hian |
| Activities | Operation of palm plantations, manufacture and sale of oleochemicals |
| Established | 1906 |
Scheme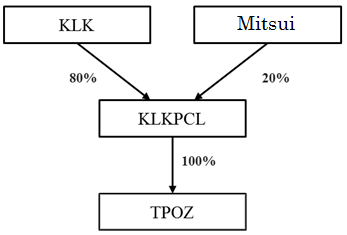 TPOZ Zhangjiagang Factory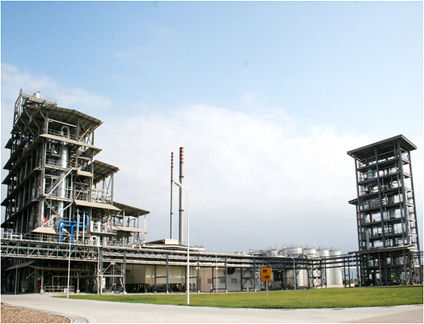 Standard Oleochemical Production Processes and their Principal Applications

Notice:
This announcement contains forward-looking statements. These forward-looking statements are based on Mitsui's current assumptions, expectations and beliefs in light of the information currently possessed by it and involve known and unknown risks, uncertainties and other factors. Such risks, uncertainties and other factors may cause Mitsui's actual results, financial position or cash flows to be materially different from any future results, financial position or cash flows expressed or implied by these forward-looking statements. These risks, uncertainties and other factors referred to above include, but are not limited to, those contained in Mitsui's latest Annual Securities Report and Quarterly Securities Report, and Mitsui undertakes no obligation to publicly update or revise any forward-looking statements.
This announcement is published in order to publicly announce specific facts stated above, and does not constitute a solicitation of investments or any similar act inside or outside of Japan, regarding the shares, bonds or other securities issued by us.