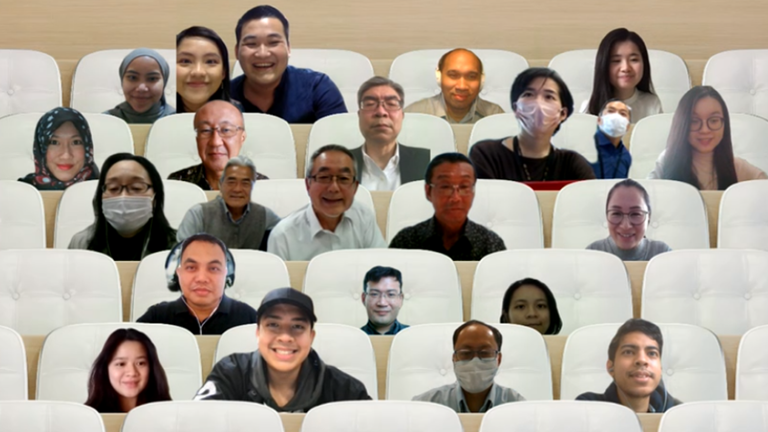 The Mitsui-Bussan Scholarship Program for Indonesia held a ceremony on March 24 to commemorate the graduation of two students from the 18th intake. The ceremony, which was held online for the first time as part of measures to prevent the spread of COVID-19, was attended by 24 people, including six current students, as well as representatives of PT. Mitsui Indonesia, scholarship alumni currently working for that company, and Japan-side officials of the scholarship program.

The event included an address by Mr. Jinno, President Director & CEO of Mitsui Indonesia, who encouraged the graduates to make their greatest efforts to contribute to prosperity in both Indonesia and Japan, while flexibly responding to changes in society. The two graduates said that the scholarship program had given them opportunities to meet with a variety of people and learn about life. They expressed their determination to contribute to friendship between Japan and Indonesia, and their gratitude for their valuable experiences over the past five and a half years, which they described as a solid foundation for their future lives.

The online event gave the graduates a reunion opportunity to meet with and participants were engaged in conversation for the first time in many months.

Established in 1992 by Mitsui & Co., Ltd., the Mitsui-Bussan Scholarship Program for Indonesia reached its 29th year in 2021. Application process were suspended in 2020 because of COVID-19, but has been resumed since January 2021 with the introduction of an online exam system. Every year Indonesian high school graduates are selected through the program, which has enabled a total of 46 students to study in Japan for five and a half years, including an 18-month course in the Japanese language, followed by a four-year university course. One of our present grantee, Mr. Jerome Polin was awarded Forbes 30 Under 30 Asia this year, and 6 graduates are active as Mitsui Indonesia's staff members.

Through this program, Mitsui & Co. will continue to contribute to the promotion of friendship between Japan and Indonesia and the development of future leaders who will contribute to the development of their home country.