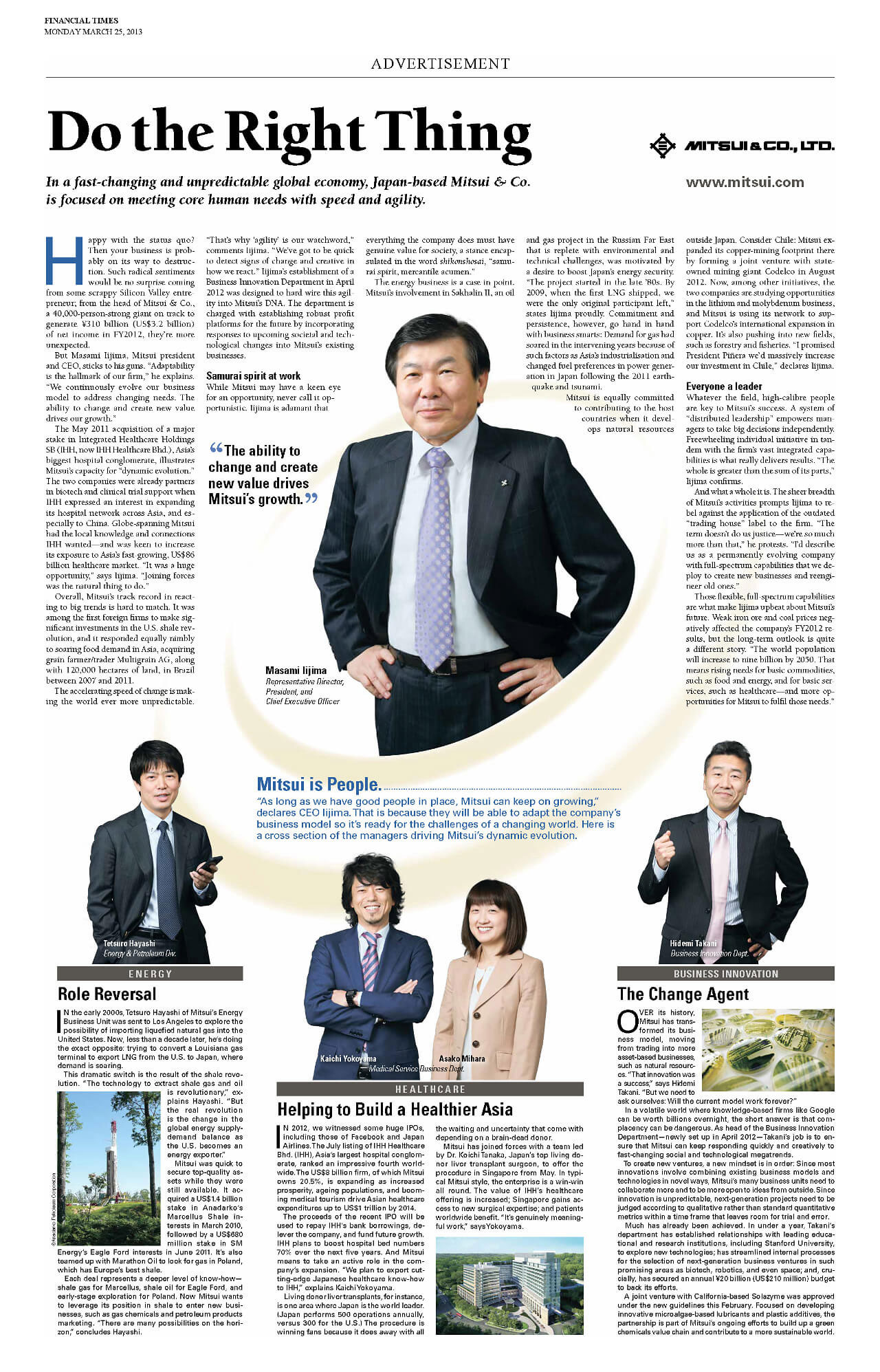 Mitsui is People
Mitsui & Co. continuously adapts its business model to address the world's changing needs.
How can a big global company be so agile? The secret is our high-quality people.
Explore the sections below to meet a cross section of the people driving Mitsui's evolution.
In a fast-changing and unpredictable global economy, Japan-based Mitsui & Co. is focused on meeting core human needs with speed and agility.
Happy with the status quo? Then your business is probably on its way to destruction. Such radical sentiments would be no surprise coming from some scrappy Silicon Valley entrepreneur; from the head of Mitsui & Co., a 40,000- person-strong giant on track to generate ¥310 billion (US$3.2billion) of net income in FY2012, they're more unexpected.
But Masami Iijima, Mitsui president and CEO, sticks to his guns. "Adaptability is the hallmark of our firm," he explains. "We continuously evolve our business model to address changing needs. The ability to change and create new value drives our growth."
The May 2011 acquisition of a major stake in Integrated Healthcare Holdings SB (IHH, now IHH Healthcare Bhd.), Asia's biggest hospital conglomerate, illustrates Mitsui's capacity for "dynamic evolution." The two companies were already partners in biotech and clinical trial support when IHH expressed an interest in expanding its hospital network across Asia, and especially to China. Globe-spanning Mitsui had the local knowledge and connections IHH wanted—and was keen to increase its exposure to Asia's fast-growing, US$86 billion healthcare market. "It was a huge opportunity," says Iijima. "Joining forces was the natural thing to do."
The ability to change and create new value drives Mitsui's growth.
Overall, Mitsui's track record in reacting to big trends is hard to match. It was among the first foreign firms to make significant investments in the U.S. shale revolution, and it responded equally nimbly to soaring food demand in Asia, acquiring grain farmer/trader Multigrain AG, along with 120,000 hectares of land, in Brazil between 2007 and 2011.
The accelerating speed of change is making the world ever more unpredictable. "That's why 'agility' is our watchword," comments Iijima. "We've got to be quick to detect signs of change and creative in how we react." Iijima's establishment of a Business Innovation Department in April 2012 was designed to hard wire this agility into Mitsui's DNA. The department is charged with establishing robust profit platforms for the future by incorporating responses to upcoming societal and technological changes into Mitsui's existing businesses.
Samurai spirit at work
While Mitsui may have a keen eye for an opportunity, never call it opportunistic. Iijima is adamant that everything the company does must have genuine value for society, a stance encapsulated in the word shikonshosai, "samurai spirit, mercantile acumen."
The energy business is a case in point. Mitsui's involvement in Sakhalin II, an oil and gas project in the Russian Far East that is replete with environmental and technical challenges, was motivated by a desire to boost Japan's energy security. "The project started in the late '80s. By 2009, when the first LNG shipped, we were the only original participant left," states Iijima proudly. Commitment and persistence, however, go hand in hand with business smarts: Demand for gas had soared in the intervening years because of such factors as Asia's industrialisation and changed fuel preferences in power generation in Japan following the 2011 earthquake and tsunami.
Mitsui is equally committed to contributing to the host countries when it develops natural resources outside Japan. Consider Chile: Mitsui expanded its copper-mining footprint there by forming a joint venture with state-owned mining giant Codelco in August 2012. Now, among other initiatives, the two companies are studying opportunities in the lithium and molybdenum business, and Mitsui is using its network to support Codelco's international expansion in copper. It's also pushing into new fields, such as forestry and fisheries. "I promised President Piñera we'd massively increase our investment in Chile," declares Iijima.
Everyone a Leader
Whatever the field, high-calibre people are key to Mitsui's success. A system of "distributed leadership" empowers managers to take big decisions independently. Freewheeling individual initiative in tandem with the firm's vast integrated capabilities is what really delivers results. "The whole is greater than the sum of its parts," Iijima confirms.
And what a whole it is. The sheer breadth of Mitsui's activities prompts Iijima to rebel against the application of the outdated "trading house" label to the firm. "The term doesn't do us justice—we're so much more than that," he protests. "I'd describe us as a permanently evolving company with full-spectrum capabilities that we deploy to create new businesses and reengineer old ones."
Those flexible, full-spectrum capabilities are what make Iijima upbeat about Mitsui's future. Weak iron ore and coal prices negatively affected the company's FY2012 results, but the long-term outlook is quite a different story. "The world population will increase to nine billion by 2050. That means rising needs for basic commodities, such as food and energy, and for basic services, such as healthcare— and more opportunities for Mitsui to fulfil those needs."
ENERGY
Role Reversal
In the early 2000s, Tetsuro Hayashi of Mitsui's Energy Business Unit was sent to Los Angeles to explore the possibility of importing liquefied natural gas into the United States.
Now, less than a decade later, he's doing the exact opposite: trying to convert a Louisiana gas terminal to export LNG from the U.S. to Japan, where demand is soaring.
This dramatic switch is the result of the shale revolution. "The technology to extract shale gas and oil is revolutionary," explains Hayashi. "But the real revolution is the change in the global energy supply-demand balance as the U.S. becomes an energy exporter."
"The technology to extract shale gas and oil is revolutionary"
Mitsui was quick to secure top-quality assets while they were still available. It acquired a US$1.4 billion stake in Anadarko's Marcellus Shale interests in March 2010, followed by a US$680 million stake in SM Energy's Eagle Ford interests in June 2011. It's also teamed up with Marathon Oil to look for gas in Poland, which has Europe's best shale.
Each deal represents a deeper level of know-how—shale gas for Marcellus, shale oil for Eagle Ford, and early-stage exploration for Poland. Now Mitsui wants to leverage its position in shale to enter new businesses such as gas chemicals and petroleum products marketing. "There are many possibilities on the horizon," concludes Hayashi.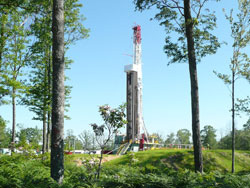 HEALTHCARE
Helping to Build a Healthier Asia
In 2012, we witnessed some huge IPOs, including those of Facebook and Japan Airlines. The July listing of IHH Healthcare Bhd. (IHH), Asia's largest hospital conglomerate, ranked an impressive fourth worldwide.
The US$8 billion firm, of which Mitsui owns 20.5%, is expanding as increased prosperity, ageing populations, and booming medical tourism drive Asian healthcare expenditures up to US$1 trillion by 2014.
The proceeds of the recent IPO will be used to repay IHH's bank borrowings de-lever the company, and fund future growth. IHH plans to boost hospital bed numbers 70% over the next five years. And Mitsui means to take an active role in the company's expansion. "We plan to export cutting-edge Japanese healthcare know-how to IHH," explains Kaichi Yokoyama.
"We plan to export cutting-edge Japanese healthcare know-how to IHH"
Living donor liver transplants, for instance, is one area where Japan is the world leader. (Japan performs 500 operations annually, versus 300 for the U.S.) The procedure is winning fans because it does away with all the waiting and uncertainty that come with depending on a brain-dead donor.
Mitsui has joined forces with a team led by Dr. Koichi Tanaka, Japan's top living donor liver transplant surgeon, to offer the procedure in Singapore from May. In typical Mitsui style, the enterprise is a win-win all round. The value of IHH's healthcare offering is increased; Singapore gains access to new surgical expertise; and patients worldwide benefit. "It's genuinely meaningful work," says Yokoyama.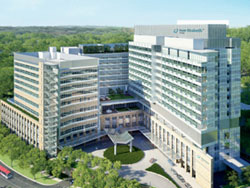 BUSINESS INNOVATION
The Change Agent
Over its history, Mitsui has transformed its business model, moving from trading into more asset-based businesses, such as natural resources.
"That innovation was a success," says Hidemi Takani. "But we need to ask ourselves: Will the current model work forever?"
In a volatile world where knowledge-based firms like Google can be worth billions overnight, the short answer is that complacency can be dangerous. As head of the Business Innovation Department—newly set up in April 2012—Takani's job is to ensure that Mitsui can keep responding quickly and creatively to fast-changing social and technological megatrends.
"We need to ask ourselves: Will the current model work forever?"
To create new ventures, a new mindset is in order: Since most innovations involve combining existing business models and technologies in novel ways, Mitsui's many business units need to collaborate more and to be more open to ideas from outside. Since innovation is unpredictable, next-generation projects need to be judged according to qualitative rather than standard quantitative metrics within a time frame that leaves room for trial and error.
Much has already been achieved. In under a year, Takani's department has established relationships with leading educational and research institutions, including Stanford University, to explore new technologies; has streamlined internal processes for the selection of next-generation business ventures in such promising areas as biotech, robotics, and even space; and, crucially, has secured an annual ¥20 billion (US$210 million) budget to back its efforts.
A joint venture with California-based Solazyme was approved under the new guidelines this February. Focused on developing innovative microalgae-based lubricants and plastic additives, the partnership is part of Mitsui's ongoing efforts to build up a green chemicals value chain and contribute to a more sustainable world.