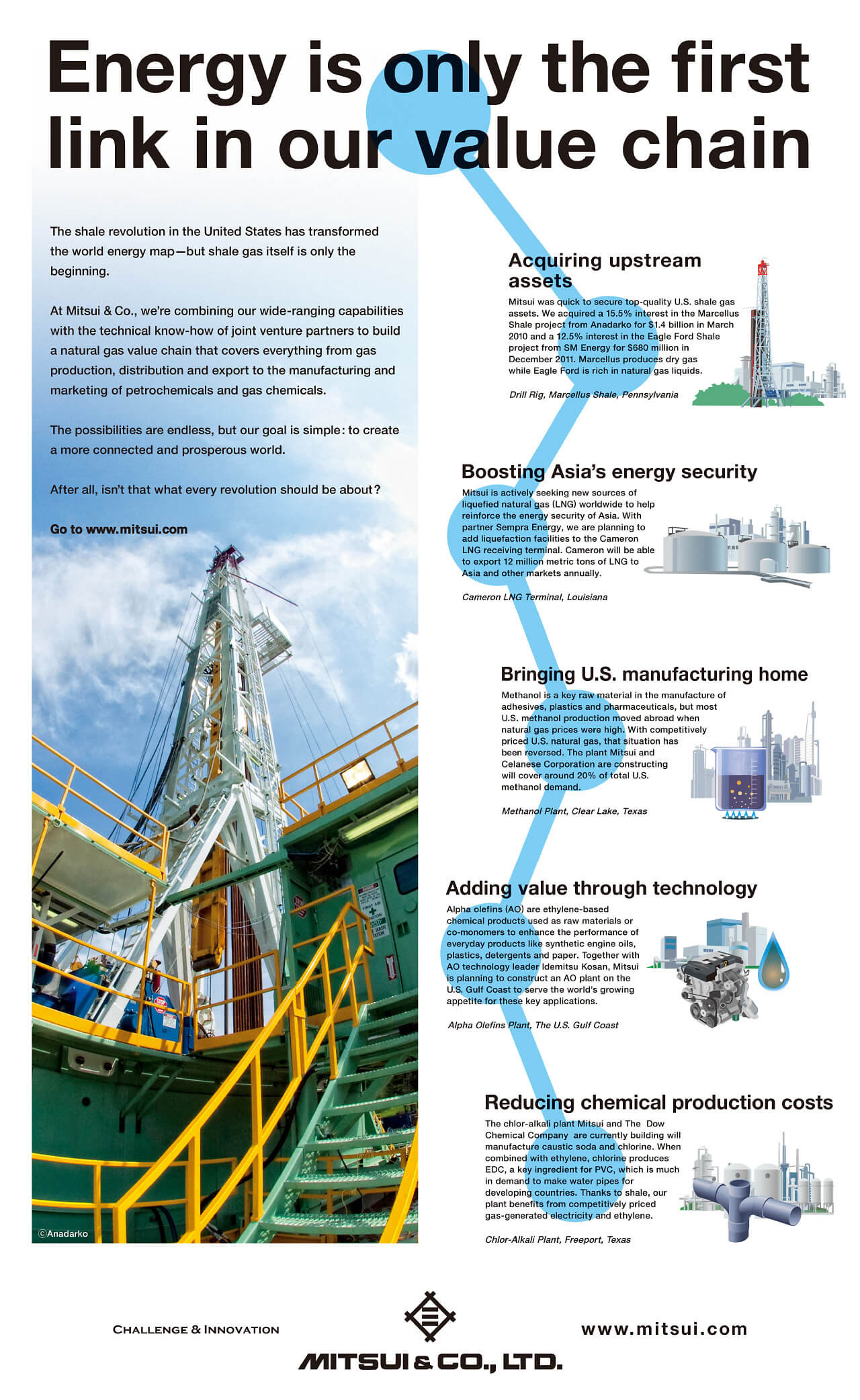 The shale revolution in the United States has transformed the world energy map—but shale gas itself is only the beginning.
At Mitsui & Co., we're combining our wide-ranging capabilities with the technical know-how of joint venture partners to build a natural gas value chain that covers everything from gas production, distribution and export to the manufacturing and marketing of petrochemicals and gas chemicals.
The possibilities are endless, but our goal is simple: to create a more connected and prosperous world.
After all, isn't that what every revolution should be about?
Go to www.mitsui.com
Acquiring upstream assets
Mitsui was quick to secure top-quality U.S. shale gas assets. We acquired a 15.5% interest in the Marcellus Shale project from Anadarko for $1.4 billion in March 2010 and a 12.5% interest in the Eagle Ford Shale project from SM Energy for $680 million in December 2011. Marcellus produces dry gas while Eagle Ford is rich in natural gas liquids.
Drill Rig, Marcellus Shale, Pennsylvania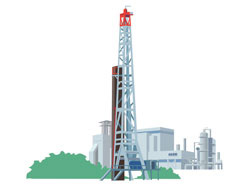 Boosting Asia's energy security
Mitsui is actively seeking new sources of liquefied natural gas (LNG) worldwide to help reinforce the energy security of Asia. With partner Sempra Energy, we are planning to add liquefaction facilities to the Cameron LNG receiving terminal. Cameron will be able to export 12 million metric tons of LNG to Asia and other markets annually.
Cameron LNG Terminal, Louisiana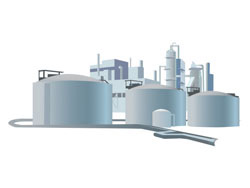 Bringing U.S. manufacturing home
Methanol is a key raw material in the manufacture of adhesives, plastics and pharmaceuticals, but most U.S. methanol production moved abroad when natural gas prices were high. With competitively priced U.S. natural gas, that situation has been reversed. The plant Mitsui and Celanese Corporation are constructing will cover around 20% of total U.S. methanol demand.
Methanol Plant, Clear Lake, Texas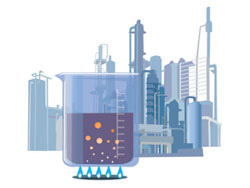 Adding value through technology
Alpha olefins (AO) are ethylene-based chemical products used as raw materials or co-monomers to enhance the performance of everyday products like synthetic engine oils, plastics, detergents and paper. Together with AO technology leader Idemitsu Kosan, Mitsui is planning to construct an AO plant on the U.S. Gulf Coast to serve the world's growing appetite for these key applications.
Alpha Olefins Plant, The U.S. Gulf Coast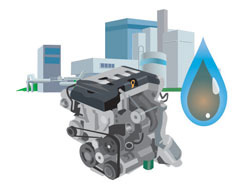 Reducing chemical production costs
The chlor-alkali plant Mitsui and The Dow Chemical Company are currently building will manufacture caustic soda and chlorine. When combined with ethylene, chlorine produces EDC, a key ingredient for PVC, which is much in demand to make water pipes for developing countries. Thanks to shale, our plant benefits from competitively priced gas-generated electricity and ethylene.
Chlor-Alkali Plant, Freeport, Texas