Mitsui & Co. (Brasil) S.A.
Introduction of the Projects Dept
The Projects Dept is in charge of developing the infrastructure projects in Brazil. Its broad activities cover Oil & Gas infrastructure projects, Petrochemical Projects, E&P Projects, Ship & Marine projects, Electric & Power projects and Social infrastructure projects.
Our Functions = Integrated Solution Provider for Infrastructure projects
Our principal function is to provide integrated solutions to our clients in various stages of the infrastructure projects by means of (i) project structuring and coordination, (ii) finance arrangement, (iii) equity participation, (iv) EPC contract execution and coordination, (v) operation and maintenance support, by utilizing our extensive global network and multiple business units. We aim to contribute to successful project implementation, operation and completion of the projects, satisfying client's needs and requirements.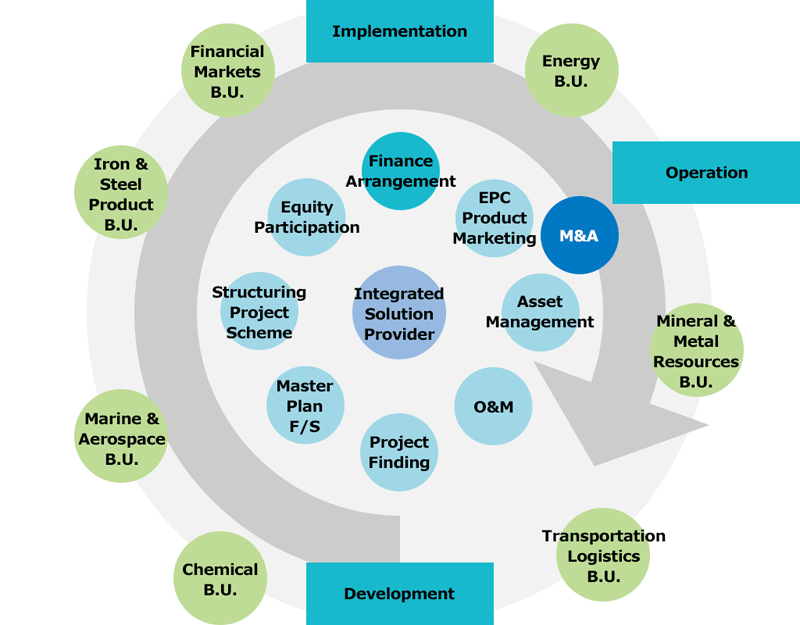 Main Track Records in Brazil
We have been developing infrastructure projects here in Brazil for more than several decades, and their aggregate amount reaches nearly USD 8billion. Following are our main track records:
Exploration & Production / Ship & Marine Field
2 Oil Field Development projects;
2 Drillships;
6 Floating Production, Storage and Offloading Units(FPSO);
1 Floating Storage and Offloading Unit(FSO);
Downstream Field
4 Oil Refinery Modernization / Revamping projects;
Gas & Energy Field
2 Gas Separation Units;
1 Gas Pipeline.
We recognize that Brazil has entered a new era for further development, with the huge potential of its natural resources and with the World Cup and the Olympic Games, and we are eager to contribute to the sustainable growth of our customers, Brazil's economy and society through our infrastructure development activities.