Mitsui & Co. (Brasil) S.A.
Introduction of the Projects Dept
The Projects Dept is in charge of developing the infrastructure projects in Brazil. Its broad activities cover Oil & Gas infrastructure projects, Petrochemical Projects, E&P Projects, Ship & Marine projects, Electric & Power projects and Social infrastructure projects.
Integrated Solution Provider for Infrastructure projects
Our principal function is to provide integrated solutions to our clients in various stages of the infrastructure projects by means of (i) project structuring and coordination, (ii) finance arrangement, (iii) equity participation, (iv) EPC contract execution and coordination, (v) operation and maintenance support, by utilizing our extensive global network and multiple business units. We aim to contribute to successful project implementation, operation and completion of the projects, satisfying client's needs and requirements.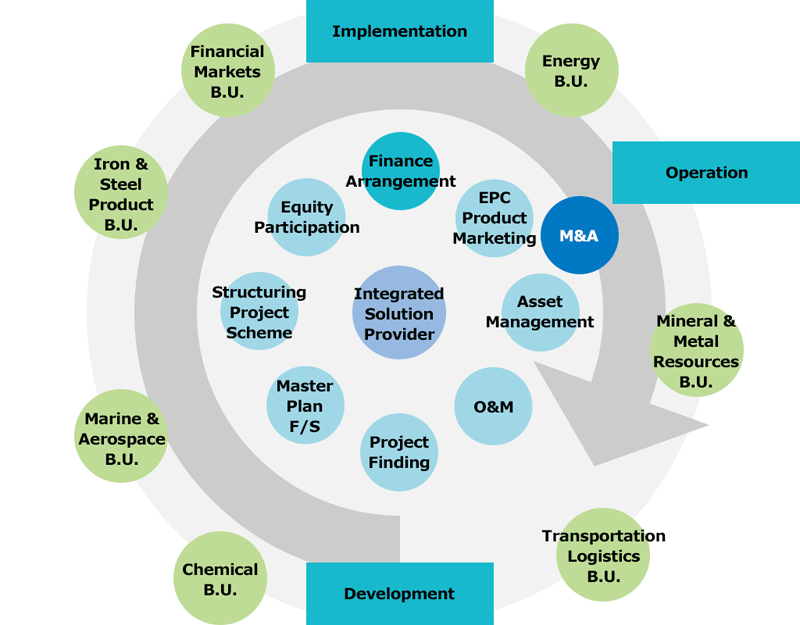 Main Projects in Brazil
We have been developing infrastructure projects here in Brazil for several decades, and their aggregate value of which is over USD 20 billion.


Activity Market
Energy

Centralized Generation

• Renewable Energy (onshore/offshore Wind, Solar/Solar Thermal, geothermal, biomass etc.)

• Thermal Energy

• Energy Storage

Power Distribution Service

• Renewable Energy (Distributed Solar, cogeneration, etc.)

• Energy Storage, Demand Response, VVP, Energy Management Service, etc.

Infrastructure - Oil and Gas

• LNG receiving / exporting terminal, pipeline, gas distribution

• Chemical plant and refinery

• FPSO (Floating Production, Storage and Offloading Unit)

• Drilling Rig, Subsea System, Operations Support Base, etc.

Logistic

• Port and airport infrastructure (cargo/passenger)

• Cargo terminals, grain destruction, highways, etc.

Strategic Differential

Environment

New business

• Smart cities, natural resource logistics in frontier markets.

• Sewage treatment, desalination, hydrogen production/logistics/supply, emissions/carbon credit business, etc.
Main Projects
Exploration & Production / Ship & Marine Field
2 Oil Field Development projects;
2 Drill ships;

13 FPSOs (Floating Production, Storage and Transfer Unit);
1 FSO (Floating Storage and Transfer Unit);
2 vessels for subsea equipment installations

Gas & Energy Area

Centralized Power Generation
-Jirau Energia: fourth largest hydroelectric power plant in Brazil;
-Development of Renewable Projects;


Distributed Power Generation:


-Ecogen: Developer and supplier of cogeneration energy solutions for shopping centers, commercial buildings and industries;


-Órigo Energia: service to purchase renewable energy to customers through the rental of solar farms.



Natural Gas Infrastructure:
-Mitsui Gás: Holding company with direct and indirect shareholding in 18 natural gas distributors.


We recognize that Brazil has entered a new era of greater development, with high potential from its na tural resources. We look forward to contributing, through our infrastructure development activities, to the sustainable growth of our customers, the economy and Brazilian society.



Energy
Business Area
Development of oil and gas exploration/production projects
Development of liquefied natural gas (LNG) projects
Development of sugarcane bio-ethanol projects
Development of other business related to the environment
Trading in oil and its derivatives
Development of renewable energy projects
Development of cogeneration projects
Feasibility study for the development of carbon and hydrogen capture, utilization and storage projects


Brazil's importance as an oil-producing country increased after the discovery of a pre-salt reserve and the development of its fields. Approximately 30% of all pre-salt oil and gas is processed by offshore units with Mitsui's participation. We continue to seek the development of projects related to oil and gas in order to collaborate with the development of the country's sector. We also develop projects related to natural gas and seek opportunities for other businesses such as solar, wind, biomass and hydrogen. In this way, we focus to improve our portfolio of energy resources around the world, increasing our participation in projects aimed at renewable energy.
With its vast territory and adequate weather conditions, we believe that Brazil is one of the most competitive countries for renewable energy and, together with local and international partners, Mitsui will continue its journey in developing these sectors.