Mitsui & Co. (Brasil) S.A.
Our Business
Mineral & Metal Resources
Mitsui is investing in various mineral and metal resources projects worldwide. Furthermore, by leveraging our key strengths (i.e. our two main strategies of "Resources investment" and "Sales, Marketing and Trading"), we are supplying essential raw materials and products to industry, thereby supporting to create more affluent societies around the world. The map below shows our major mineral and metal resources investments.

Major Projects in Mineral & Metal Resources Business
Our Investments in Vale and Alunorte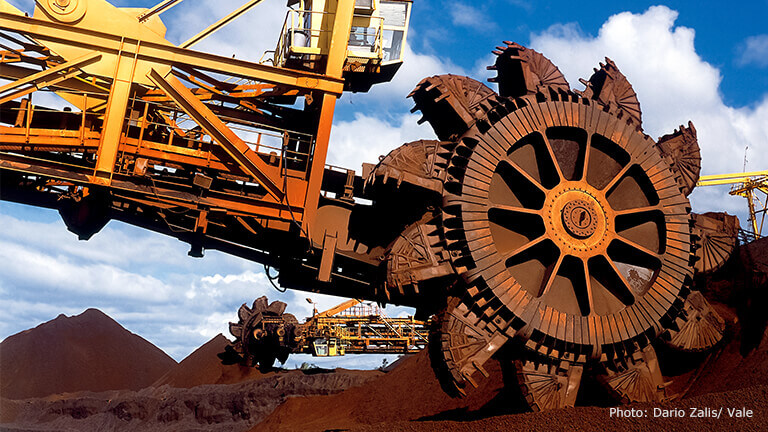 In 2003, Mitsui became a 15% shareholder of Valepar S.A ("Valepar"), a controlling company of Vale S.A. ("Vale") and thereafter, Mitsui nominates two (out of twelve) board members of Valepar and two (out of eleven) board members of Vale. Mitsui also has seats at the various important committees at Vale.
Alunorte is the world biggest alumina producer located in the state of Para, north of Brazil, and Mitsui participated in this project in 1996. Currently Mitsui is a 2.7% shareholder (direct + indirect) of Alunorte and nominates one board member (out of six) and has seats at the various committees.
What we do? – Mitsui Brasil
In Brazil, our activities are mainly focused on the 3 core areas which are; 1) the investment management of Valepar and Alunorte, and 2) search for the business opportunities in exploration, development and production of various mineral resources such as iron ore, bauxite, copper, nickel, rare metals, manganese, etc., and 3) the cross-sectional business cooperation beyond the mineral resources area through Vale's business expansion such as fertilizer, coal, clean & renewable energy, oil & gas, mining equipment supply, rail supply, general cargo, shipping, power generation, steel mill, etc.
As a reliable supplier, we are committed to enhance a stable supply to our customers through the investment in up-stream operations such as mines, which may also contribute to mitigate the tight supply situation of the natural resources industries.
On top of these mineral resources business activities, we also supply the off-road tires for the mining haul trucks in Brazil tying up with a Japanese major tire supplier. Due to the stable growth of the mining business in worldwide, the demand for the off-road tire is extremely constrained as the supply capacity is limited. We are also contributing to the mining industry by fulfilling our responsibility to supply the tires.