Mitsui & Co. (Brasil) S.A.
Our Business
Mineral & Metal Resources
Mitsui is investing in various mineral and metal resources projects worldwide. Furthermore, by leveraging our key strengths (i.e. our two main strategies of "Resources investment" and "Sales, Marketing and Trading"), we are supplying essential raw materials and products to industry, thereby supporting to create more affluent societies around the world. The map below shows our major mineral and metal resources investments.

Major Projects in Mineral & Metal Resources Business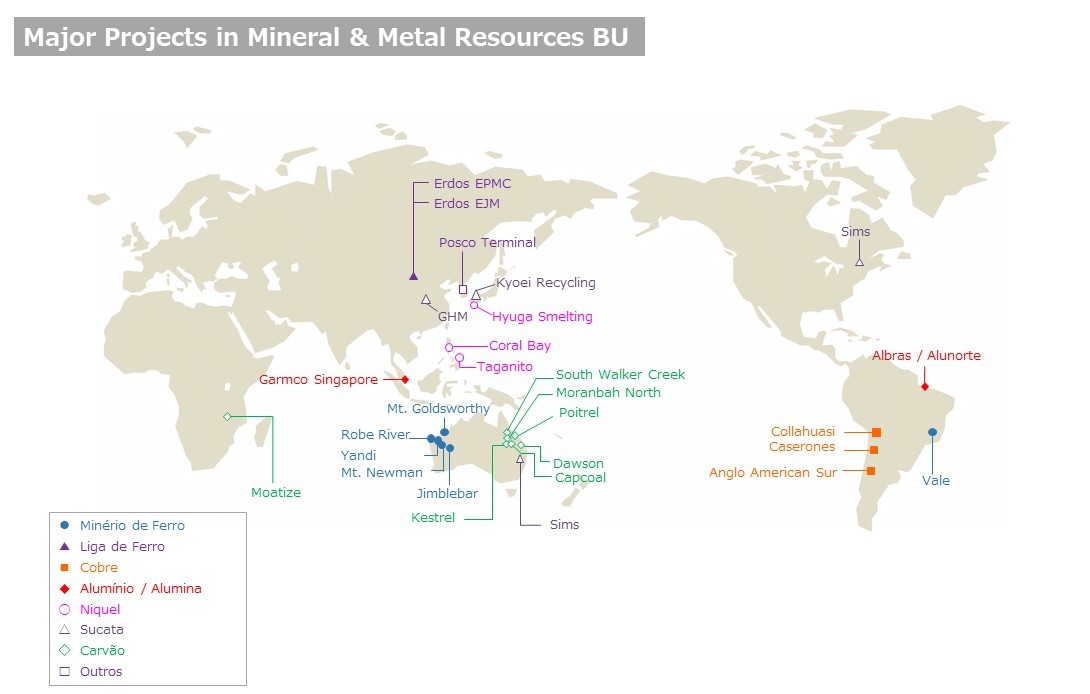 Our Investments in Vale and Alunorte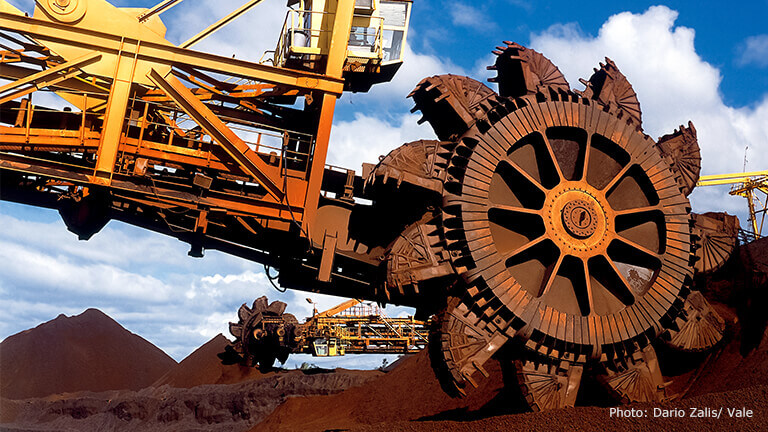 In 2003, Mitsui became a 15% shareholder of Valepar S.A ("Valepar"), a controlling company of Vale S.A. ("Vale"). After the reform of the shareholding structure in 2017, Mitsui became a 6% shareholder of Vale and Mitsui nominates two (out of twelve) board members of Vale. Mitsui also has seats at the various important committees at Vale.
Alunorte is the world biggest alumina refinery located in the state of Para, north of Brazil, and Mitsui participated in this project in 1996. Currently Mitsui is a 3% shareholder (direct + indirect) of Alunorte and nominates one board member (out of six) and has seats at the financial and technical various committees.
What we do? – Mitsui Brasil
In Brazil, our activities are focused on 3 main areas: 1) investment management at Vale and Alunorte, 2) search for business opportunities of exploration, development and production of various mineral resources such as iron ore, bauxite, copper, nickel, rare metals, manganese etc. and 3) cooperation with companies in businesses that go beyond the area of mineral resources such as fertilizers, coal, clean and renewable energy, oil and gas, off-road tires for mining trucks, supply of mining equipment, railroad supply, general cargo, transport, power generation, steel mills etc.

We commit to improve our customer relations through investment in upstream operations that contribute to alleviate scarce supply of natural resources.