Mitsui & Co. Moscow LLC
About Us
Publications in Mass Media
Viktor Tolokonsky met with executives of Japanese investment company Mitsui & Co
---
Main Contents

The web site of the Plenipotentiary Representative of the President of Russia in the Siberian federal district
Today Plenipotentiary Presidential Representative in Siberian Federal District Viktor Tolokonsky met with executive of Japanese investment company Mitsui & Co. The meeting participants discussed prospects of cooperation of the company and Siberian regions.

Plenipotentiary representative expressed interest in the development of investment cooperation between the regions of Siberian Federal District and the Japanese corporation.
«Mitsui & Co is an interesting partner for us, we are ready for the regular exchange and negotiation. I am convinced that the company should actively enter into many spheres of our activities in many areas of Siberia ", - said Victor Tolokonsky.
During the meeting, Mitsui's Chief Regional Representative in the CIS countries Noriaki Sakamoto outlined the prospects of investment opportunities for the company in the Siberian Federal District and the most interesting areas of investment.
"We would like to buy more wood to form a chain of wood processing, are interested in mining coal, rare metals, needed in the manufacture of batteries," - said Mr. Sakamoto.
In addition, the priority areas of cooperation are energy, information technology, pharmaceutical industry.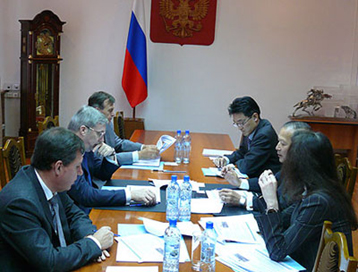 Plenipotentiary Representative stressed that the Siberian regions are less interested in the export of raw materials.
"For us it is very important to develop advanced processing technologies, to build new high-tech and knowledge-intensive industrial projects", - said Victor Tolokonsky.
Envoy expressed confidence that the active implementation of investment projects in these areas will contribute widely support measures at the state level and the Siberian Federal District.
Reference:

The company Mitsui & Co., Ltd. (Mitsui) - a major global corporation operating in the area of trade, investment and services. The company operates in many industries: metallurgy, mineral resources, infrastructure, transportation, chemical industry, energy, information technology and others.
Russian representatives of Mitsui & Co. in Moscow, St. Petersburg, Yuzhno-Sakhalinsk, Khabarovsk and Vladivostok. The Corporation is the largest investor in Russia, among other companies in Japan. Total volume of investments Mitsui & Co, invested in the Russian economy - more than $ 3 billion.