Mitsui & Co. Moscow LLC
About Us
Publications in Mass Media
Dmitry Mezentsev meets Japan's Mitsui & Co., Ltd. delegation.
---
Main Contents
The official web site of Irkutsk region Administration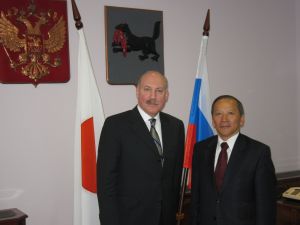 Irkutsk Region Governor and Prime Minister Dmitry Mezentsev held a meeting today with a delegation of Japan's Mitsui & Co., Ltd. The parties discussed on priority investment projects realization the Irkutsk region.
The Irkutsk region government proposed Mitsui & Co., Ltd. to participate in investment projects related to timber processing, production and bottling of premium deep-well mineral water on Lake Baikal, metal processing, big magnesite and iron ore deposits development and construction of metal processing plants. The Japanese company was interested also in projects of Sibirsky Elektro-Metallurgichesky Zavod ZAO (Siberian Electrometallurgy Steel Mill Private Joint-Stock Co).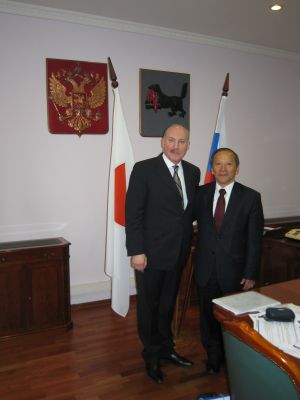 Dmitry Mezentsev expressed hope for development and increase of mutual cooperation with the Japanese company. Mitsui's Executive Managing Officer Noriaki Sakamoto made a presentation of a timber processing plant project in the Irkutsk region and mentioned that the company has more than 20 years experience of doing business in the Irkutsk region. As many as 130 Japanese employees of Mitsui speak Russian, and the company will send several employees to the Irkutsk State Linguistic University this year to study Russian language.
Brief Information on Mitsui
Mitsui makes business in many fields and has 14 business units which are involved in operations in mineral resources, infrastructure projects, motor vehicles, basic chemicals and performance chemicals, energy, food, IT, financing and transportation logistics.
Source: Press Office of Irkutsk Region Governor and Government