Mitsui & Co. Moscow LLC
About Us
Publications in Mass Media
Russian President's Representative in the Far East Federal District Victor Ishaev met with Mr. Masayuki Kinoshita, Representative Director, Executive Managing Officer of Mitsui & Co., Ltd.
---
Main Contents
The official web site of the Plenipotentiary Representative of the President of Russia in the Far Eastern federal district
---
The parties discussed on prospects of the Japanese business activity in the Russian Far East.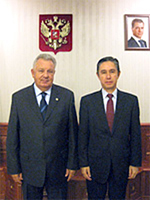 Mr. Kinoshita said that Mitsui & Co. has vast experience in doing business in East Siberia and the Russian Far East. He mentioned in particular the Sakhalin-2 project, sales of Hino vehicles, a joint project with Sollers and projects in the power generation sector.
Besides, the company issued a series of booklets promoting foreign investments into Russia and participates actively in meetings of the Russian Far East Foreign Investment Advisory Council under the chairmanship of Mr. Ishaev.
Mr. Kinoshita told about the company's plans to develop city infrastructure projects and to promote Japanese premium consumer goods in Russia.
Mr. Ishaev proposed Mitsui & Co. to study participation in infrastructure projects and setting up new production facilities in the Russian Far East. "The Russian Far East will continue exporting its mineral resources but our goal is to produce products from the mineral resources locally," he said. For instance, Mr. Ishaev proposed to consider fish and seafood processing business. "You can set up fish and seafood processing factories in Kamchatka and Sakhalin, which would meet the Japanese consumer market standards. It would be mutually beneficial projects. I believe the cost of products made in Russia for the Japanese market would be quite low," Mr. Ishaev said.
Mr. Ishaev proposed Mitsui & Co. also to find a function in the development of the major [infrastructure] projects in the Russian Far East: expansion of the Baikal-Amur Railway and the construction of the Vostochny space-vehicle launching site, a bridge connecting Sakhalin Island with Russia's mainland and electric power transmission lines.