Mitsui & Co. (Chile) Ltda.
Business Areas
Marine resources, such as fish meal and fish oil.
Agro-industrial products, such as fruit juice concentrates, frozen fruits and vegetables, fruit pulp products and tomato paste.
Dairy products such as whole milk powder.
Aquaculture, with a special emphasis on the salmon farming industry.
Main Activities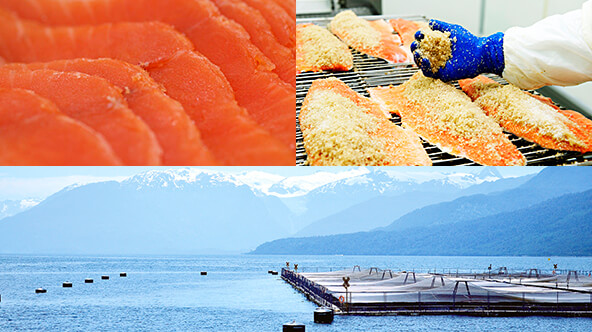 By creating strong and long-term oriented relationships with our suppliers, we seek to establish a stable supply chain to meet the needs of our customers not only in Japan but also in other countries.
Our role is not limited to the trading of products from and to different markets, we also seek to establish a relationship of mutual and permanent contact and cooperation with our customers and suppliers in order to identify new business and investment opportunities.
Given the increasing demand for reliable and quality foods, the role of Latin America as a supplying source for several markets is expected to become increasingly important.
In this context, Chile has consolidated its position of a producer and exporter of reliable foodstuffs, especially agricultural products, aquaculture products and marine resources.
Multiexport Pacific Farms S.A.

Company involved in the farming, processing and marketing of the salmonids species Trout and Coho Salmon, established in January of 2013 as a subsidiary company of Multiexport Foods group, in which Mitsui U.S.A.has a 30% ownership. This investment is the first venture of the Mitsui group in the salmon farming industry worldwide, and its main target is to serve the Asian market, especially China, though not limited to those markets.