Mitsui & Co. (Chile) Ltda.
About Us
Corporate Profile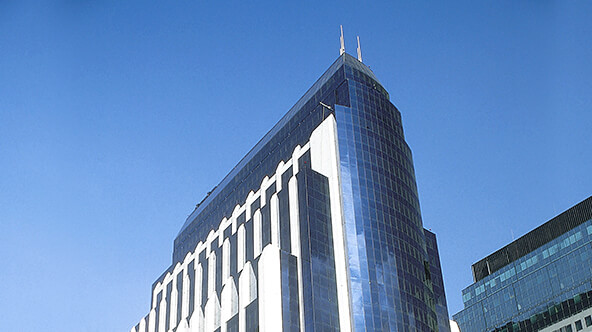 Mitsui & Co., Ltd. Japan started to operate in 1957, and its Chilean subsidiary, Mitsui & Co. (Chile) Ltda. was created in 1969.
Mitsui's essential business model is trading business for exports, imports and local transactions , providing our customers with comprehensive services to facilitate local business transactions, including searching and analyzing information related to business trends and market conditions, different financial products and best logistical solution. Mitsui's other relevant business model is investment. We have contributed to increase business value through investments in areas where future growth is expected, proposing business management solutions and developing opportunities inherent thereto, making use to leveraging Mitsui's know-how strengths.
Mitsui currently combines its five core functions (Marketing, Financing, Logistics, Risk Management, and Information Technology) with a set of capacities in engineering business through extensive business knowledge. Said capacities account for a wide range of business range to provide high value-added solutions and services meeting customer needs around the world.
For over 55 years in this country, Mitsui & Co. (Chile) Ltda. has developed different kinds of businesses, from exports and imports between Chile and other world markets such as salmon, marine resources, agro-industrial produce, cars, chemicals and plastics, rock salt, copper concentrates and cathodes, molybdenum concentrates, semi-finished steel products and wood chips, as well as large investments in the areas of mining, machinery, agroindustry, fish farming and forestry, in an amount of about 4 billion US dollars to date. Throughout its presence in Chile, Mitsui Chile has dealt with the challenges and needs posed in Chile by developing different businesses and creating new values. Our history is one of challenge and innovation; a track record of growth together with the Chilean society within an ever-changing and growing global economy.
Our business areas are organized in four departments to provide better solutions for our customers' growth and development in such industrial sectors as Energy and Mineral Resources, Foods, Chemicals, and Infrastructure Projects.
Mission, Vision and Values of Mitsui & Co.
Mission

Strive to contribute to the creation of a future where the aspirations of the people can be fulfilled.
Vision

Aim to become a global business enabler that can meet the needs of our customers throughout the world.
Values

Build trust with fairness and humility.
Aspire to set high standards and to contribute to society.
Embrace the challenge of continuous innovation.
Foster a culture of open-mindedness.
Strive to develop others and oneself to achieve full potential.
Name
Mitsui & Co. (Chile) Ltda.
Date of Establishment
October 28, 1969
Office

Av. Andres Bello 2711, Las Condes,Santiago, Chile
Telephone: 56-2-22906200
Facsimile: 56-2-23359610
URL: https://www.mitsui.com/cl/en/

President

Yoshinori Takase

---

Number of Employees
33
(as of December 31, 2013)