Mitsui & Co. (Chile) Ltda.
Business Areas
PVC:
Mitsui participates, globally, in the supply of polyvinyl chloride (PVC) resins, chlorinated polyvinyl chloride (CPVC), as well as Emulsion PVC.
Chloride-Alkali:
Mitsui is one of the world's biggest players of industrial salt, supplying Chloride Alkali plants. It also markets sodium carbonate and anhydrous sodium sulfate, among other products.
Additives:
Mitsui markets a wide range of Impact Modifiers, Process Aids, Stabilizers, Flame Retardant, Anti-caking agents, etc.
Polycarbonate and Engineering Plastics:
PC (Polycarbonate), ABS (Acrylonitrile Butadiene Styrene), PMMA (Polymethylmethacrilate), POM (Polyacetal), among others.
Specialized resins for plastic packaging:
We provide a comprehensive solution for the production of plastic mono-layer and multi-layer packages requiring state-of-the-art materials: Polyamide, PET Resin, Polyolefines, Tie Resin, Evoh, m-LLDPE, among others.
Polyethylene:
We also commercialize High Density polyethylene (HDPE). Linear (LLDPE) and non-Linear Low Density Polyethylene (LDPE).
Performance materials:
Globally, Mitsui exchanges Chloroprene (synthetic rubber) and titanium dioxide, among others.
Chemical and Agricultural Products:
Mitsui is engaged in the Agrochemicals industry, more specifically, in crop nutrition and crop protection. Through its subsidiary ANAGRA, Mitsui is present in the Chilean fertilizers market.
Main Activities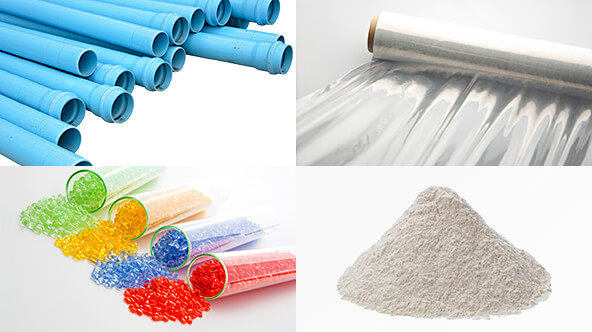 Mitsui & Co. (Chile) Ltda. specializes in marketing and representing a wide range of chemicals mainly used at the beginning of the productive chain, with raw materials such as Chloride-Alkali products, plastic resin, performance materials, specialties and agrochemicals.
It also specializes in high performance materials for packaging, special polymers, engineering plastics and highly complex chemicals to be processed through methods such as extrusion, injection and blow molding, mainly.
With a great service capacity for both import and export, connecting Chile with Mitsui´s global network, mainly Asia and North America, and focusing on full customer satisfaction, Mitsui Chile has consolidated its position in the domestic market, as well as Peru, Bolivia and some counties in Central America.
As a result of a comprehensive high performance product portfolio and of fast growth of the state-of-the-art plastic industry, Mitsui has become a world leader in supplying products for applications related to the automobile, foods, packaging, lining, construction, agricultural, energy, healthcare services and electronics industries.
The focus is to supply basic chemicals and on the other hand high added value sophisticated plastics materials, manufactured with competitive technology that allow a sustainable development in order to contribute to the improvement of everyone´s standard of living.