Mitsui & Co. Benelux S. A./N. V.
Our Business
ITC Rubis Terminal Antwerp (affiliate company)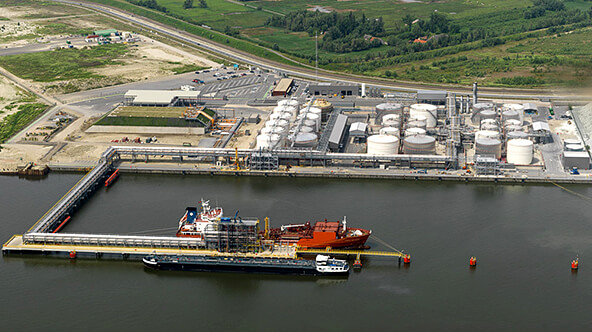 ITC Rubis Terminal Antwerp NV was established in 2008 as a joint venture between Rubis Terminal (France), Intercontinental Terminals Company &quotITC&quot (Houston, USA) and Mitsui & Co Europe (London). These world players joined forces to construct a new 100,000 CBM terminal in Antwerp, Belgium, for the storage and handling of a wide range of liquid chemicals, gases and petroleum products.
The terminal is located on the Left Bank of the River Scheldt. Antwerp is one of the world's prime locations for the petrochemical industry. The consistent industry growth requires additional infrastructure for marine and land logistics. The terminal is strengthening the logistic facilities in the Antwerp chemical cluster and supports the growing need for storage of petrochemicals for the European market. With time, the joint venture intends to increase the facility up to a capacity of 500,000 CBM.
Construction of the first phase started in September 2008 and operations actually started in October 2010. Phase-I construction (10 hectares) has been completed and construction of Phase-II has started. After completion of the T-jetty construction, the terminal will have a deep-water jetty with 7 berths, capable of handling large size chemical tankers, coasters and barges, as well as rail and truck handling facilities.
It is a unique project with full respect for the environment, using the latest technologies in terms of safety and operations. The site is literally 'just around the corner', at the beginning of the Antwerp Left Bank, especially once the new Deurganckdock Lock will be operational in 2016.
International network
This terminal is part of a strong international network of terminals: &quotITC&quot in the USA and &quotRubis Terminal&quot in Europe and Turkey.
ITC Rubis Terminal Antwerp is a strong player in the storage market, equipped with modern state of the art installations and ready to provide safe quality storage for the next decennia, always eager for more business and expansion, with a strong mind for customer satisfaction.