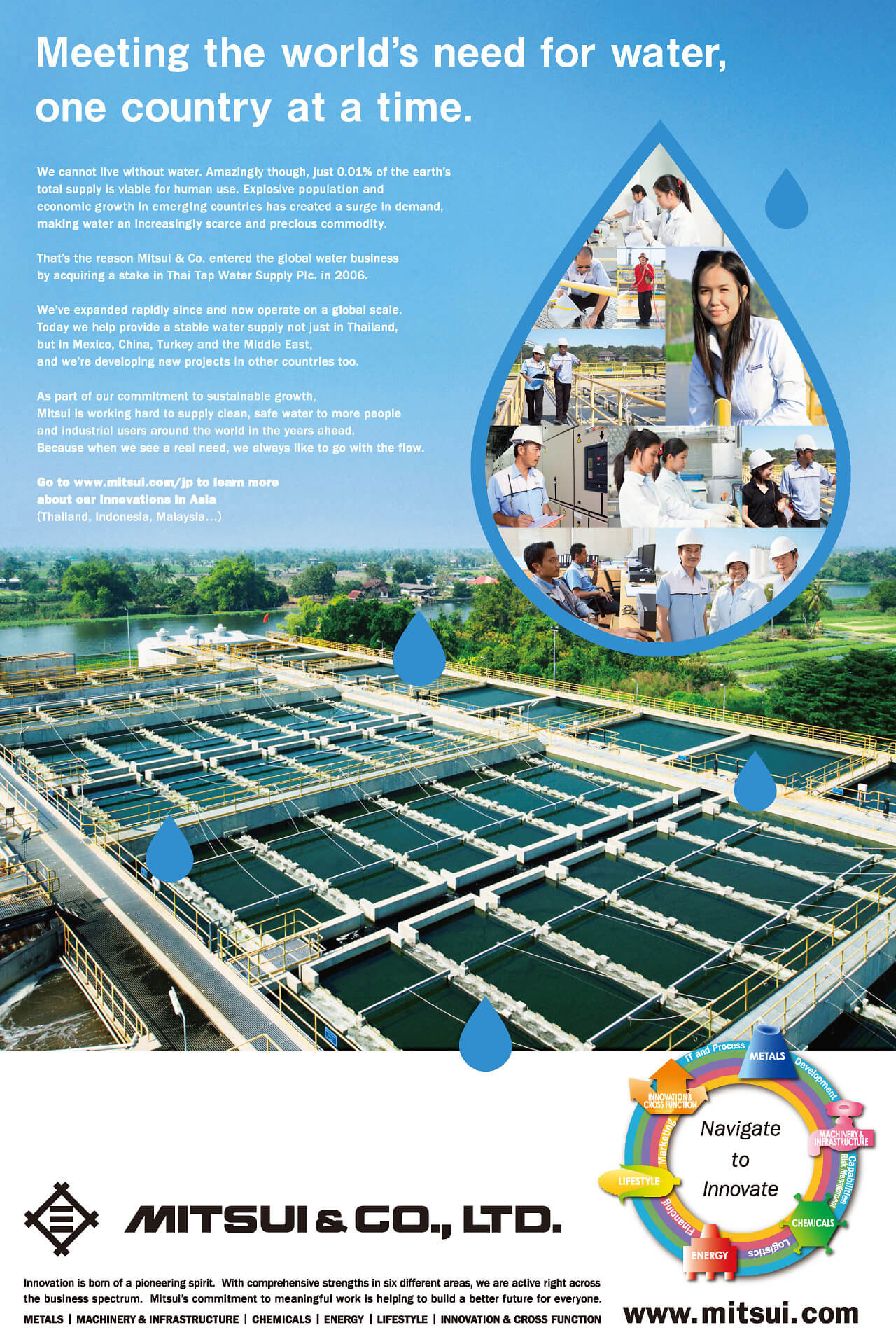 We cannot live without water. Amazingly though, just 0.01% of the earth's total supply is viable for human use. Explosive population and economic growth in emerging countries has created a surge in demand, making water an increasingly scarce and precious commodity.
That's the reason Mitsui & Co. entered the global water business by acquiring a stake in Thai Tap Water Supply Plc. in 2006.
We've expanded rapidly since and now operate on a global scale. Today we help provide a stable water supply not just in Thailand, but in Mexico, China, Turkey and the Middle East, and we're developing new projects in other countries too.
As part of our commitment to sustainable growth, Mitsui is working hard to supply clean, safe water to more people and industrial users around the world in the years ahead. Because when we see a real need, we always like to go with the flow.
Go to www.mitsui.com/jp to learn more about our innovations in Asia.
(Thailand, Indonesia, Malaysia …)
Challenge & Innovation in Asia
Initiatives in Thailand
Thai Tap Water Supply Public Co., Ltd.
In March 2006, Mitsui & Co., Ltd.("Mitsui") added to its worldwide operations in the water-resources business by acquiring 35% stake in Thai Tap Water Supply Public Co., Ltd. ("TTW") from TTW's other shareholder, Ch. Karnchang Public Co., Ltd. ("CHK")., which, in line with its 30-year water supply agreement with Provincial Waterworks Authority of Thailand which began in 2004, supplies tap water to two provinces west of Bangkok, Nakhon Pathom Province and Samut Sakhon Province. Meanwhile, venture partner CHK actively engages in infrastructure project investment within Thailand, against a backdrop of government policy aimed at facilitating infrastructure privatization.
In July 2007, TTW added to its holdings Pathum Thani Water Co., Ltd. ("PTW"), a tap water provider which in 1998 had entered into a long-term 25-year agreement with the Provincial Waterworks Authority. The acquisition had accordingly increased the water supply capacity of TTW combined with that of PTW to some 830,000 tons per day. TTW and PTW supply water to rapidly developing commercial districts and residential areas in Thailand where demand for clean water has been growing every year, amid moves by the nation's government to tighten groundwater-use regulations in an effort to combat deterioration of the environment such as in the form of ground subsidence and water contamination. Accordingly, TTW and PTW water treatment plants now supply clean and safe water to more than one million people every day.
In September 2011, TTW entered the power business after acquiring a 30% stake in Thai power generation business holding company CK Power Limited. CK Power holds a 41% stake in the 615 MW Nam Ngum 2 hydropower project in Laos, which supplies power to Thai National Power Co.
Mitsui views the infrastructure business as a priority investment area, and as such has been steadily acquiring prime assets in power, water and other infrastructure sectors. In the water resources sector, Mitsui is engaged in the tap water business in Thailand, and tap water supply and wastewater treatment projects in China through Galaxy NewSpring Pte. Ltd., a joint venture company of Mitsui and Hyflux Ltd. Outside of Asia, Mitsui is also engaged in a tap water and wastewater treatment business in Mexico, as well as a tap water supply project in Turkey. Mitsui believes that water infrastructure ventures that efficiently leverage private-sector funds and technology are bound to yield a profound impact on society as greater importance is increasingly attached to water resources around the globe. As such, Mitsui aims to develop ventures mainly in Asia, Europe, Central and South America and the Middle East, where further growth is anticipated.
* In May 2008, TTW was listed on the Thailand Stock Exchange, and as of December 2012, Mitsui & Co. holds a 26% stake in the company.
The Kumphawapi Sugar Co., Ltd.
The Kumphawapi Sugar Co., Ltd. ("KMP"), a joint venture of Mitsui and Mitsui Sugar Co., Ltd., is located in Thailand, the world's second largest sugar exporting nation. The company is the only foreign sugar producer in the country, with a history extending back some 50 years. Through its operations of KMP and Kaset Phol Sugar ("KSP") acquired in 1994, the Mitsui & Co. Group maintains a 4% share of Thailand's total sugar production, and now boasts a track record of sales spanning many years to Japan and other markets within the Asia-Pacific region. Aiming to further expand its sugar business, in 2012 Mitsui agreed to acquire a stake in Thai sugar company Khonburi Sugar, and formed a strategic alliance with the company.
Mitsui Oil Exploration Co., Ltd.
Mitsui holds more than 70% share of Mitsui Oil Exploration Co., Ltd. ("MOECO"), a core E&P business company in the Mitsui & Co. Group. MOECO has been actively conducting business in Thailand for over 40 years, during which time it has been helping supply energy to Thailand through exploration, development and production ventures involving natural gas, condensate and crude oil in 19 blocks, both within the country and off-shore.
Initiatives in Indonesia
PT Paiton Energy
Indonesian company PT Paiton Energy ("PE"), Mitsui holds 40.5% share as of December 2012, built the Paiton III thermal power plant in the proximity of its Paiton I thernal power plant (1,230 MW), which started up in 1999, Paiton III (815MW) began commercial operations in March 2012, and now sells energy to Indonesia's state-owned electricity power company, PT PLN ("PLN") on the basis of a long-term 30-year agreement in that regard entered into between PE and PLN.
The Indonesian government has deemed the maintenance of stable sources of energy one of its key policies, while demand for electricity is expected to outstrip supply well into the future. Paiton III enables PE to efficiently and competitively supply energy by sharing certain on-site facilities with the previously-built power plant, and meanwhile enables Mitsui to play a role in the Indonesian government's efforts toward furthering national development. Mitsui currently holds a 41% stake in PE (as of December 2012).
Aiming to assemble a portfolio of top-notch business ventures, Mitsui has accordingly designated power-related projects as one of the key business areas. It intends to focus on in the company's infrastructure business segment. The inclusion of this project brings Mitsui's ownership of net power generating capacity to 5,834MW worldwide (as of December 2012). Going forward, Mitsui intends to generate even better results from its business portfolio by seeking out and developing new projects of this caliber, amid the currently prevailing scenario of increasing global demand for electric power.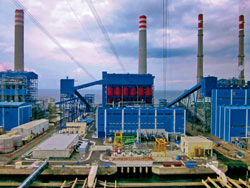 Mitsui-Bussan Scholarship Program for Indonesia
In addition to its wide-ranging business activities in Indonesia, Mitsui is also contributing to human resource development in that country through the Mitsui-Bussan Scholarship Program for Indonesia.
Established in 1992, this scholarship program targets academically gifted high school students who are strongly motivated to contribute to their country's development. The recipients, who are selected from throughout Indonesia, are assisted to acquire advanced specialized knowledge while studying at universities in Japan. After their arrival in Japan, the recipients spend 18 months learning Japanese and preparing for university entrance exams. The scholarships cover a total period of five-and-a-half years, up until graduation from university. In addition to the scholarships, the program provides various other kinds of support to ensure that the students can adapt to Japanese society and focus on their studies. Selection is based on a cooperative system that includes the participation of the Ministry of Education and Culture of Indonesia and university professors. As of fiscal 2012, a total of 32 students had been assisted through the program.
Mitsui will continue to implement this program in the hope that the recipients will enjoy successful careers in the global arena after their graduation and contribute to friendship between Japan and Indonesia in the future.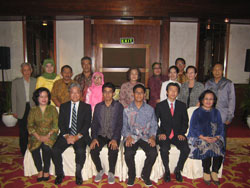 Initiatives in Malaysia
Palm-Oleo Bhd.
In 1989, Mitsui joined forces with KL Kepong Bhd., one of the largest palm-farming companies in Malaysia, and other companies and established Palm-Oleo Sdn. Bhd., a manufacturer of palm oil derivatives such as fatty acids and glycerin used in detergents and additives for plastics. The company intends to boost its capabilities to break down fats and oils, with the goal of value chain expansion encompassing the entire process from palm oil extraction to manufacturing of fatty acids and alcohol derivatives.
The company contributes to push forward with Mitsui's green chemicals business by helping to provide raw materials that are used in the environmentally-sound products ranging from lubricants to rubber and tires, which consumers are demanding.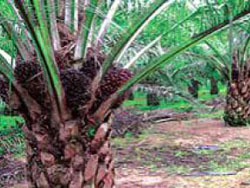 Initiatives in Malaysia/Singapore, Turkey and more
IHH Healthcare Bhd.
Asia's demand for medical and healthcare services is expected to grow due to population growth as well as changing lifestyles with economic development and the aging of the population. The development of hospital infrastructure and improvements in the quality of healthcare services are becoming pressing issues in the region. There has also been a sharp rise in medical tourism, with people travelling to other countries in search of higher quality healthcare services. The Asian private hospital market is expected to grow at an annual rate of more than 10%.
Mitsui has been sensitive to these changes in the healthcare environment and in May 2011, it acquired a 30% interest in IHH, Asia's largest hospital group. IHH owns Singapore's leading private hospital group and Malaysia's second-largest private hospital group, and in January 2012, it acquired a 60% interest in Acibadem Saglik Yatirimlari Holding ("Acibadem"), the leading private healthcare group in Turkey, allowing the Company to expand its operating base. In July 2012, IHH was listed on both Malaysia and Singapore stock exchanges with a view to continued growth and is planning to add further 3,300 new beds to existing 4,900 beds over the next five years.
Mitsui's new Medium-term Management Plan cites "a reinforcement of the Company's earnings base by demonstrating its business engineering capabilities" and through that, "to proactively capture the momentum of growth in emerging economies and to meet the global industrial requirements." Mitsui's aim in the medical and healthcare business is to realize a better healthcare environment by supporting the growth strategy of the hospital business in emerging economies, where the demand for healthcare services is growing. By leveraging Mitsui's business engineering capabilities in hospital outsource/support services such as clinical laboratory services as well as peripheral hospital services, such as hospital food services, Mitsui endeavors to raise the corporate value of IHH and capture economic growth in Asia and other emerging markets.
* Mitsui's shareholding in IHH was diluted to 26.6% in January 2012 with the issuance of new shares for the 60% acquisition of Turkish healthcare group Acibadem, and in July 2012 it was further diluted to 20.5% due to IHH's IPO.