Main Contents
On September 26, 2013, Mitsui & Co., Ltd. ("Mitsui," Head Office: Chiyoda-ku, Tokyo; President and CEO: Masami Iijima) entered into a memorandum of understanding ("MOU") with Yangon City Development Committee ("YCDC"), Bureau of Waterworks, Tokyo Metropolitan Government ("TOKYO"), Tokyo Suido Services Co., Ltd. ("TSS") and Toyo Engineering Corporation ("TOYO") in Yangon city. The MOU sets forth the content and scope of collaboration and discussion among the parties regarding water supply projects in Yangon.
Through this MOU, Mitsui, together with TOKYO, TSS and TOYO, will improve water supply facilities and cultivate human resources by mobilizing their expertise and technology under the private-public initiative. Mitsui will also continue to support development of Myanmar by way of improvement of social and industrial infrastructure, including the water supply sector.
Mitsui has been engaged in the development of Myanmar for many years and aims to further expand its activities. Besides the water sector, we have recently supported infrastructure projects such as a power distribution system and also continue to support the agriculture sector by enhancing export of rice from Myanmar, while Mitsui's subsidiary Mitsui Oil Exploration Co., Ltd. is involved in oil and gas exploration.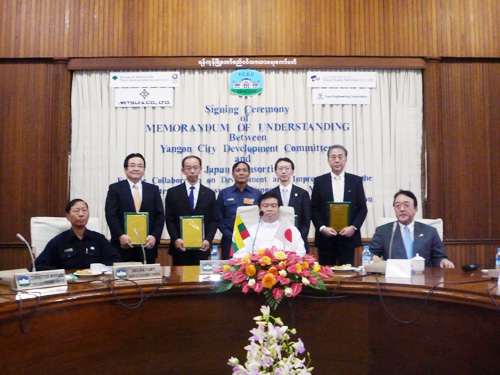 Notice:
This announcement contains forward-looking statements. These forward-looking statements are based on Mitsui's current assumptions, expectations and beliefs in light of the information currently possessed by it and involve known and unknown risks, uncertainties and other factors. Such risks, uncertainties and other factors may cause Mitsui's actual results, financial position or cash flows to be materially different from any future results, financial position or cash flows expressed or implied by these forward-looking statements. These risks, uncertainties and other factors referred to above include, but are not limited to, those contained in Mitsui's latest Annual Securities Report and Quarterly Securities Report, and Mitsui undertakes no obligation to publicly update or revise any forward-looking statements.
This announcement is published in order to publicly announce specific facts stated above, and does not constitute a solicitation of investments or any similar act inside or outside of Japan, regarding the shares, bonds or other securities issued by us.