Main Contents
Mitsui & Co., Ltd. (head office: Chiyoda-ku, Tokyo; President & CEO: Masami Iijima, "Mitsui"), together with Advanced Medical Care Inc. (head office: Minato-ku, Tokyo, Representative Director, President: Tetsuya Furukawa, "AMC"), a subsidiary of Resorttrust, Inc. (head office: Naka-ku, Nagoya, President and COO: Katsuyasu Ito, "Resorttrust"), have established a joint venture to provide IT related services in the preventive healthcare field.
As part of its efforts to create new business that leads to industrial innovations, Mitsui is developing IT related business in the medical/healthcare field. The reasons for Mitsui's involvement in this area include the need to reduce healthcare expenditures in Japan and growing public awareness of health issues.
Resorttrust operates clinic groups and is the biggest private sector operator of membership medical checkup facilities in Japan. It is working to integrate healthcare information within its group under a strategy designed to create value for the future.
Starting in the fall of 2013, the new joint venture will use healthcare information to provide the following types of services to medical facilities in the Resorttrust Group, including the Midtown Clinic, which caters 200,000 patients a year, of whom around 60,000 undergo medical checks.
1) The joint venture will use its website to provide one-stop services under the supervision of medical staff, ranging from the display and management of results from medical checks and health screening, explanations about such results to patients, customized video streaming, the provision of information about preventive care, recommendations on supplements and health foods, and the provision of other forms of medical information.
2) Information from medical facilities affiliated with Resorttrust will be integrated to create a seamless environment in which information can be shared, regardless of the facilities at which patients are examined. The joint venture will provide innovative packaged systems linking various health check and healthcare systems, including cloud-based digital medical records, health check reservation systems and result notification systems.
3) The joint venture will provide health guidance in collaboration with medical institutions and pharmaceutical companies to patients identified as potential lifestyle disease sufferers through notification and management systems for medical check results.
Web-Based Notification and Management Service for Medical Check Results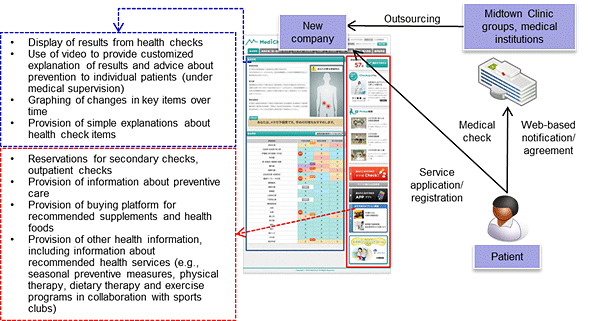 These services will be progressively extended to other medical institutions, with the aim of increasing coverage to 300 medical institutions and one million patients over the next five years. This initiative will contribute to the effective use of medical information while also using IT to create next-generation business in the medical/healthcare sector.
Profile of Joint Venture
Company name
iMedical Inc.
Location
Minato-ku, Tokyo
Representative directors
CEO: Tetsuya Furukawa (currently President of AMC)
COO: Takayasu Tsuchiya (currently with Mitsui)
Established
June 27, 2013
Total shareholders' equity
¥600 million
Shareholdings
Mitsui: 49%, AMC: 51%
Profile of Resorttrust, Inc.
Company name
Resorttrust, Inc.
Location
Naka-ku, Nagoya, Aichi Prefecture
Representative directors
CEO: Yoshiro Ito
COO: Katsuyasu Ito
Established
April 1973
Capital
¥14,258.11 million (as of March 31, 2013)
Business activities
Membership business, operation of hotels and restaurants, golf business, medical business, etc.
Group medical facilities
HIMEDIC Club (membership-based general medical support club) facilities, Tokyo Midtown Medical Center, senior residential facilities
Notice:
This announcement contains forward-looking statements. These forward-looking statements are based on Mitsui's current assumptions, expectations and beliefs in light of the information currently possessed by it and involve known and unknown risks, uncertainties and other factors. Such risks, uncertainties and other factors may cause Mitsui's actual results, financial position or cash flows to be materially different from any future results, financial position or cash flows expressed or implied by these forward-looking statements. These risks, uncertainties and other factors referred to above include, but are not limited to, those contained in Mitsui's latest Annual Securities Report and Quarterly Securities Report, and Mitsui undertakes no obligation to publicly update or revise any forward-looking statements.
This announcement is published in order to publicly announce specific facts stated above, and does not constitute a solicitation of investments or any similar act inside or outside of Japan, regarding the shares, bonds or other securities issued by us.