Main Contents
Mitsui & Co., Ltd. ("Mitsui", Head Office: Chiyoda-ku, Tokyo, President and CEO: Masami Ijima) will participate in two power generation projects that are the first large scale IPP(Independent Power Producer) basis projects in the Republic of South Africa (the Projects).
Two project companies established in South Africa, in which Mitsui will invest through its subsidiary investment vehicle in the United Kingdom, entered into a power purchase agreement with South African state-owned power utility company Eskom on 3rd, June, 2013.
The Projects will sell electricity to Eskom for 15 years from their completion through two power generation plants. One (Avon Project) involves the construction of a 670 MW diesel fired open cycle power plant near Durban, and the other (Dedisa Project) involves the construction of a 335 MW diesel fired simple cycle power plant near Port Elizabeth, and the electricity will be supplied to the major cities in the southern sector of South Africa.
The total cost of the Projects will be approximately EUR 780 million and will be financed on a project finance basis following a loan agreement between the project companies and South African lenders. Commercial operation is anticipated to start from the first quarter of 2016 after construction commences in the case of the Avon Project and from the third quarter of 2015 in the case of the Dedisa Project.
The project companies have received investments from Mitsui, GDF SUEZ (a global leading independent power producer) and two local companies through their own investment vehicles.
Due to a tight power supply and demand balance, the South African government instituted the Integrated Resource Plan 2010, a power development plan which will double South Africa's power capacity from approximately 44 (forty-four) GW at present to approximately 80 (eighty) GW by 2030. The Projects were among those receiving approval under the plan, and they are expected to improve the supply and demand balance and contribute to the industrial development of South Africa.
Mitsui has been focusing on the African region and will continue to be involved positively in new business development in that region in addition to its successful development of large scale gas field in Mozambique.
Well aware that a shortage of power is one of the hurdles of economic growth in Africa, Mitsui, through the power business which is one of its core businesses areas, will continue to support the optimization of power supply capacity and contribute to economic development of the African region.
Overview of the Projects
Company name
Avon Peaking Power (RF) Proprietary Limited
Dedisa Peaking Power (RF) Proprietary Limited
Type of Business
Construction, operation, maintenance of diesel fired power plant, and electricity sales
Capacity
Avon: 670 MW
Dedisa: 335 MW
Ownership
Mit Energy Southern Africa Ltd(Mitsui 100%): 25%
GDF Suez: 38%
BEE enterprise: 27%
BBBEE enterprise: 10%
Total Project Cost
Approximately EUR 780 million
Project Site
Avon Project: KwaZulu-Natal Province, South Africa
Dedisa Project: Eastern Cape Province, South Africa
Estimated Completion
Avon Project: Q1 of 2016
Dedisa Project: Q3 of 2015
Period of PPA
15 years after commercial operation
GDF SUEZ
| | |
| --- | --- |
| Company Name | GDF SUEZ Energy International |
| Location | London, U.K. |
| Type of Business | Independent power producer |
| Assets | Net basis: 43.2GW (Gross basis: 76.8 GW) |
Project Scheme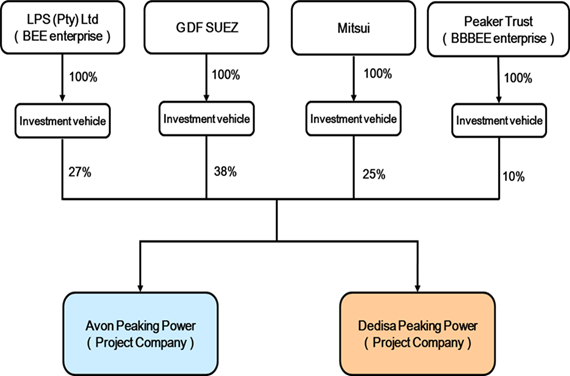 Project Site Map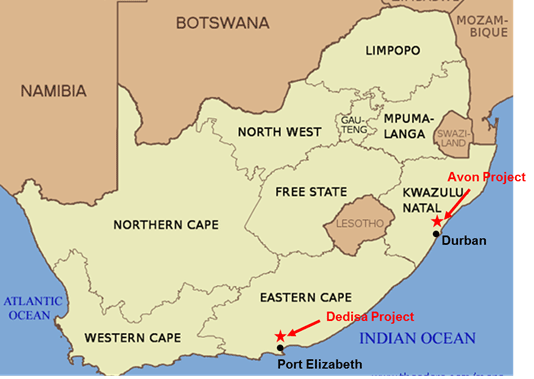 Notice:
This announcement contains forward-looking statements. These forward-looking statements are based on Mitsui's current assumptions, expectations and beliefs in light of the information currently possessed by it and involve known and unknown risks, uncertainties and other factors. Such risks, uncertainties and other factors may cause Mitsui's actual results, financial position or cash flows to be materially different from any future results, financial position or cash flows expressed or implied by these forward-looking statements. These risks, uncertainties and other factors referred to above include, but are not limited to, those contained in Mitsui's latest Annual Securities Report and Quarterly Securities Report, and Mitsui undertakes no obligation to publicly update or revise any forward-looking statements.
This announcement is published in order to publicly announce specific facts stated above, and does not constitute a solicitation of investments or any similar act inside or outside of Japan, regarding the shares, bonds or other securities issued by us.