Main Contents
Mitsui & Co., Ltd. ("Mitsui", head office: Chiyoda-ku, Tokyo, President and CEO: Masami Iijima) is set to begin work on a solar power project in Higashimatsushima City located in Miyagi Prefecture. Mitsui has concluded with the city a public property lease agreement and memorandum of understanding regarding measures to be taken in the event of disaster. Through the project, Mitsui will be involved in building a mega solar power facility in a disaster-afflicted area of the city and equipping several of the public parking areas serving the city's disaster prevention centers with carports featuring rooftop-mounted solar panels.
The solar power project is being undertaken by Mitsui as a means of providing corporate support toward rebuilding in Higashimatsushima City, which suffered extensive damage from the Great East Japan Earthquake and Tsunami. Moreover, the project is at the forefront of the city's initiatives calling for the development of Matsushima Natural Energy Park centered in the coastal portion of the Nobiru area where dwellings were hard-hit by the tsunami, and for the city's initiatives toward self-sustaining efforts to achieve better living conditions in public evacuation centers.
The mega solar facility will contain solar modules rated for a system capacity of 3,581 kW, to be built by Mitsui on 47,000 m2 of Higashimatsushima City coastal land area where extensive damage occurred as a result of the Great East Japan Earthquake and Tsunami. Also, Mitsui will equip carport facilities in public parking areas serving three of the city's disaster preparedness centers with rooftop-mounted solar modules rated at 270 kW, to act as a source of emergency power should a disaster strike. Construction of the mega solar facility is slated to begin sometime in January 2013, with operations to commence sometime in October 2013. Meanwhile, plans call for installation work involving solar-equipped carport facilities to begin sometime in January 2013, and ready for operation sometime in March 2013.
Project to support Higashimatsushima City reconstruction
Project
Support for Higashimatsushima City reconstruction
· Okumatsushima Kizuna Solar Park
· Higashimatsushima Kizuna carport facilities
Structure
Mitsui - 100%
Module capacity
Total: 3,851 kW
Mega solar facility: 3,581 kW, with Kyocera PV modules
Carport facilities: 270 kW in 3 locations, with Panasonic PV modules
Location
Mega solar facility: Site of Okumatsushima Park in the Nobiru area of Higashimatsushima City
Carport facilities: 3 public parking lots in central Higashimatsushima City
Investment
Approximately 1.24 billion yen
Construction timeline
Mega solar facility:
· Construction begins January 2013
· Operation begins October 2013
Carport facilities:
· Construction begins January 2013
· Operation begins March 2013
Duration of venture
20 years from date of operation
EPC contractor
Yurtec Co., Inc. (46.7% owned by Tohoku Electric Power Company)
Conceptual Illustration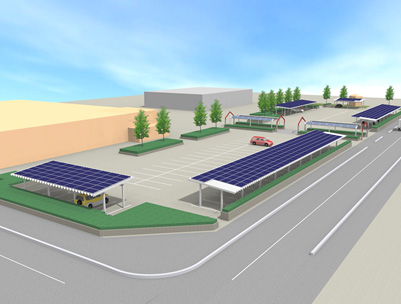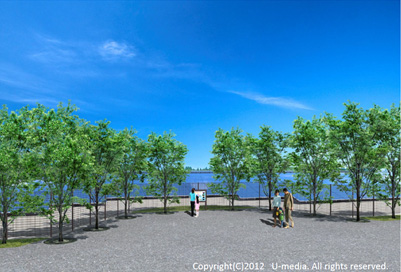 Notice:
This announcement contains forward-looking statements. These forward-looking statements are based on Mitsui's current assumptions, expectations and beliefs in light of the information currently possessed by it and involve known and unknown risks, uncertainties and other factors. Such risks, uncertainties and other factors may cause Mitsui's actual results, financial position or cash flows to be materially different from any future results, financial position or cash flows expressed or implied by these forward-looking statements. These risks, uncertainties and other factors referred to above include, but are not limited to, those contained in Mitsui's latest Annual Securities Report and Quarterly Securities Report, and Mitsui undertakes no obligation to publicly update or revise any forward-looking statements.
This announcement is published in order to publicly announce specific facts stated above, and does not constitute a solicitation of investments or any similar act inside or outside of Japan, regarding the shares, bonds or other securities issued by us.