Main Contents
Mitsui & Co., Ltd. ("Mitsui", Head Office: Tokyo, President and CEO: Masami Iijima) agreed to become a key strategic partner in the development of a new engine ("GE9X") by GE Aviation (an operating unit of GE) for the next generation of wide-body aircraft. This agreement represents the first partnership for GE9X.
The GE9X engine will be the most advanced model of the GE90 family, which powers the Boeing 777 aircraft, and has garnered orders for more than 1,500 engines. The GE9X will incorporate advanced technology, such as ceramic matrix composites or CMCs being developed by GE Aviation, and will provide a 10% improvement in fuel efficiency compared with current GE90 engines in service.
GE Aviation is a world-leading provider of jet and turboprop engines, components and integrated systems for commercial, military, business and general aviation aircraft with a global service network to support these offerings.
In April 2011, Mitsui entered into an operating lease business for the aircraft engines and established Willis Mitsui Engine Support (WMES) in Dublin, Ireland, together with Willis Lease Finance Corp., which is one of the largest and oldest engine leasing companies in the U.S.
Through this engine development business, Mitsui surely procures the engines for leasing from GE Aviation and expands the engine leasing business. In addition, GE Aviation and Mitsui are closely discussing Mitsui's consultancy services to support GE Aviation's Business in Japan, which will enhance the relationship with GE in the aviation business and expand Mitsui's aviation business.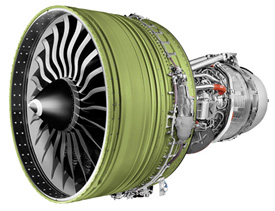 Summary of GE
| | |
| --- | --- |
| Name of company | General Electric Company |
| Head Office | Fairfield Connecticut, U.S. |
| Establishment | 1878 |
| CEO | Jeffrey R. Immelt, Chairman of the Board and CEO |
| Number of employee | 301,000 (as of December 2011, consolidated basis) |
| Capital | USD702 million |
| Business Field | Sales, finance and after services for aircraft engine, power plant, medical equipment, transport equipment |
Notice:
This announcement contains forward-looking statements. These forward-looking statements are based on Mitsui's current assumptions, expectations and beliefs in light of the information currently possessed by it and involve known and unknown risks, uncertainties and other factors. Such risks, uncertainties and other factors may cause Mitsui's actual results, financial position or cash flows to be materially different from any future results, financial position or cash flows expressed or implied by these forward-looking statements. These risks, uncertainties and other factors referred to above include, but are not limited to, those contained in Mitsui's latest Annual Securities Report and Quarterly Securities Report, and Mitsui undertakes no obligation to publicly update or revise any forward-looking statements.
This announcement is published in order to publicly announce specific facts stated above, and does not constitute a solicitation of investments or any similar act inside or outside of Japan, regarding the shares, bonds or other securities issued by us.