Main Contents
Mitsui & Co., Ltd. ("Mitsui", head office: Chiyoda-ku, Tokyo, President and CEO: Masami Iijima) and Russia's largest independent steel trading company, Steel Industrial Company ("SIC"), executed a joint venture agreement to establish a steel processing center for construction related products, and today completed the investment.
SIC is headquartered in Yekaterinburg, Ural Region, and has over 40 sales branches and service centers covering Russia. SIC currently trades approximately 1 million tons of steel products annually.
Following the announcement of Mitsui as the first trading company in Russia to participate in an automotive steel service center, Mitsui will become the first Japanese company to establish a service center specialized in construction related products.
Russia is showing stable economic growth due to its rich resources and stable government, and demand for infrastructure and housing is increasing. Further, a special procurement boom is expected from the 2014 Sochi Winter Olympics and 2018 FIFA World Cup. The new steel processing center will mainly target the Ural region and will supply services to meet the growing needs in infrastructure.
Mitsui, with its experience in operating steel processing centers worldwide, with SIC, a company with a strong sales network in Russia, will work to build an integrated processing and sales network for construction related products in Russia and the CIS region.
Corporate profile of the joint venture company
| | |
| --- | --- |
| Corporate name | LLC Stami |
| Head office | Yekaterinburg, Sverdlovsk Oblast, Russia |
| General Director | Oleg Gennadevich Elfimov |
| Shareholders | Mitsui 49%, SIC 51% |
| Charter Capital | 400 million rubles (approximately 940 million yen) |
| Business activity | Steel processing and sales for the construction sector |
Corporate profile of SIC
Official Company name
Steel Industrial Company
General Director
Alexey Yurevich Sukhnev
Year of Establishment
1991
Head office
Yekaterinburg, Russia
Business Activities
Processing and sales of steel products
Sales Network
Over 40 branches and service centers in Russia
Sales
23,078 million rubles
(Dec 2010 approximately 54.2 billion yen)
Total Assets
9,789 million rubles
(Dec 2010 approximately 22.9 billion yen)
Employees
Approx.2,000
Location of the new steel processing center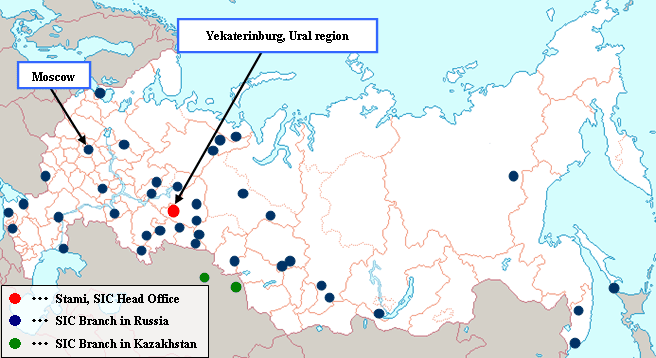 Notice:
This announcement contains forward-looking statements. These forward-looking statements are based on Mitsui's current assumptions, expectations and beliefs in light of the information currently available to it and involve known and unknown risks, uncertainties and other factors. Such risks, uncertainties and other factors may cause Mitsui's actual results, financial position or cash flows to be materially different from any future results, financial position or cash flows expressed or implied by these forward-looking statements. These risks, uncertainties and other factors referred to above include, but are not limited to, those contained in Mitsui's latest Annual Securities Report and Quarterly Securities Report, and Mitsui undertakes no obligation to publicly update or revise any forward-looking statements.
This announcement is published in order to publicly announce specific facts stated above, and does not constitute a solicitation of investments or any similar act inside or outside of Japan, regarding the shares, bonds or other securities issued by us.