Main Contents
Mitsui & Co., Ltd. ("Mitsui", head office: Chiyoda-ku, Tokyo, President: Masami Iijima) announced today that a consortium consisting of Mitsui and Daewoo E&C ("Daewoo", head office: 57, Sinmunno 1-ga, Jongno-gu Seoul 110-713, Korea) entered into an engineering, procurement and construction (EPC) contract with Jorf Lasfar Energy Company 5&6 ("JLEC 5&6"), head office: El Jadida, Commune Moulay Abdellah, Route Régionale 301, PK 23, Centrale Thermique de Jorf Lasfar, Morocco) for the development of a 700MW coal-fired power plant in Morocco.
Mitsui and Daewoo will construct two new units, each with a gross capacity of 350MW, at the existing Jorf Lasfar power plant site (currently four units each generating 350MW) near El Jadida, as well as installing the first flue-gas desulfurization (*1) system in a Moroccan power plant. The site office was completed in April 2011 and accordingly the site works has been started. Commercial operation of Unit 5 is expected to commence in December 2013 and that of Unit 6 is expected to commence in April 2014. The contract is valued at approximately 1.1 billion United States Dollars, making it one of the largest power plant EPC projects ever awarded to a Japanese company in North Africa.
Mitsui and Daewoo were able to successfully leverage the competitive advantages of a Japanese-Korean consortium in order to secure the award of the EPC contract, combining the supply of reliable, high quality core equipment from Japan, including steam turbines from Mitsubishi Heavy Industries Ltd. and boilers from IHI Corporation, with the efficiency of Korean engineering and construction works.
The award to Mitsui and Daewoo of the EPC contract to expand the Jorf Lasfar Power Plant 5&6 is the first important step in Mitsui's broader strategy to proactively develop power and other infrastructure projects in the economically-emergent countries of North Africa.
(*1) flue-gas desulfurization is a process for removing sulfur dioxide (SO2) from the exhaust flue gases of fossil fuel power plants.
Site Map of Jorf Lasfar Power Station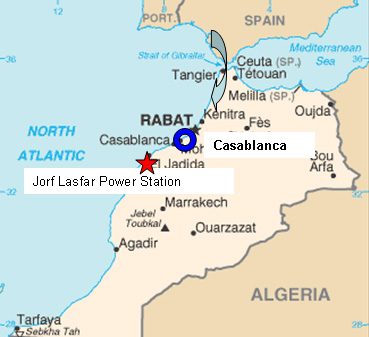 Notice:
This press release includes forward-looking statements about Mitsui. These forward-looking statements are based on the current assumptions and beliefs of Mitsui in light of the information currently available to it, and involve known and unknown risks, uncertainties and other factors. Such risks, uncertainties and other factors may cause Mitsui's actual results, performance, achievements or financial position to be materially different from any future results, performance, achievements or financial position expressed or implied by these forward-looking statements. The risks, uncertainties and other factors referred to above include, but are not limited to, those contained in Mitsui's latest annual report on Form 20-F, which has been filed with the U.S. Securities and Exchange Commission.
This press release is published in order to publicly announce specific facts stated above, and does not constitute a solicitation of investments or any similar act inside or outside of Japan, regarding the shares, bonds or other securities issued by us.