Main Contents
Mitsui & Co., Ltd. ("Mitsui," head office: Chiyoda-ku, Tokyo, President: Masami Iijima) has agreed to take a capital interest in QIWI Limited ("QIWI") and has acquired 14.9% of QIWI's shares under a share acquisition contract signed on December 20. Mitsui aims to move into the field of payment terminals and electronic payments, which are widely used in Russia and other overseas countries to pay mobile phone and public utility bills and other charges and to develop business in the consumer goods sector in the Russian market. QIWI is the biggest provider of these services in Russia.
Around 80% of mobile telephone users in Russia use settlement terminals to prepay mobile telephone charges. QIWI's share of the payment service market in Russia is 45%, and its services are used for payment of approximately 80 Million consumers across Russia every month. QIWI also provides electronic payment services for public utility charges and e-commerce transactions, and its systems are used for money transfers as well.
Its settlement services have gained wide acceptance and have become an integral part of Russian life, in the same way as bank ATMs and convenience stores in other developed countries. QIWI's services are likely to be used even more widely as settlement tools in Russian e-commerce and e-money markets, which are expected to expand in the future.
QIWI is already rolling out Payment services in 15 other countries in addition to Russia. Its aim is to offer user-friendly payment tools to consumers in emerging markets, especially the CIS countries, Eastern Europe, Central and South America and Southeast Asia, where other payment infrastructure, such as bank ATMs and debit/credit cards, are not widely available.
Priority policies identified by Mitsui in its Medium-Term Management Plan include the acceleration of global expansion and the strategic deployment of required human resources. The priority regions for these measures are the BRICs, Indonesia and Mexico. Through its participation in the activities of QIWI, Mitsui aims to create value in the consumer service sector, including e-commerce activities centering on this business, through the provision of payment services for consumers in Russia and other markets.
Profile of QIWI
Established in 2007, QIWI is the leading company in the Russian instant payment market. It provides settlement services for a variety of consumer services, including the payment of mobile telephone charges and public utility bills, and e-commerce. Its services to businesses, such as mobile telephone carriers and traders, consist mainly of the collection of payments.
At the end of June 2010, it has approximately 160,000 point of sales, including more than 100,000 - payment terminals.
It is also installing terminals in a total of 15 other countries, including the CIS, Eastern European countries, China, Southeast Asian countries, and the countries of North, Central and South America.
Turnover in fiscal 2009: Approximately ¥1 trillion
Name
QIWI Limited
Location
Cyprus
Geographical scope of activities
Russia, Eastern Europe, CIS, China, Southeast Asia, North, South and Central America, South Africa, etc.
Shareholdings (after share acquisition by Mitsui)
Management-owned holding company: 63.7%
Mail.ru Group: 21.4%
Mitsui: 14.9%
Representative
Andrei Romanenko
Number of employees
Approx. 700 (as of December 2010)
Main activity
Operation of payment systems
Qiwi Limited Business summary:Payment Service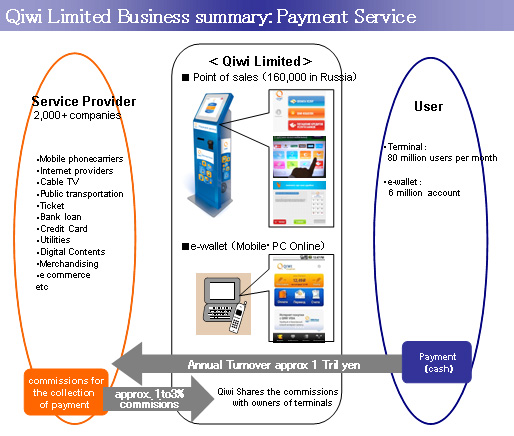 Notice:
This press release includes forward-looking statements about Mitsui. These forward-looking statements are based on the current assumptions and beliefs of Mitsui in light of the information currently available to it, and involve known and unknown risks, uncertainties and other factors. Such risks, uncertainties and other factors may cause Mitsui's actual results, performance, achievements or financial position to be materially different from any future results, performance, achievements or financial position expressed or implied by these forward-looking statements. The risks, uncertainties and other factors referred to above include, but are not limited to, those contained in Mitsui's latest annual report on Form 20-F, which has been filed with the U.S. Securities and Exchange Commission.
This press release is published in order to publicly announce specific facts stated above, and does not constitute a solicitation of investments or any similar act inside or outside of Japan, regarding the shares, bonds or other securities issued by us.