Main Contents
Mitsui & Co., Ltd. ("Mitsui", head office : Chiyoda-ku, Tokyo, President and CEO : Masami Iijima) has agreed to invest in Formosa Epitaxy Incorporation ("FOREPI"), listed in Taiwan Stock Exchange, with the goal to enter into LED ("Lighting Emitting Diode") business area. Mitsui and FOREPI today announced the signing of a share subscription agreement, under which Mitsui will subscribe through a private placement for new FOREPI shares. Mitsui is to acquire approx. 15% of the shares of FOREPI in February 2011 through this investment. The transaction is subject to regulatory approval.
In response to the increasing interest in reduction of environmental burden, LED industry has been rapidly growing for the past years as LEDs have been widely used in handset keypad, monitor, and TV backlight application. In addition, general lighting application, such as street lighting, is expected to sustain the future growth of the LED industry. Global LED market size in end product market is expected to grow by 41% annually, from USD 10 billion in 2009 to USD 78 billion in 2015.
Founded in 1999, FOREPI is a leading LED epitaxy and chip manufacturer worldwide and the second largest company in Taiwan and handles approximately 5% of LED chip shipping in global market.
In the current Mitsui's Medium-Term Management Plan (for Fiscal Year ending 2011/3 and 2012/3), Mitsui has identified non-resource business, especially developing new business in industrial solution to environmental protection. Mitsui aims to create new value by consolidating the resources along the LED supply chain.
Outline of FOREPI and Private Offering to Mitsui
| | |
| --- | --- |
| Company name | Formosa Epitaxy Incorporation |
| Head office | Taoyuan, Taiwan |
| Representative | Chairman : Dr. Feng-Jen Chien |
| Employees | 757 (As of September, 2010) |
| Sales | JPY 5.9 billion (Fiscal year ended December 31, 2009) |
| Capital | JPY 11 billion (Before Mitsui's private offering) |
| Main businesses | Manufacturing, sales of LED wafer and chip |
| Main plant location | Taoyuan, Taiwan and Yangshou, Jingu province, China |
| Mitsui's shareholdings | approx. 15% (Largest shareholder) |
| Mitsui's investing amount | TWD 2.7 billion (approximately JPY 7.6 billion) |
LED Road Light installing FOREPI's LED Chip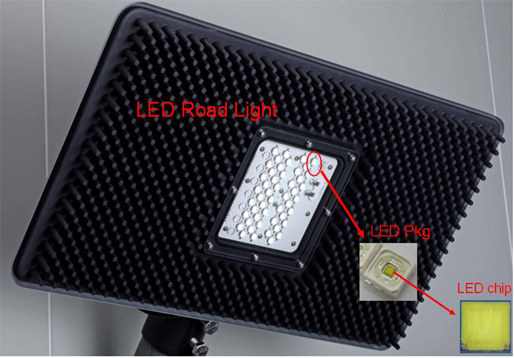 Notice:
This press release includes forward-looking statements about Mitsui. These forward-looking statements are based on the current assumptions and beliefs of Mitsui in light of the information currently available to it, and involve known and unknown risks, uncertainties and other factors. Such risks, uncertainties and other factors may cause Mitsui's actual results, performance, achievements or financial position to be materially different from any future results, performance, achievements or financial position expressed or implied by these forward-looking statements. The risks, uncertainties and other factors referred to above include, but are not limited to, those contained in Mitsui's latest annual report on Form 20-F, which has been filed with the U.S. Securities and Exchange Commission.
This press release is published in order to publicly announce specific facts stated above, and does not constitute a solicitation of investments or any similar act inside or outside of Japan, regarding the shares, bonds or other securities issued by us.