Main Contents
Mitsui & Co., Ltd. ("Mitsui", head office: Chiyoda-ku, Tokyo, President: Masami Iijima) has acquired equity equivalent to 58% of the shares of Car Club Private Limited ("Car Club", Managing Director: Lai Meng) by accepting a private offering of new shares. Mitsui also signed a joint venture agreement, under which it will participate in the business.
As anyone wishing to purchase a vehicle in Singapore must pay not only the price of the vehicle and associated expenses, such as taxes, but also the cost of acquiring a certificate of entitlement (COE)*, the price of which fluctuates according to vehicle supply and demand, vehicle ownership costs are high compared with other countries. In addition, there is a chronic congestion and a shortage of parking space in urban areas. For these reasons, Singapore is seen as a market for car sharing which will expand hereafter. Three car sharing firms, including Car Club, are currently operating in Singapore with a combined fleet of approximately 230 vehicles.
With car sharing, there is no need to own vehicles for personal or company use, since vehicles are available around the clock for use by multiple members. This new approach to mobility is becoming increasingly popular, especially in Europe and North America.
Mitsui sees car sharing as a next-generation service that is in tune with the current shift from ownership to renting. In August 2008, it established a wholly owned care sharing subsidiary in Japan, Car Sharing Japan Co., Ltd., which currently deploys about 370 vehicles in Tokyo and surrounding areas. Its membership has expanded to over 5,500.
By investing and participating in Car Club, Mitsui aims to bring together business knowledge and expertise from Japan and Singapore and accelerate the development of the business in both countries. It also plans to use Singapore as a base for expansion into other Asia-Pacific markets, where motor-vehicle use is now entering a mature phase.
Through car sharing business, Mitsui will offer the global community a new mobility option while also contributing to the reduction of vehicle-related CO2 emissions through the alleviation of traffic congestion and the reduction of overall driving mileage.
* Certificate of entitlement:
The government of Singapore requires anyone who wishes to purchase a vehicle to acquire a certificate of entitlement (COE). This system allows the government to control the number of new vehicle registrations in each engine size category, while also taking into account progress on road development and the number of vehicles scrapped. The COE price is set at auctions, so the price fluctuates according to supply and demand.
Profile of Car Club Private Limited
| | |
| --- | --- |
| Date of establishment | July 2009 (established to take over the business of NTUC Income Car Co-operative Ltd.) |
| Location of head office | Singapore |
| Business activities | Car sharing throughout Singapore |
| Performance data | 92 vehicles, approx. 2,300 members |
| Website | |
(reference) Profile of Car Sharing Japan Co., Ltd.
| | |
| --- | --- |
| Date of establishment | August 2008 (wholly owned by Mitsui) |
| Location of head office | Shibuya-ku, Tokyo |
| Business activities | Car sharing in Tokyo, Kanagawa, Chiba, Saitama |
| Performance data | 367 vehicles, approx. 5,500 members |
| Website | |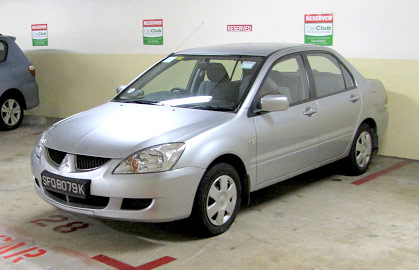 Notice:
This press release includes forward-looking statements. It should be noted that such statements may be affected by risks and uncertainties and that actual outcomes may differ because of changes in business conditions or other factors.

This press release was not compiled to solicit investments or for any similar purpose within or outside of Japan.