Main Contents
Tokyo, July 2, 2010 - On July 2, Mitsui & Co., Ltd. ("Mitsui") (head office: Chiyoda-ku, Tokyo; President & CEO: Masami Iijima) invested an additional 350 million yuan (approx. 4.5 billion yen) in Erdos Electrical Power & Metallurgical Company Limited, China ("EPMC") (head office: Erdos City, Inner Mongolia Autonomous Region, China; President: Linxiang Wang). Mitsui's added investment, which constitutes part of a 1.4 billion yuan (approx. 18 billion yen) increase in capital by EPMC, is consistent with Mitsui's previous percentage stake in the company. Through this additional investment, Mitsui maintains its 25% ratio of shares issued by EPMC, bringing Mitsui's total investment in the company to 23.5 billion yen.
The Inner Mongolia Autonomous Region where EPMC is located has achieved the highest rate of GDP growth in China eight years running. Moreover, EPMC's coal reserves and its power generation operations that draw on those reserves lend the company sound competitive strengths. Since 2007, when Mitsui began equity participation, EPMC has continued to take up the challenges presented by the rapid economic growth of China's inland areas, as it expands operations centered on power generation, coal mining, ferrous alloy production, and water pumping from the Yellow River. In these areas of business, EPMC has been actively establishing value chains, re-using and recycling resources, and implementing environmental measures, and has also been making inroads in regard to business opportunities involving chemicals such as polycrystalline silicon and polyvinyl chloride. The infusion of capital this time around enables EPMC to procure funds for new projects in these areas of business.
Mitsui regards EPMC as a strategic partner in China, and above and beyond this additional investment, Mitsui hopes to draw on its integrated strengths to support and promote the company's new business ventures. This additional capital raises the equity of EPMC from 3.6 billion yuan to 5 billion yuan, thereby enabling them to consider various new projects. Moreover, Mitsui is setting its sights on further investment in the company, and plans to continue working with them in this regard.
1. EPMC capitalization after Mitsui's investment
| | |
| --- | --- |
| Erdos Cashmere Group Co., Ltd. | 60.00% |
| Mitsui & Co., Ltd. | 25.00% |
| Others | 15.00% |
2. Overview of EPMC
Establishment
April, 2003
Capital
RMB 5 billion
Location
Qipanjing Industrial Park, Erdos City, Inner Monglia, China (Refer to the map below)
Major Business Operations:
Metallurgy
Ferro-silicon (550,000MT/year)
Silico-manganese (150,000MT/year)
Ferro-manganese (190,000MT/year)
Coal
Coal (approx. 500,000MT/year)
Power
1,720,000KW/h
Chemicals
Carbide (130,000MT/year)
Water pumping
Approx. 45 million MT/year
Number of employees
11,397 (as of the end of February, 2010)
Location of EPMC head office and Qipanjing Industrial Zone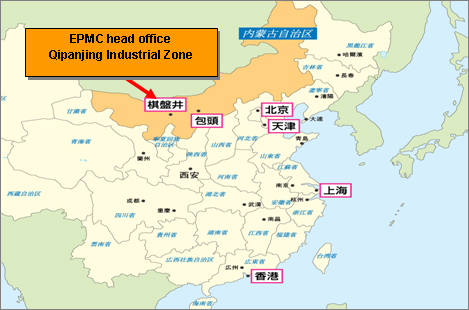 Notice:
This press release includes forward-looking statements about Mitsui. These forward-looking statements are based on the current assumptions and beliefs of Mitsui in light of the information currently available to it, and involve known and unknown risks, uncertainties and other factors. Such risks, uncertainties and other factors may cause Mitsui's actual results, performance, achievements or financial position to be materially different from any future results, performance, achievements or financial position expressed or implied by these forward-looking statements. The risks, uncertainties and other factors referred to above include, but are not limited to, those contained in Mitsui's latest annual report on Form 20-F, which has been filed with the U.S. Securities and Exchange Commission.
This press release is published in order to publicly announce specific facts stated above, and does not constitute a solicitation of investments or any similar act inside or outside of Japan, regarding the shares, bonds or other securities issued by us.