Main Contents
Mitsui & Co., Ltd. ("Mitsui" - Headquarters: Chiyoda-ku, Tokyo, President & CEO: Masami Iijima) maintains approximately 44,000 hectares of forest land in 73 locations throughout Japan and was awarded FSC (Forest Stewardship Council) Forest Management certification for adequate management on all its company-owned forests on December 18, 2009. The FSC-FM certification was given by SGS, the world-leading certification organization, through document examinations and physical inspections of forest lands in accordance with the "Principles and Criteria for Forest Stewardship" of FSC. This is the first example in Japan of a private company owning more than 10,000 hectares of forests to receive FSC forest certification at one time.
In addition to Mitsui's FM certification, Mitsui's wholly-owned subsidiary Mitsui Bussan Forest Co., Ltd., involved in the maintenance and management of Mitsui's forests and marketing of wood materials, was awarded FSC Chain of Custody certification (CoC). Accordingly, all logs produced from Mitsui's forests can now be sold as FSC-certified, meaning that Mitsui Bussan Forest will become one of the leading companies in Japan in terms of volume of FSC-certified logs. The company marketed 48,861 m3 logs from Mitsui-owned forests in 2008.
In accordance with FSC Principles and Criteria for Forest Stewardship, Mitsui re-categorized its forests into six management categories and re-established management policies for each category. Those categories are: "Harvest-oriented Sustainable Forests"; "Natural Restoration Forests"; "Biological Conservation Forests"; "Productive Natural Forests"; "General Natural Forests"; and "Other Natural Forests". The Biological Conservation Forests category has been further clarified by division into the following four sub-categories, allowing the company to implement forest management with a greater emphasis on biodiversity protection:
(1) Special Conservation Forests: forests deemed to possess invaluable biodiversity at a regional and national level and that are determined to have high conservation value.
(2) Environmental Conservation Forests: forests where biological value is concentrated, i.e., rare species are identified
(3) Water and Soil Conservation Forests: forests of importance for protection of soil and water and conservation of the ecosystem by providing public functions such as prevention of landslides
(4) Cultural Conservation Forests: forests which are deemed to possess particularly important links with special cultural, ecological, economic or religious significance to people nearby
As an example of Biological Conservation Forests, Fukushima Prefecture's Tashiro Forest is a part of Oze National Park and is included under the sub-category of Special Conservation Forests. Soya Forest in Hokkaido, which contains Yezo spruce and supports the freshwater fish Japanese huchen (ito), has been placed in the sub-category of Environmental Conservation Forests. The sub-category of Water and Soil Conservation Forests includes the Nanba Forest in Niigata Prefecture, where beech trees flourish, and the Cultural Conservation Forests sub-category includes both the Saru Forest in Biratori Town, Hokkaido, where many Ainu people have been living since long times past and Ainu culture and legends remain, and the Kiyotaki Forest in Kyoto Prefecture, which provides materials needed for Kyoto's traditional events, Daimonji Gozan Okuribi (Daimonji Bonfire) and the Kurama Fire Festival. Forests under the Biodiversity Protection Forests category account for more than 10% of all Mitsui & Co. Forests.
With natural environments being rapidly lost as a result of development in regions throughout Japan, companies are being challenged to implement prompt and large-scale initiatives to protect biodiversity, the cornerstone of mankind's continued survival, and in October this year the 10th Conference of the Parties to the Convention on Biological Diversity (COP10) is to be held in Nagoya City. Mitsui has carried out forest protection activities in consideration of the protection of biodiversity though forest management in strict adherence to the FSC Criteria to allow the company to continue displaying the functionality of company-owned forests in a way that sufficiently benefits the general public. We believe that the supply of environmentally-friendly FSC-certified wood materials by Mitsui and Mitsui Bussan Forest Co., Ltd. will help revitalize Japan's forestry industry. Through these initiatives in its company-owned forests, Mitsui aims to promote its corporate mission to "contribute to the creation of a future where the aspirations of the people can be fulfilled.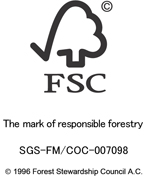 About the FSC (Forest Stewardship Council)
The FSC was jointly established in 1993 by environmental groups and companies handling wood materials as a not-for-profit organization with an international membership to operate an internationally unified forest certification system. The FSC set up a forest certification system with the aim of promoting forest management that is appropriate from an environmental protection perspective as well as socially beneficial and economically sustainable. Independent third parties assess whether or not forest management and logging is being carried out in consideration of the environment or local community, verified against a trustworthy system. Globally sustainable forest preservation and use is promoted through a system whereby the FSC logo is attached to widely distributed wood materials and wood products produced through these forests. By purchasing these environmentally-friendly products, consumers contribute indirectly to forest preservation, bringing together a variety of participants, from people managing the forests to the consumers of wood and wood products. (Translation of text quoted from the FSC Japan website)
Notice:
This document contains statements pertaining to future developments. Please be aware that these statements involve both risks and uncertainties and that there is the possibility of different outcomes as a result of changes in the management environment and other changes. Moreover, this document has not been created with the aim of attracting any investment or similar activities, whether in Japan or overseas.