Main Contents
Mitsui & Co., Ltd. ("Mitsui") is pleased to announce that it has entered into an agreement with a Russian diversified holding company, United Industrial Corporation ("OPK"), to confirm that the two companies will jointly conduct a feasibility study on the Elegest coalmine project ("Project") in the Tyva Republic of the Russian Federation.
Mitsui and OPK have agreed that Mitsui will provide a part of the required expense for the feasibility study and, in return, will have a priority option to acquire a minority stake in the Project.
OPK's subsidiary, OPK Mining, owns the Elegest coalmine, one of the largest undeveloped coalmines in the world, with reserves of approximately 900 million tons of high-quality metallurgical coal. The feasibility study is estimated to be completed in 2009.
The Project requires the construction of 460 km of railway to connect with the Trans-Siberian Railway. OPK has signed an investment agreement with the Federal Railway Transport Agency of the Russian Federation this year, and an investment fund of the Russian Federation and OPK will finance railway construction on an equal basis.
Mitsui has positioned coal as one of its core energy and natural resources business areas and aims to establish a well-balanced portfolio with attractive assets in regions such as Russia, in addition to its core operating assets in Australia, for further contribution to stable coal supply to meet global demand.
Coalmine Location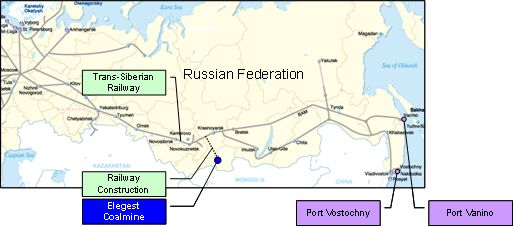 United Industrial Corporation (OPK) is a diversified holding company with total assets worth more than US$13 billion. The Company develops and manages a portfolio of investments in major sectors of the Russian economy, including the financial sector, real estate development, shipbuilding, mining and media.
Notice:
This press release includes forward-looking statements about Mitsui. These forward-looking statements are based on the current assumptions and beliefs of Mitsui in light of the information currently available to it, and involve known and unknown risks, uncertainties and other factors. Such risks, uncertainties and other factors may cause Mitsui's actual results, performance, achievements or financial position to be materially different from any future results, performance, achievements or financial position expressed or implied by these forward-looking statements. The risks, uncertainties and other factors referred to above include, but are not limited to, those contained in Mitsui's latest annual report on Form 20-F, which has been filed with the U.S. Securities and Exchange Commission.
This press release is published in order to publicly announce specific facts stated above, and does not constitute a solicitation of investments or any similar act inside or outside of Japan, regarding the shares, bonds or other securities issued by us.