Main Contents
Further to the press release dated 20th March 2007, Mitsui & Co., Ltd. ("Mitsui"), together with Electric Power Development Co., Ltd. ("J-POWER") and WFL Windfarmer AG ("WFL"), has been constructing a power generation project for a 48MW wind farm (24 turbines) in the region of Województwo Zachodniopomorskie in the north of Poland, through Zajaczkowo Windfarm Sp. z o. o. ("ZWS"), a multinational joint venture project company located in Szczecin, Poland; and ZWS commenced commercial operation on 9th September 2008.
ZWS will sell all the power it generates to ENERGA OBROT S.A., Poland's state-run power distribution company. The ZWS project was the first wind power generation project in Poland in which Japanese companies participated. This project will be the third overseas operating wind farm for Mitsui, following one in Germany and another in the United States of America.
Mitsui has been proactively developing overseas power operations, and it holds 4.05 GW of wind power assets all over the world. Mitsui focuses on the development of renewable energy project such as wind power generation and photovoltaic power generation in order to respond to the increasing demand for environmental protection globally and to contribute to the promotion of a better society.
Project Overview
1. Project Overview
1) Project
Zajaczkowo Wind Farm
2) Location
Zajaczkowo, Gumina Kobylnica,
Województwo Zachodniopomorskie, Poland
3) Capacity
48MW (24 Vestas-2MW turbines)
4) Expected Production
Approximately 107 GWh
5) Power Purchase
Koncern Energetyczny ENERGA S.A.
6) Schedule
Nov. 2006: Establish Zajaczkowo Windfarm
April 2007: Start of construction
June 2008: Completion of construction
Sep. 2008: Commercial operation
7) Project Company
Name : Zajaczkowo Windfarm Sp. z o. o.
Capital : Approximately Euro 12.0 mil
Location : Szczecin, Poland
Representative : Keiji Iguchi
Business : Own and operate Zajaczkowo Wind Farm
2. Location Map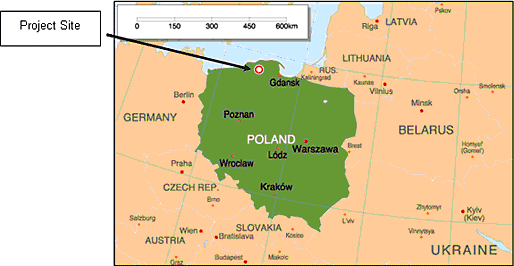 Notice:
This press release includes forward-looking statements about Mitsui. These forward-looking statements are based on the current assumptions and beliefs of Mitsui in light of the information currently available to it, and involve known and unknown risks, uncertainties and other factors. Such risks, uncertainties and other factors may cause Mitsui's actual results, performance, achievements or financial position to be materially different from any future results, performance, achievements or financial position expressed or implied by these forward-looking statements. The risks, uncertainties and other factors referred to above include, but are not limited to, those contained in Mitsui's latest annual report on Form 20-F, which has been filed with the U.S. Securities and Exchange Commission.
This press release is published in order to publicly announce specific facts stated above, and does not constitute a solicitation of investments or any similar act inside or outside of Japan, regarding the shares, bonds or other securities issued by us.