Main Contents
Mitsui & Co., Ltd. ("Mitsui"), announced to establish the Emerging Market Infrastructure Fund ("Fund") with Challenger Financial Service Group ("Challenger"), an Australian-based diversified financial services organization. The Fund, with a target equity size of USD1.2 billion committed by global investors, will invest in a diversified portfolio of infrastructure assets, such as power generation, electric and gas transportation, and railways, in emerging market economies, which would yield relatively stable income.
Mizuho Corporate Bank, Ltd and Access Capital Advisers, the Australian superannuation fund consultant, will also make investments as strategic partners. The Fund starts with total equity commitment of USD175 million including the initial investments from Mitsui and Challenger.
The Fund, while meeting the growing demands of global investors to invest in infrastructure assets, is intended to contribute to the development of emerging markets economies by providing the needed capital to infrastructure space, enabling the rapid economy growth in the regions. Mitsui is an experienced owner of infrastructure assets in emerging markets for a long time. Mitsui's global network will also be fully utilized to source assets with solid operational bases and significant growth potentials. Challenger has a strong track record and experience in infrastructure fund management. These mutually-complementary skills and strengths will produce a significant synergy for the Fund. Mitsui and Challenger will jointly establish a Singaporean-based investment management company that will provide the investment advices and supports to the Fund.
Mitsui has been engaged in fund management business and providing specialized fund products, which leverage on their capabilities as one of the largest trading companies in Japan. This Fund is another example of the specialized funds, following "The Japan Logistics Fund", a J-REIT which has been listed on the TSE since 2005 and the first and only J-REIT specialized in logistics facilities. Mitsui is also the first Japanese company to participate in the management of Singapore REIT. Mitsui sees the Fund as an important platform to provide capital to suffice the rapidly growing demands for infrastructure assets, and to meet the global investors' demands by introducing a new asset class for their portfolio diversification.
Challenger Financial Service Group
Challenger is a diversified financial services organization, listed on the Australian Stock Exchange. Challenger has particularly strong expertise in infrastructure, real estate and fixed income and continues to develop specialist funds for institutional and retail investors.
| | |
| --- | --- |
| President | Mike Tilley |
| Head Office | Sydney, Australia |
| Activities | Asset Management · Fund Management · Mortgage Products |
Outline of infrastructure fund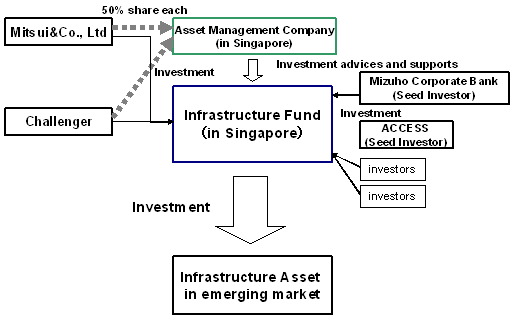 Notice:
This press release includes forward-looking statements about Mitsui. These forward-looking statements are based on the current assumptions and beliefs of Mitsui in light of the information currently available to it, and involve known and unknown risks, uncertainties and other factors. Such risks, uncertainties and other factors may cause Mitsui's actual results, performance, achievements or financial position to be materially different from any future results, performance, achievements or financial position expressed or implied by these forward-looking statements. The risks, uncertainties and other factors referred to above include, but are not limited to, those contained in Mitsui's latest annual report on Form 20-F, which has been filed with the U.S. Securities and Exchange Commission.
This press release is published in order to publicly announce specific facts stated above, and does not constitute a solicitation of investments or any similar act inside or outside of Japan, regarding the shares, bonds or other securities issued by us.