Main Contents
Mitsui & Co. Ltd through its subsidiary Mitsui & Co. (Australia) Ltd has acquired 100% of the shares of Bald Hills Wind Farm Pty Ltd, a special purpose company holding the development rights for a new wind farm project in Victoria.
The project will involve the construction of a 104MW wind farm on a 1750ha site, located at Tarwin Lower near Wonthaggi in South Gippsland, connecting to the Victorian electricity grid. Based on a long term average forecast, the Bald Hills wind farm is expected to generate renewable energy sufficient to power the equivalent of 62,000 average households and avoid up to 335,000 tonnes of CO2e emissions per annum.
Wind Power Pty Ltd a Melbourne based wind farm developer, responsible for developing the Bald Hills wind farm project to this stage, will continue its involvement in the project by entering into a development agreement with Mitsui. Mitsui also acknowledges the strong support that the Bald Hills wind farm project has received from the local community and the Victorian Government and is excited to have the opportunity to work collaboratively with Wind Power towards a successful outcome in this project.
Mitsui expects to be in a position to make a final investment decision on the Bald Hills wind farm project within the next 12 months, with expected commercial operation in 2011.
Mitsui is an active participant in the electricity generation sector internationally, with a global net generation capacity of approximately 3,770MW. Recognising the need to deliver solutions to global environmental issues, Mitsui is actively seeking involvement in the development of renewable energy projects such as wind and solar power generation. Mitsui believes the Bald Hills wind farm project will make an important contribution to achieving the Australian Government's target of 20% clean energy by 2020.
Project Summary
| | |
| --- | --- |
| Project Company | Bald Hills Wind Farm Pty Ltd |
| Ownership | Mitsui & Co. (Australia) Ltd 100% |
| Type of Business | Construction, operation and maintenance of a wind farm and wholesale of electricity and renewable energy products. |
| Project Site | South Gippsland, Victoria, Australia |
| Generation Capacity | 104MW (52 x 2MW) |
| Expected Project Life | 25 years from commercial operation |
About Mitsui:
Mitsui & Co (Australia) Ltd. is a wholly owned subsidiary of its parent company Mitsui & Co Ltd of Japan. Mitsui Australia's core business is in international trade and investment in mineral resources, energy, forestry plantations, agriculture, power generation and machinery sectors. The company is actively looking into new growth industries particularly in the fields of renewable energy and other businesses aimed at resolving environmental issues.
About Wind Power:
Wind Power Pty Ltd is a Melbourne based "wind-only" energy company, dedicated to the profitable and sustainable development of wind farms in Australia. Established in June 2001, it is continuing to grow its business and now comprises 12 staff. Its past development projects include Wonthaggi (12MW) and Waubra (192MW).
Project Site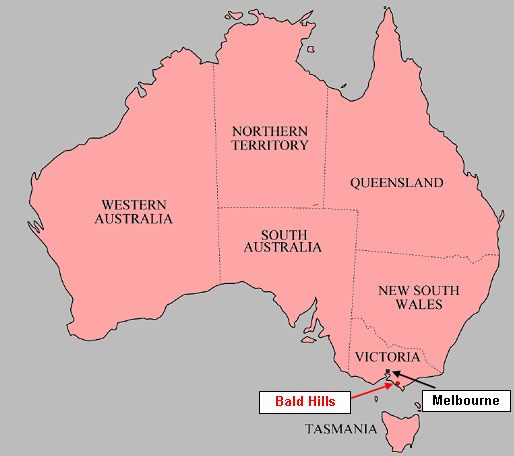 Notice:
This press release includes forward-looking statements about Mitsui. These forward-looking statements are based on the current assumptions and beliefs of Mitsui in light of the information currently available to it, and involve known and unknown risks, uncertainties and other factors. Such risks, uncertainties and other factors may cause Mitsui's actual results, performance, achievements or financial position to be materially different from any future results, performance, achievements or financial position expressed or implied by these forward-looking statements. The risks, uncertainties and other factors referred to above include, but are not limited to, those contained in Mitsui's latest annual report on Form 20-F, which has been filed with the U.S. Securities and Exchange Commission.
This press release is published in order to publicly announce specific facts stated above, and does not constitute a solicitation of investments or any similar act inside or outside of Japan, regarding the shares, bonds or other securities issued by us.