Main Contents
Mitsui & Co., Ltd. ("Mitsui") is pleased to announce that it has entered into a definitive agreement with Anadarko Petroleum Corporation ("Anadarko") to acquire a partial interest in oil and gas exploration block in the Republic of Mozambique ("Mozambique"), which is being promoted by Anadarko, Empresa Nacional de Hidrocarbonetos and Artumas Group Inc. The closing of the transaction is subject to the satisfaction of customary conditions precedent of the approval by Mozambican governmental authorities.
The acquired interest in the Exploration Concession is for the Rovuma Offshore Area 1 Block ("Area 1"), located north off the coast of Mozambique. Seismic and other geological analysis and drilling of exploration wells for hydrocarbons will be carried out over the next 4 years.
Recognizing that the exploration program of Area 1 is a project in a frontier region, Mitsui has been selectively approved by Japan Oil, Gas and Metals National Corporation ("JOGMEC") the application of its 75% Equity Capital Finance. Mitsui and JOGMEC have established Mitsui E&P Mozambique Area 1 Limited for the participation in this project. It is the first time for a Japanese corporation to participate in commercial exploration activities in Mozambique.
Mitsui has positioned the oil and gas exploration and development projects in the energy and natural resources as a priority business and aims to establish a well-balanced asset portfolio to challenge the acquisition of attractive assets in frontier regions much like this Mozambican opportunity, in addition to pursuing opportunities in its core operating base in Oceania, the Middle East, Southeast Asia and North America. Through this project, Mitsui also looks forward to contributing to the further development of the Mozambican society and economy.
Participating Interest after Mitsui's participation
Anadarko Mocambique Area 1 Limitada
56.5% (Operator)
Mitsui E&P Mozambique Area 1 Limited
(An affiliate of Mitsui & Co., Ltd)
20.0%
Mitsui and JOGMEC will provide 25% and 75% equity respectively. Mitsui shall hold an absolute majority of the affiliate's voting right and power, and part of JOGMEC's equity will be provided by non-voting shares of stock.
Empresa Nacional de Hidrocarbonetos
15.0%
Artumas Group Inc
8.5%
Map of the Rovuma Offshore Area 1 Block, Republic of Mozambique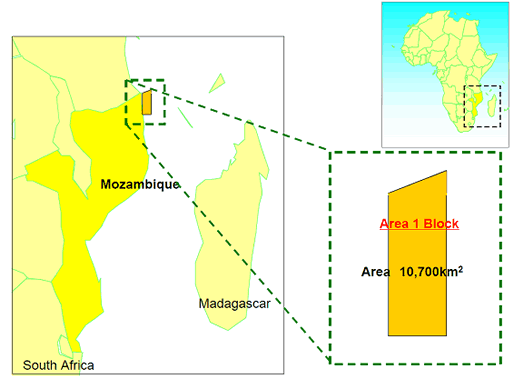 Notice:
This press release includes forward-looking statements about Mitsui. These forward-looking statements are based on the current assumptions and beliefs of Mitsui in light of the information currently available to it, and involve known and unknown risks, uncertainties and other factors. Such risks, uncertainties and other factors may cause Mitsui's actual results, performance, achievements or financial position to be materially different from any future results, performance, achievements or financial position expressed or implied by these forward-looking statements. The risks, uncertainties and other factors referred to above include, but are not limited to, those contained in Mitsui's latest annual report on Form 20-F, which has been filed with the U.S. Securities and Exchange Commission.
This press release is published in order to publicly announce specific facts stated above, and does not constitute a solicitation of investments or any similar act inside or outside of Japan, regarding the shares, bonds or other securities issued by us.