Main Contents
Today (November, 27th) Mitsui & Co. Ltd. ("Mitsui") announced that the development of Henry gas field in VIC/P44, adjacent to producing Casino gas field in VIC/L24, was agreed between Mitsui's wholly owned subsidiary, Mitsui E&P Australia Pty Ltd ("MEPAU"), and other participants, Santos Limited (Operator) and Australian Worldwide Exploration Limited ("AWE"). The total investment amount is approximately 275 million Australian dollars (MEPAU's share : 69 million Australian dollars).
* Participants of VIC/L24 and VIC/P44
Mitsui E&P Australia Pty Ltd (MEPAU) 25%,
Santos Limited (Operator) 50%,
Peedamullah Petroleum Pty Ltd (AWE) 25%
The Casino gas field started production in February 2006 and has been supplying the natural gas into the southeast Australia region. The performance of the Casino Development has exceeded expectations with MEPAU's share of Casino production in 2007 expected to reach approximately 10 billion cubic feet (1.8 million barrels oil equivalent). MEPAU is now moving strengthen its supply capability by the development of Henry field using existed Casino Infrastructure, which will make a substantial contribution to the regional supply on a long-term basis.
Mitsui has positioned the Oceania region as one of the core areas of its oil and gas up-stream business, and aims to contribute to Oceania's regional economics by continuous exploration and production of natural resources in the region.
MAP OF PERMIT BLOCK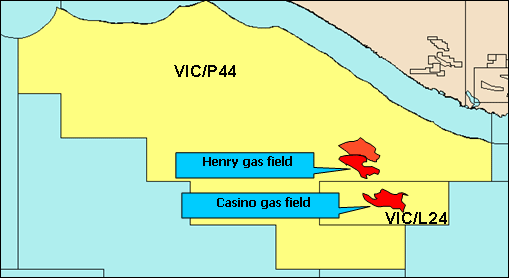 Notice:
This press release includes forward-looking statements about Mitsui. These forward-looking statements are based on the current assumptions and beliefs of Mitsui in light of the information currently available to it, and involve known and unknown risks, uncertainties and other factors. Such risks, uncertainties and other factors may cause Mitsui's actual results, performance, achievements or financial position to be materially different from any future results, performance, achievements or financial position expressed or implied by these forward-looking statements. The risks, uncertainties and other factors referred to above include, but are not limited to, those contained in Mitsui's latest annual report on Form 20-F, which has been filed with the U.S. Securities and Exchange Commission. This press release is published in order to publicly announce specific facts stated above, and does not constitute a solicitation of investments or any similar act inside or outside of Japan, regarding the shares, bonds or other securities issued by us.