Main Contents
Today (July, 31th) Mitsui & Co. Ltd. ("Mitsui") announced that the Tui Area Oil Project ("the Project"), in which Mitsui's wholly owned subsidiary, Mitsui E&P New Zealand Limited ("MEPNZ") owns a 35% interest, has successfully commenced first oil production overnight. We expect approximately 10 million barrels (MEPNZ's share 3.5 million barrels) of production in the first year. Outlined below is a summary of the Project;
Location
Within Production License PMP38158 in the Taranaki Basin, approximately 50 kilometres off the North Island of New Zealand
(refer to attached "Map of Permit Blocks")
Production Facility
Floating Production Storage & Offloading Facility (FPSO)
(Design Production Capacitiy: 50,000 barrels per day, Storage Capacity: Approx 700,000 barrels of oil)
Participants
AWE Group* (Operator) 42.5%
Mitsui E&P New Zealand Limited 35.0%
Stewart Petroleum Company Ltd ("New Zealand Oil & Gas") 12.5%
WM Petroleum Ltd ("Pan Pacific Petroleum NL") 10.0%

* New Zealand Overseas Petroleum Pty Ltd (22.5%)
AWE New Zealand Pty Limited (20.0%)
The Tui Area Fields, which include the Tui, Amokura and Pateke fields, were first discovered in 2003. In October 2003, MEPNZ acquired an initial 12.5% interest in the permit that included the fields. The Final Investment Decision for the development of the field was subsequently made in November 2005. MEPNZ acquired a further 22.5% interest in February 2006 to expand its interest in the Project. The Project was developed jointly with Operator AWE, an Australian independent oil and gas exploration and production company.
Mitsui has positioned the Oceania region as one of the core areas of its oil and gas up-stream business. The region's political stability and competitive locations makes it a stable source of energy supply for the Asia Pacific countries, including Japan. Mitsui aims to pursue continuous exploration and production of natural resources in the region, contributing to Oceania's regional economics.
To realize efficient business activity, Mitsui is currently undertaking the integration of the New Zealand oil and gas up-stream operations into Mitsui E&P Australia Pty Ltd ('MEPAU'), another subsidiary wholly owned by Mitsui located in Australia, and hopes to complete the asset transfer within this year.
Map of Permit Block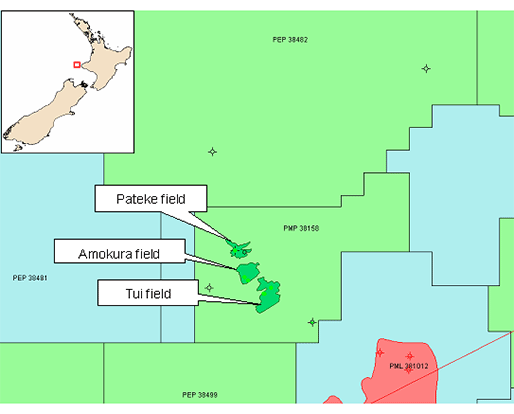 Notice:
This press release includes forward-looking statements about Mitsui. These forward-looking statements are based on the current assumptions and beliefs of Mitsui in light of the information currently available to it, and involve known and unknown risks, uncertainties and other factors. Such risks, uncertainties and other factors may cause Mitsui's actual results, performance, achievements or financial position to be materially different from any future results, performance, achievements or financial position expressed or implied by these forward-looking statements. The risks, uncertainties and other factors referred to above include, but are not limited to, those contained in Mitsui's latest annual report on Form 20-F, which has been filed with the U.S. Securities and Exchange Commission.
This press release is published in order to publicly announce specific facts stated above, and does not constitute a solicitation of investments or any similar act inside or outside of Japan, regarding the shares, bonds or other securities issued by us.