Main Contents
Consortium consisting of Mitsui & Co., Ltd., Barclay Mowlem Limited (Australia) and Al Rashid (Saudi Arabia) was awarded by the Ministry of Finance of Saudi Arabia for Civil & Track Works contract for North South Railway (New Line). Contract Amount is approx.US$765 million, the largest amount of contract that Japanese company was ever awarded in the railway sector of Saudi Arabia.
Under the grand picture for Saudi Arabian national development to utilize the natural resources besides petroleum, North South Railway is the railway to be constructed newly with the main purpose of transporting phosphate in Jalamid and bauxite in Zabirah (see map below) to the seaport in Ras Azoor on the coast of the Arabian Gulf. Civil & Track Work contract awarded this time is for such new railway and is the first project to take off among the three major railway projects of Saudi Arabia that include Makkah Madinah Rail Link Project and Landbridge Project.
With the appreciation to the railway as the transportation system that is environmentally friendly, more demand for railway infrastructure is expected. Mitsui & Co., Ltd., by utilizing the regional expertise accumulated to date in the field of power, water and petrochemicals, have been working closely with the railway projects in the Middle East market where the remarkably increased investment is expected. Among others, Saudi Arabia is an important country for railway projects and by making this contract a good step, Mitsui & Co., Ltd. intends to further participate in the mass transit projects in city area currently under planning in the Middle East countries and the railway privatization projects under BOT scheme as well.
*MAP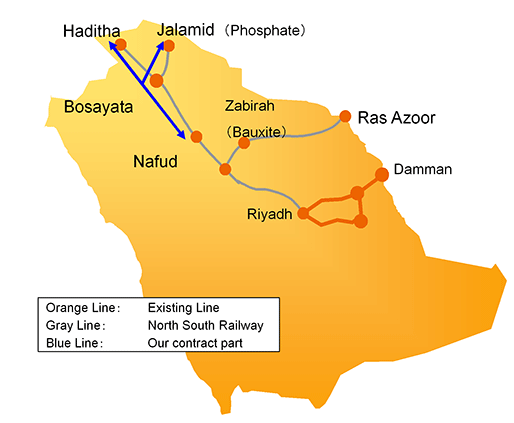 Notice:
This press release includes forward-looking statements about Mitsui. These forward-looking statements are based on the current assumptions and beliefs of Mitsui in light of the information currently available to it, and involve known and unknown risks, uncertainties and other factors. Such risks, uncertainties and other factors may cause Mitsui's actual results, performance, achievements or financial position to be materially different from any future results, performance, achievements or financial position expressed or implied by these forward-looking statements. The risks, uncertainties and other factors referred to above include, but are not limited to, those contained in Mitsui's latest annual report on Form 20-F, which has been filed with the U.S. Securities and Exchange Commission.
This press release is published in order to publicly announce specific facts stated above, and does not constitute a solicitation of investments or any similar act inside or outside of Japan, regarding the shares, bonds or other securities issued by us.