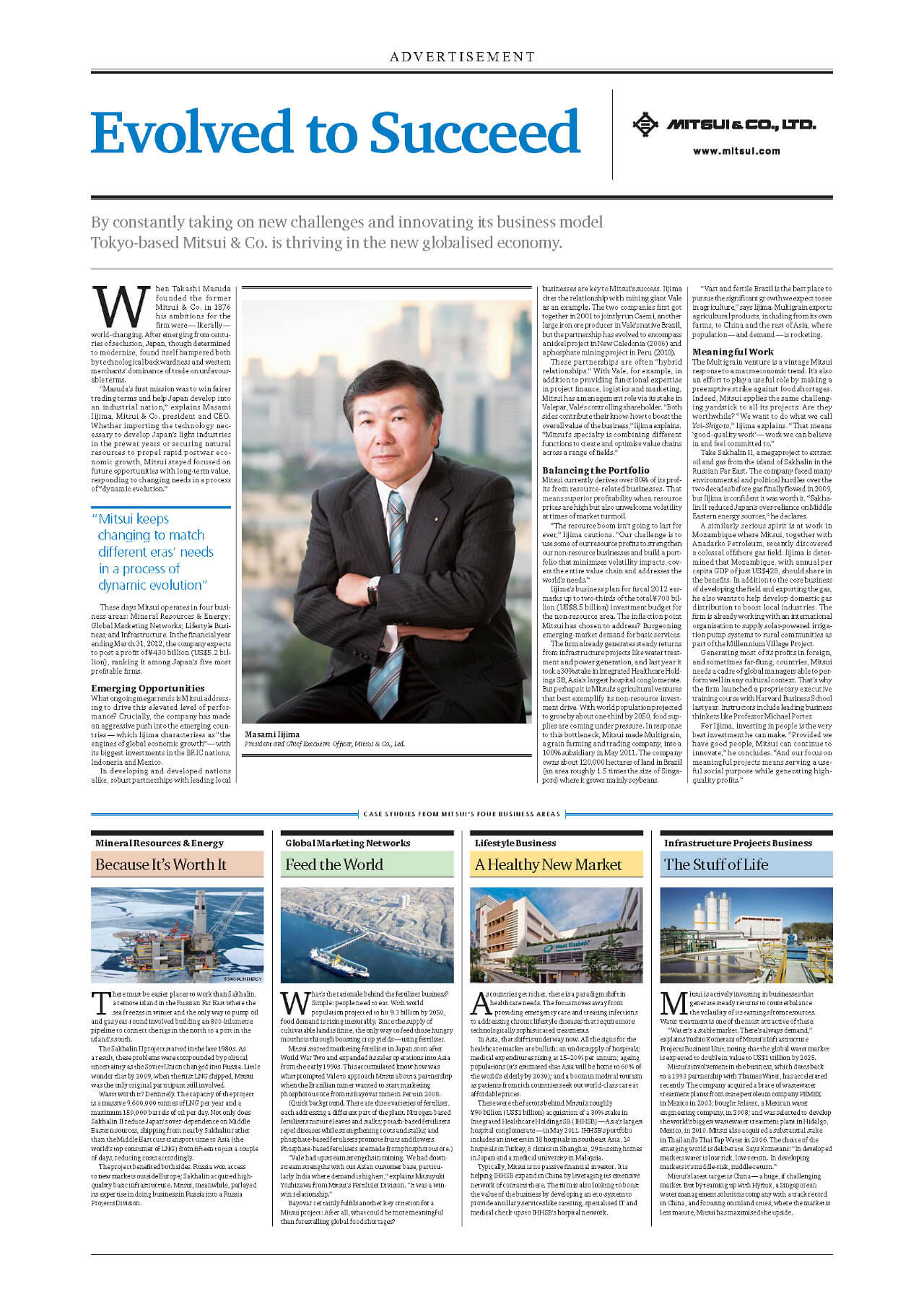 By constantly taking on new challenges and innovating its business model Tokyo-based Mitsui & Co. is thriving in the new globalised economy.
When Takashi Masuda founded the former Mitsui & Co. in 1876 his ambitions for the firm were — literally — world-changing. After emerging from centuries of seclusion, Japan, though determined to modernise, found itself hampered both by technological backwardness and western merchants' dominance of trade on unfavourable terms.
"Masuda's first mission was to win fairer trading terms and help Japan develop into an industrial nation," explains Masami Iijima, Mitsui & Co. president and CEO. Whether importing the technology necessary to develop Japan's light industries in the prewar years or securing natural resources to propel rapid postwar economic growth, Mitsui stayed focused on future opportunities with long-term value, responding to changing needs in a process of "dynamic evolution."
"Mitsui keeps changing to match different eras' needs in a process of dynamic evolution"
These days Mitsui operates in four business areas: Mineral Resources & Energy; Global Marketing Networks; Lifestyle Business; and Infrastructure. In the financial year ending March 31, 2012, the company expects to post a profit of ¥430 billion (US$5.2 billion), ranking it among Japan's five most profitable firms.
Emerging Opportunities
What ongoing megatrends is Mitsui addressing to drive this elevated level of performance?Crucially, the company has made an aggressive push into the emerging countries — which Iijima characterises as "the engines of global economic growth" — with its biggest investments in the BRIC nations, Indonesia and Mexico.
In developing and developed nations alike, robust partnerships with leading local businesses are key to Mitsui's success. Iijima cites the relationship with mining giant Vale as an example. The two companies first got together in 2001 to jointly run Caemi, another large iron ore producer in Vale's native Brazil, but the partnership has evolved to encompass a nickel project in New Caledonia (2006) and a phosphate mining project in Peru (2010).
These partnerships are often "hybrid relationships." With Vale, for example, in addition to providing functional expertise in project finance, logistics and marketing, Mitsui has a management role via its stake in Valepar, Vale's controlling shareholder. "Both sides contribute their know-how to boost the overall value of the business," Iijima explains. "Mitsui's specialty is combining different functions to create and optimise value chains across a range of fields."
Balancing the Portfolio
Mitsui currently derives over 80% of its profits from resource-related businesses. That means superior profitability when resource prices are high but also unwelcome volatility at times of market turmoil.
"The resource boom isn't going to last for ever," Iijima cautions. "Our challenge is to use some of our resource profits to strengthen our non-resource businesses and build a portfolio that minimises volatility impacts, covers the entire value chain and addresses the world's needs."
Iijima's business plan for fiscal 2012 earmarks up to two-thirds of the total ¥700 billion (US$8.5 billion) investment budget for the non-resource area. The infl ection point Mitsui has chosen to address? Burgeoning emerging-market demand for basic services.
The firm already generates steady returns from infrastructure projects like water treatment and power generation, and last year it took a 30% stake in Integrated Healthcare Holdings SB, Asia's largest hospital conglomerate. But perhaps it is Mitsui's agricultural ventures that best exemplify its non-resource investment drive. With world population projected to grow by about one-third by 2050, food supplies are coming under pressure. In response to this bottleneck, Mitsui made Multigrain, a grain farming and trading company, into a 100% subsidiary in May 2011. The company owns about 120,000 hectares of land in Brazil (an area roughly 1.5 times the size of Singapore) where it grows mainly soybeans.
"Vast and fertile Brazil is the best place to pursue the significant growth we expect to see in agriculture," says Iijima. Multigrain exports agricultural products, including from its own farms, to China and the rest of Asia, where population — and demand — is rocketing.
Meaningful Work
The Multigrain venture is a vintage Mitsui response to a macroeconomic trend. It's also an effort to play a useful role by making a preemptive strike against food shortages. Indeed, Mitsui applies the same challenging yardstick to all its projects: Are they worthwhile? "We want to do what we call Yoi-Shigoto," Iijima explains. "That means 'good-quality work'— work we can believe in and feel committed to."
Take Sakhalin II, a megaproject to extract oil and gas from the island of Sakhalin in the Russian Far East. The company faced many environmental and political hurdles over the two decades before gas finally flowed in 2009, but Iijima is confident it was worth it. "Sakhalin II reduced Japan's over-reliance on Middle Eastern energy sources," he declares.
A similarly serious spirit is at work in Mozambique where Mitsui, together with Anadarko Petroleum, recently discovered a colossal offshore gas fi eld. Iijima is determined that Mozambique, with annual per capita GDP of just US$428, should share in the benefits. In addition to the core business of developing the field and exporting the gas, he also wants to help develop domestic gas distribution to boost local industries. The firm is already working with an international organisation to supply solar-powered irrigation pump systems to rural communities as part of the Millennium Village Project.
Generating most of its profits in foreign, and sometimes far-flung, countries, Mitsui needs a cadre of global managers able to perform well in any cultural context. That's why the firm launched a proprietary executive training course with Harvard Business School last year. Instructors include leading business thinkers like Professor Michael Porter.
For Iijima, investing in people is the very best investment he can make. "Provided we have good people, Mitsui can continue to innovate," he concludes. "And our focus on meaningful projects means serving a useful social purpose while generating highquality profits."
CASE STUDIES FROM MITSUI'S FOUR BUSINESS AREAS
Mineral Resources & Energy
Because It's Worth It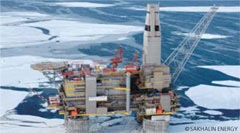 There must be easier places to work than Sakhalin, a remote island in the Russian Far East where the sea freezes in winter and the only way to pump oil and gas year-round involved building an 800-kilometre pipeline to connect the rigs in the north to a port in the island's south.
The Sakhalin II project started in the late 1980s. As a result, these problems were compounded by political uncertainty as the Soviet Union changed into Russia. Little wonder that by 2009, when the first LNG shipped, Mitsui was the only original participant still involved.
Was it worth it? Definitely. The capacity of the project is a massive 9,600,000 tonnes of LNG per year and a maximum 150,000 barrels of oil per day. Not only does Sakhalin II reduce Japan's over-dependence on Middle Eastern sources, shipping from nearby Sakhalin rather than the Middle East cuts transport time to Asia (the world's top consumer of LNG) from fifteen to just a couple of days, reducing costs accordingly.
The project benefited both sides. Russia won access to new markets outside Europe; Sakhalin acquired highquality basic infrastructure. Mitsui, meanwhile, parlayed its expertise in doing business in Russia into a Russia Projects Division.
Global Marketing Networks
Feed the World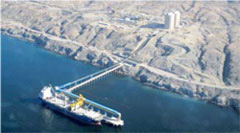 What's the rationale behind the fertiliser business? Simple: people need to eat. With world population projected to hit 9.3 billion by 2050, food demand is rising inexorably. Since the supply of cultivatable land is finite, the only way to feed those hungry mouths is through boosting crop yields—using fertiliser.
Mitsui started marketing fertiliser in Japan soon after World War Two and expanded its sales operations into Asia from the early 1990s. This accumulated know-how was what prompted Vale to approach Mitsui about a partnership when the Brazilian miner wanted to start marketing phosphorous ore from its Bayovar mine in Peru in 2008.
(Quick background. There are three varieties of fertiliser, each addressing a different part of the plant. Nitrogen-based fertilisers nurture leaves and stalks; potash-based fertilisers repel diseases while strengthening roots and stalks; and phosphate-based fertilisers promote fruits and flowers. Phosphate-based fertilisers are made from phosphorous ore.)
"Vale had upstream strengths in mining. We had downstream strengths with our Asian customer base, particularly India where demand is highest," explains Mitsuyuki Yoshizawa from Mitsui's Fertilizer Division. "It was a win-win relationship."
Bayovar certainly fulfils another key criterion for a Mitsui project: After all, what could be more meaningful than forestalling global food shortages?
Lifestyle Business
A Healthy New Market
As countries get richer, there is a paradigm shift in healthcare needs. The focus moves away from providing emergency care and treating infections to addressing chronic lifestyle diseases that require more technologically sophisticated treatments.
In Asia, that shift is underway now. All the signs for the healthcare market are bullish: an undersupply of hospitals; medical expenditures rising at 15-20% per annum; ageing populations (it's estimated that Asia will be home to 60% of the world's elderly by 2030); and a boom in medical tourism as patients from rich countries seek out world-class care at affordable prices.
These were the factors behind Mitsui's roughly ¥90 billion (US$1 billion) acquisition of a 30% stake in Integrated Healthcare Holdings SB (IHHSB)—Asia's largest hospital conglomerate—in May 2011. IHHSB's portfolio includes an interest in 18 hospitals in southeast Asia, 14 hospitals in Turkey, 8 clinics in Shanghai, 29 nursing homes in Japan and a medical university in Malaysia.
Typically, Mitsui is no passive financial investor. It is helping IHHSB expand in China by leveraging its extensive network of contacts there. The firm is also looking to boost the value of the business by developing an eco-system to provide ancillary services like catering, specialised IT and medical check-ups to IHHSB's hospital network.
Infrastructure Projects Business
The Stuff of Life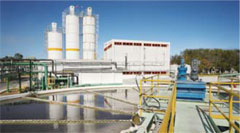 Mitsui is actively investing in businesses that generate steady returns to counterbalance the volatility of its earnings from resources. Water treatment is one of the most attractive of these.
"Water's a stable market. There's always demand," explains Yoshio Kometani of Mitsui's Infrastructure Projects Business Unit, noting that the global water market is expected to double in value to US$1 trillion by 2025.
Mitsui's involvement in the business, which dates back to a 1993 partnership with Thames Water, has accelerated recently. The company acquired a brace of wastewater treatment plants from state petroleum company PEMEX in Mexico in 2003; bought Atlatec, a Mexican water engineering company, in 2008; and was selected to develop the world's biggest wastewater treatment plant in Hidalgo, Mexico, in 2010. Mitsui also acquired a substantial stake in Thailand's Thai Tap Water in 2006. The choice of the emerging world is deliberate. Says Kometani: "In developed markets water is low-risk, low-return. In developing markets it's middle-risk, middle-return."
Mitsui's latest target is China—a huge, if challenging market. But by teaming up with Hyflux, a Singaporean water management solutions company with a track record in China, and focusing on inland cities, where the market is less mature, Mitsui has maximised the upside.