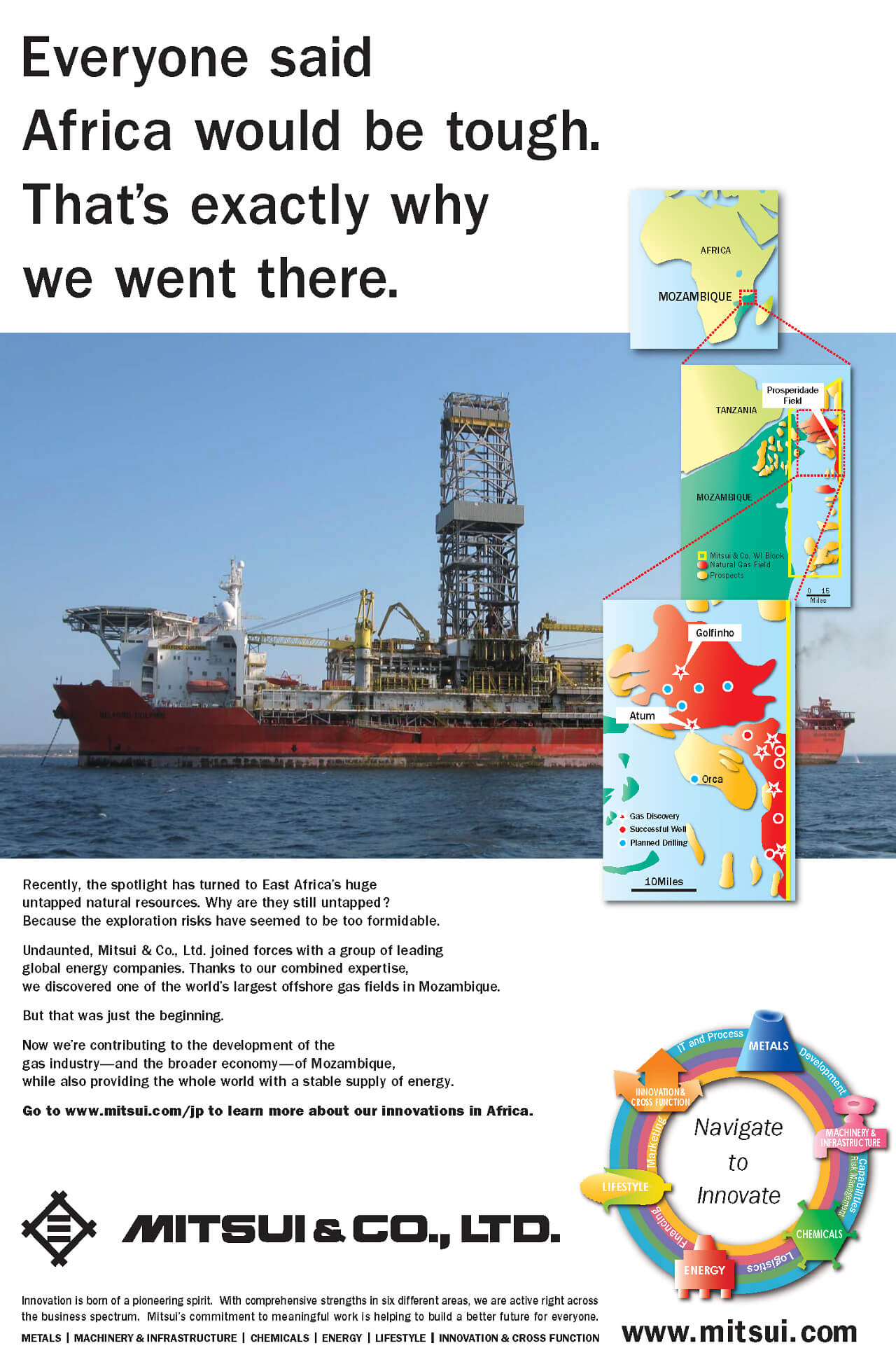 Recently, the spotlight has turned to East Africa's huge untapped natural resources. Why are they still untapped? Because the exploration risks have seemed to be too formidable.
Undaunted, Mitsui & Co., Ltd. joined forces with a group of leading global energy companies. Thanks to our combined expertise, we discovered one of the world's largest offshore gas fields in Mozambique.
But that was just the beginning. Now we're contributing to the development of the gas industry-and the broader economy-of Mozambique, while also providing the whole world with a stable supply of energy.
Exploration Activities in the Republic of Mozambique
Mitsui's consolidated subsidiary, Mitsui E&P Mozambique Area 1 Ltd. (MEPMOZ), owns a 20% interest in the Rovuma Offshore Area 1 natural gas exploration block in Mozambique.
Test boring which commenced in the block in 2010 confirmed the presence of large reserves of natural gas for the first time in south-east Africa. There are believed to be sufficient reserves to allow the development of liquefied natural gas (LNG) operations in the area. Evaluation is currently being undertaken, funded by MEPMOZ and the Japan Oil, Gas and Metals National Corporation (JOGMEC), with a view to confirming the scale of the reserves by 2013, and providing the project is considered commercially viable, production of LNG should begin in 2018.
Challenge and Innovation in Africa
Mitsui's presence in Africa dates from 1929 when the former Mitsui & Co. first stationed a representative in Cape Town.
By the 1990s, Mitsui had increased the number of offices on the continent to more than twenty.
Although the ensuing years saw a reduction in the number of offices due to a reappraisal of official development assistance (ODA) programs, Africa has been attracting increasing attention in recent years due to the region's impressive economic growth, and Mitsui is once again accelerating its activities on the continent.
Last year, Mitsui & Co. Europe established representative offices in Maputo, Casablanca and Accra and a branch office in Nairobi.
It is Mitsui & Co.'s policy to continue contributing to Africa's sustainable development by helping develop the continent's resources, infrastructure, industry and agriculture in keeping with the Mitsui spirit of challenge and innovation.
Supplying Electric Locomotives to Transnet in South Africa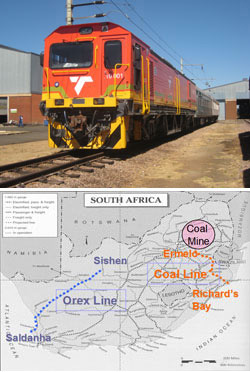 Mitsui has been supplying electric locomotives to South Africa since the 1980s. To date, Mitsui has delivered 226 electric locomotives to the state-owned transport and logistics company Transnet for use on coal and iron ore lines, and last year received an order to supply an additional 32 locomotives. The electrical systems for these locomotives are being provided by Toshiba, while the bodies themselves are being procured from a local rolling stock manufacturer in South Africa. The coal line on which the locomotives are being used runs for a distance of about 600 km connecting the Witbank coalfield with the port of Richards Bay, home to Africa's largest coal export terminal. The iron ore line runs for about 860 km from the Shishen mine in the Northern Cape, which boasts the world's largest reserves of iron ore, to the port of Saldanha.
Mitsui has established two local subsidiaries (Mitsui & Co. African Railway Solutions and Venus Railway Solutions) in accordance with the Black Economic Empowerment (BEE) program initiated by the government of South African to promote indigenous businesses in the country. The project has been structuring to respond to this program by procuring materials from local parts manufacturers as well as the rolling stock manufacturer to create local employment opportunities and support local industries.
Takoradi T2 Expansion Project
(The First Collaboration with Kepco E&C of Korea)
Mitsui and KEPCO Engineering& Construction Company, Inc. ("KEPCO E&C"), entered into the full turnkey contract for the engineering, procurement and construction("EPC Contract") of the expansion of the Takoradi T2 power plant in Ghana with Takoradi International Company ("TICO"). The EPC contract was signed on Dec. 28, 2011, and after receiving final approval from the Ghanaian Parliament on Jun. 22, 2012, it has been effective since Jul. 12, 2012.
This project is to add a steam turbine (120MW), two heat recovery steam generators (HRSGs) and a sea water direct cooling system to the existing two gas turbines (110MW each) of Takoradi T2 power plant, which have been operated by TICO. Through the above work, the existing T2 simple cycle power plant will be converted to combined cycle, and its gross capacity will be expanded to 340MW. The total value of the contract is approximately US$260 million and the construction work will last for about 28.5 months to be completed in November of 2014.
Due to rapid economic growth followed by growth of domestic consumption and demand of electricity, Ghana is facing a chronic electricity shortage. In addition, while nearly 40% of the overall Ghanaian capacity relies on thermal power plants, most of these thermal power plants are high-cost and low-efficiency simple cycle power plant. As a result, improving the electricity shortage and reducing generation costs are both urgent issues in Ghana. Since this project will increase generation capacity using the waste gas coming from existing facilities, it will contribute to optimize efficiency of energy use and shortfall of power supply as well as to alleviate the environmental load in Ghana.
This EPC Contract is the first collaboration between Mitsui and KEPCO E&C. Through this opportunity, the both companies will continue to focus on developing more power generation projects in Ghana and Africa.
Implementation of Regional Contributions Program in Mozambique in Cooperation with the UNDP
In May 2008, Mitsui signed a declaration committing itself to corporate action aimed at achieving the Millennium Development Goals (MDGs) by the target year of 2015 set by the United Nations, and the company is collaborating towards that goal through a wide range of initiatives.
In September 2010, Mitsui signed an agreement with the United Nations Development Programme (UNDP) to start construction of a solar power-operated pumping facility to provide irrigation water to a farming community in Mozambique, Africa. This program, in which UNDP and Mitsui combine their respective knowledge and strengths towards the achievement of reducing poverty as one of the MDGs, is an example of action to support development based on a public-private partnership. Providing the Chibuto Millennium Village in Gaza Province with the infrastructure to supply irrigation water will enable the community to improve agricultural productivity and to realize economic independence and sustainable development. We are working towards the earliest start of irrigation with a total budget of 2 million US dollars.
Navigate to Innovate
Innovation is born of a pioneering spirit. With comprehensive strengths in six different areas, we are active right across the business spectrum. Mitsui's commitment to meaningful work is helping to build a better future for everyone.