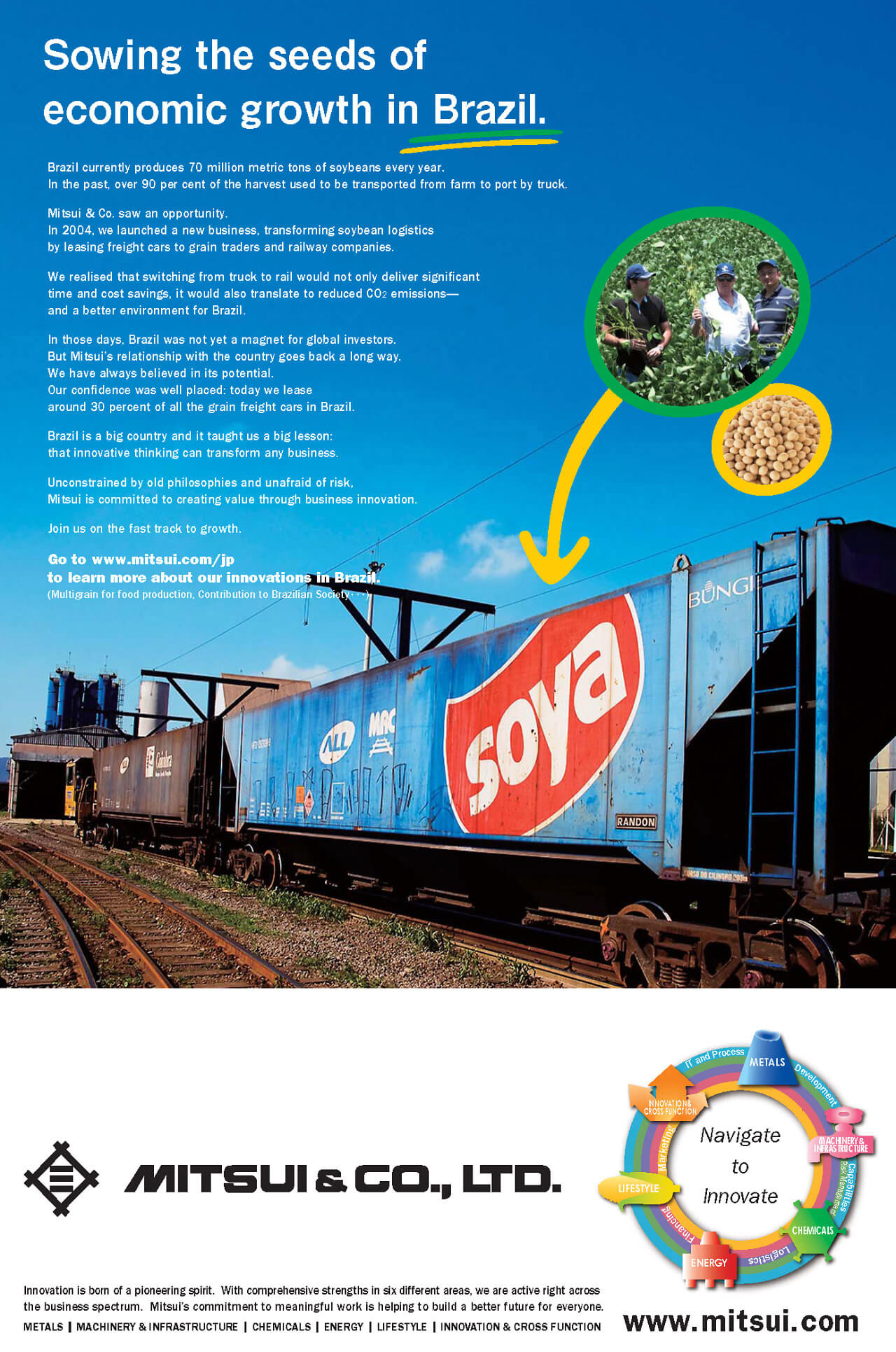 Brazil currently produces 70 million metric tons of soybeans every year.In the past, over 90 per cent of the harvest used to be transported from farm to port by truck.
Mitsui & Co. saw an opportunity. In 2004, we launched a new business, transforming soybean logistics by leasing freight cars to grain traders and railway companies.
We realised that switching from truck to rail would not only deliver significant time and cost savings, it would also translate to reduced CO2 emissions— and a better environment for Brazil.
In those days, Brazil was not yet a magnet for global investors. But Mitsui' s relationship with the country goes back a long way. We have always believed in its potential. Our confidence was well placed: today we lease around 30 percent of all the grain freight cars in Brazil.
Brazil is a big country and it taught us a big lesson: that innovative thinking can transform any business.
Unconstrained by old philosophies and unafraid of risk, Mitsui is committed to creating value through business innovation.
Join us on the fast track to growth.
Our Growing Railroad Rolling Stock Leasing Business
There is a growing global need for railroads, which are vital to economic activity and future economic development, as a mode of transport that is friendly to the global environment.
Demand for transportation expands in step with economic growth, and Mitsui is helping to meet such demand through its involvement in the railroad rolling stock leasing business. This activity began with an initiative in the United States in 1996. In 2004, we expanded into Europe and Brazil. The business continues to grow, and today we have more than 200 locomotives and 13,000 freight wagons. Railroad rolling stock owned by Mitsui is making a vital contribution in each region by carrying various products ranging from soybeans and coal to motor vehicles.
One of the most important markets for our railroad rolling stock leasing business is Brazil. In contrast with the U.S. and European markets, investment in the freight rail industry in Brazil has been inadequate in the past. However, Brazil is one of the world's biggest producers of agricultural products, such as soybeans, and mineral resources, and there is a growing demand in export of those products for railroad transportation capacity. In 2004, Mitsui moved into the Brazilian market, then a new frontier for the railroad rolling stock leasing business, with the establishment of MRC ( Mitsui Rail Capital Participacões). This transplant was part of a business strategy based on the use of experience gained in the U.S. market to meet the challenge of expansion into the markets of emerging countries. In Brazil we began by building a freight wagon rental business. Today we also rent locomotives and soybean storage terminals.
Mitsui also continues to support the growth of Line 4 of the São Paulo Metro system, which was opened in May 2010. This line runs through São Paulo City, São Paulo State, which is the heart of the Brazilian economy and the main focus of Brazil's rapid progress toward urbanization and industrialization. Linking 11 stations over a distance of 12.8 km in São Paulo City, Line 4 is being developed as PPP (public private partnership) with the state government of São Paulo and has attracted intense interest as the first railroad PPP project in Brazil. Under this long-term project, Mitsui will operate and maintain the line for 30 years.
Mitsui will continue to use its integrated strengths to contribute to development and prosperity in Brazil.
Challenge and Innovation in Brazil
Vale: From the Development of Iron Ore Resources to Promoting Initiatives That Leverage Business Engineering Capabilities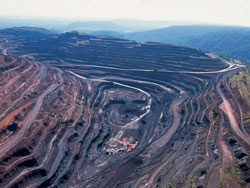 Vale Carajas iron ore mine
In the 1970s, Mitsui took an equity stake in Brazilian iron ore producers to secure a supply of resources for Japanese steelmakers. In the 1990s and 2000s, Mitsui acquired an equity stake in Caemi Mineração e Metalurgia S.A., managing the company jointly with Vale and forging strategic alliances. In September 2003, Mitsui acquired a 15.0% stake in Valepar S.A., Vale's holding company, thereby participating in the management of Vale, the world's largest supplier of iron ore.
Vale is taking advantage of Mitsui's comprehensive and integrated strengths to maximize its development into a multifaceted business. The two companies' business interests overlap in a number of areas; in addition to promoting joint businesses Mitsui is supplying materials and equipment and marketing Vale's products. Deepening relations even further, in 2010 Mitsui made a 25.0% investment in a phosphorus ore development project in Peru that Vale is promoting. Mitsui intends to continue forging ever strong ties of cooperation with Vale.
Multigrain: From Grain Production and Origination to Export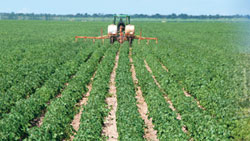 Farm in Brazil run by Multigrain AG
In 2007, Mitsui took an equity position in Multigrain AG, thereby embarking on the distribution and sale of grain as well as agricultural production business involving soybeans and cotton in Brazil. From farmland and grain origination facilities centered in northeastern Brazil, Multigrain exports grains to Japan, China and other parts of Asia, and Europe. In 2011 Brazil was the world's second-largest soybean producer and led the world together with U.S. in soybean export. Amid growing global demand for food, Brazil is said to be one of the few countries with the ability to produce grain surpluses. Recognizing the country as an important center of the grain business, in May 2011 Mitsui converted Multigrain to a wholly owned subsidiary to bolster its production and origination capacity.
In addition to Multigrain in Brazil, Mitsui is expanding its origination structure to include other major grain-producing regions. In this manner, Mitsui is reinforcing its ability to provide a stable supply of grain to Asia and other growth markets.
Contribution to Brazilian Society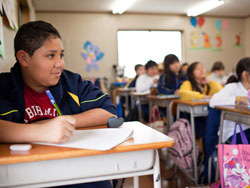 Mitsui & Co. Provides Brazilian School-Children with Educational Support Programs for Their Better Future Life.
Mitsui is implementing educational support programs for Brazilian school-children in both Brazil and Japan. There are many foreign residents in Japan, among which Brazilians count up approximately 210,000 as of December 31, 2011, the third largest group following Chinese and South Koreans. Mitsui founded and administers a scholarship program to enable Brazilian school-children residing in Japan to study in better educational environment. Its educational support activities also include the co-sponsorship of a correspondence training course for teachers, who, in turn, teach those Brazilian school-children in Japan.
In cooperation with the Tokyo University of Foreign Studies, Mitsui has developed supplementary Japanese language learning materials for school-children. Those are available free of charge on the following website.
http://www.tufs.ac.jp/common/mlmc/kyouzai/brazil/por/index.html
In Brazil, Mitsui, through the Mitsui Bussan do Brasil Foundation, supports the Kaeru Project, which was designed to help school-children returning to Brazil from Japan adapt themselves swiftly to school and social life in Brazil by providing psychological, educational and environmental support.
Mitsui regards Brazil as one of the most promising countries and regions and is working to strengthen the mutual relations of trust between Brazil and Japan through its core business activities and its continuing commitment to social contribution.
Navigate to Innovat
Innovation is born of a pioneering spirit. With comprehensive strengths in six different areas, we are active right across the business spectrum. Mitsui's commitment to meaningful work is helping to build a better future for everyone.