Caustic soda and chlorine are used in critical industries ranging from water treatment to the manufacture of paper and plastics. Indeed, global industry depends on a stable supply of these two basic chemicals. They help make our lives better—and more sustainable.
That's the reason Mitsui & Co. teamed up with The Dow Chemical Company, a global leader in basic and specialty chemicals, to build the world's largest electrolysis plant. When it opens in 2013, the joint venture facility in Freeport, Texas will produce 880,000 tonnes of caustic soda and 800,000 tonnes of chlorine per year.
Mitsui and Dow's relationship goes back more than twenty years. We know and trust each other—and trust is crucial in a project of this scale. Trust is why each side was prepared to put up 50 percent of the needed investment. Trust is what transformed a joint venture into a genuine partnership.
At Mitsui, we've long known the importance of finding world-class partners. Our track record shows that if the initial chemistry's right, innovation and the creation of new value are the natural outcomes.
True partnership. You might say it's our formula for success.
Participation in Production of Chlor-Alkali with Dow in Texas, USA
Mitsui & Co., Ltd. ("Mitsui") plans to develop an electrolysis business in partnership with The Dow Chemical Company ("Dow"), a global leader in basic and specialty chemicals. A 50 : 50 joint venture established by the two companies in Texas is currently building a plant to commence operations in 2013.
The advanced membrane plant will use electrolysis of brine to produce chlorine and sodium hydroxide. In value-chain of chemical industry, these are important raw materials and serve as fundamental building blocks for a large number of downstream, specialty chemical products, from pharmaceuticals, to crop protection, coatings and electronics.
Mitsui is involved on a global scale in the sale of products based on chlorine, such as ethylene dichloride (EDC), for which it has achieved the top market share. This new joint venture will allow Mitsui to supply the world stably with EDC and caustic soda. Dow places a high value on our marketing skills and market shares, especially in Asian markets. The decision to undertake a project based on 50 : 50 investment is a reflection of the strong trust that the two companies have built through a business relationship spanning many years.
Dow and Mitsui have both maintained a strong commitment to continuous innovation throughout their histories. We see this joint venture as an opportunity to strengthen our partnership with Dow and look forward to promoting various other collaborative efforts, such as personnel exchanges between our companies.c
Challenge and Innovation in the Americas
Initiatives in the United States
In recent years, the United States has recovered its competitiveness in various industries, including chemicals and motor vehicles, thanks to a sustained drop in energy costs resulting from the shale gas revolution. It has started to regain its reputation as a favorable location for industrial activities and is also likely to remain a cradle of innovation. Mitsui intends to focus on the creation and realization of new business originating in the United States. The following are typical examples of our current business.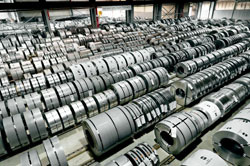 Steel Technologies ("Steel Tech") is a joint venture with the Nucor Corporation of the United States, which is one of the world's largest electric furnace steel manufacturers. With a history of over 40 years, it has 25 facilities in North America, including 13 in the United States, 2 in Canada and 8 in Mexico, as well as 2 joint ventures. It is one of the leading integrated sheet steel processing service centers in North America. In addition to conventional steel sheet processing lines such as slitters and levelers, Steel Tech also operates high-added-value processing lines, including pickling lines, press blanking lines, annealing lines and cold rolled strip lines. It has gained a strong competitive position in the industry by using these facilities to meet customer needs through the supply of a wide range of products and integrated processing services. Steel Tech will continue to respond to increasingly diverse and sophisticated customer needs by supplying products and services not only for automotive applications, but also for electrical appliances and other non-automotive applications.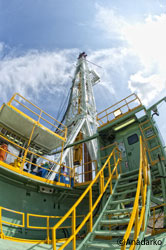 Mitsui is involved in shale gas and shale oil development projects with the American company Anadarko Petroleum Corp.("Anadarko") in the Marcellus Shale area in Pennsylvania, and with Anadarko and SM Energy Company in the Eagle Ford Shale area in Texas. These projects are located close to the consumption markets and are expected to make a long-term contribution to the earnings of Mitsui because of their capacity to produce high-value-added light crude oil and competitive gas.
Mitsui has invested in the American company Tres Amigas LLC, the first commercial scale power transfer platform which connects power flow among three asynchronous power grids in the United States and creates a power trading market spanning the three power grids, using advanced power electronics and information technology. Mitsui has also invested in Viridity Energy, which has developed a next-generation demand side management platform. Through the above investments, Mitsui is promoting energy optimization business using IT by means of market mechanisms.
In addition to its core business activities, Mitsui is also supporting more than 50 initiatives a year across the United States in the four categories of education, community welfare and welfare for people with disabilities, arts and culture, and corporate matching programs based on employee participation. These activities are carried out through the Mitsui U.S.A. Foundation, which was established in 1987. The goal is to contribute to American society as a good corporate citizen.
Initiatives in Mexico
The former Mitsui & Co. opened a representative office in Mexico in 1910 at the height of the Mexican Revolution. Today Mitsui is responding to the needs of its customers and society by expanding and diversifying its business activities in various fields, especially large-scale infrastructure business, such as power generation projects, and supporting industries for the motor vehicle industry, which has become a backbone industry in Mexico. Described below are representative examples of Mitsui's business activities in Mexico.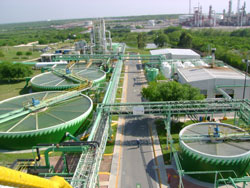 Atlatec, S.A. de C.V.'s wastewater treatment plant
With the 2008 acquisition of Atlatec, S.A.de C.V.("Atlatec"), Mexico's largest water engineering company, Mitsui established an integrated structure encompassing all stages from plant design construction, operation and maintenance through financing. Atlatec has won two 20-year contracts to provide sewage treatment services in Guadalajara City. Located in the State of Jalisco, Guadalajara is Mexico's second largest city with a population of approximately 3.65 million. Atlatec's services include the construction, operation and maintenance of sewage treatment plants with total capacity of 920,000 tons, which covers majority of the city's households needs. Atlatec has also won a contract to provide sewage treatment services at the Atotonilco wastewater treatment plant in Mexico City. The plant is currently under construction and upon its completion, it will have sufficient capacity to treat approximately 60% of the capital city's wastewater and will be one of the largest individual wastewater treatment plants in the world.
In 2012, Mitsui has decided to acquire a partial equity share of Gas Natural Mexico, S.A. de C.V.("GNM"), which distributes natural gas to approximately 1.3 million domestic, commercial and industrial users in six regions of Mexico, including Mexico City, Monterey and other major cities. GNM is Mexico's leading gas distribution company and holds the top market share in terms of the number of clients and the volume of natural gas distributed. Other natural gas-related business fields in which Mitsui is involved include an LNG receiving terminal and six gas-fired thermal power stations at various locations in Mexico. Mexico is expected to keep its sustainable economic development, and domestic demand for natural gas is also likely to remain on a growth trend. Mitsui will contribute further to Mexico's social and economic development through the expansion of its gas-related infrastructure business to ensure reliable energy supplies for the country.
Mitsui is also involved in Mexico's rapidly expanding motor vehicle industry. In addition to its capital participation in Steel Technologies Mexico, which supplies automotive sheet steel, and Hino truck manufacturing and sales companies, it is also developing an automotive parts logistics business.
Mitsui remains active in a wide range of other fields, including sales of Komatsu mining equipment to mine operators and the provision of maintenance services. In the citrus fruits industry, Mexico is the world's third largest producer of orange juice concentrate, and Mitsui handles 70% of exports of that commodity to Japan.
Initiatives in Chile
Chile is regarded as the economic star of South America. Its per capita GDP is the highest in South America at over $10,000, and it enjoys political and economic stability and a good law and order environment. Mining is a key industry in Chile, which is the world's largest exporter of copper and molybdenum. Agriculture, forestry and fisheries, including salmon farming and timber production, are also important industries. Exports of mineral products account for over 60% of Chile's total exports. Outlined below are some representative examples of the activities of Mitsui in Chile.
Mitsui has invested in three successful copper mines in northern Chile, starting with Collahuasi copper mine in 1996, followed by the Los Pelambres copper mine in 1997 and the Caserones copper mine (under development) in 2010. Exports of copper from these mines have helped to ensure reliability of supply in Asia, including Japan. In August 2012, Mitsui reached agreement concerning the establishment of a joint venture with the Chilean state-owned copper mining company Corporación Nacional del Cobre de Chile ("Codelco"), which is the world's largest copper producer. It will also acquire a capital stake in Anglo American Sur through that joint venture. The companies agreed to form a comprehensive strategic partnership as the basis for the continuing expansion of their collaborative activities in Chile and beyond.
Established in 1980, Toyota Chile is the sole import agent for Toyota vehicles in Chile. This wholly owned subsidiary of Mitsui is building a value chain for the distribution of motor vehicles, including an involvement in consumer sales finance.
Chile is the world's third largest exporter of woodchips. In August 2012, Mitsui established a joint venture with Industrial Bosques Cautin, a plantation, woodchip processing and exporting company. Woodchips from this new source will help to meet demand in Asia.
Mitsui is involved in many other activities in Chile. It is focusing in particular on exports of Chilean foodstuffs, such as salmon, and industrial rock salt to the Japanese and Asian markets.
Challenge and Innovation in Brazil
Navigate to Innovate
Innovation is born of a pioneering spirit. With comprehensive strengths in six different areas, we are active right across the business spectrum. Mitsui's commitment to meaningful work is helping to build a better future for everyone.